आरोग्य विभाग टेस्ट सिरीज २०२३ : आता झालेल्या पेपर वर आधारित – Aarogya Vibhag Test Series 2023 Mock Tests
Aarogya Vibhag Test Series
आरोग्य विभाग टेस्ट सिरीज २०२३ : आता झालेल्या पेपर वर आधारित – Aarogya Vibhag Test Series 2023 Mock Tests
Aarogya Vibhag Test Series





आरोग्य विभाग टेस्ट सिरीज २०२३ – Aarogya Vibhag Test Series 2023 Mock Tests
आरोग्य भरती ऑनलाइन मध्ये 25 प्रश्न दिले आहे ती सोडवा व नंतर आपले गुण तपासा. तसेच टेस्ट झाल्यावर त्याचे सोल्युशन आपण PDF मध्ये डाउनलोड सुद्धा करू शकता. तसेच आम्ही नियमित नवीन आरोग्य विभाग टेस्ट प्रकाशित करत असतो, तेव्हा नियमित सराव करा.
New Test Daily, For All Post Like Arogya Sevak, Pharmacist and Other. Free Arogya Bharti Mock Test By MahaBharti Exam
सार्वजनिक आरोग्य विभाग भरती गट-ड चा पेपर 2 तासाचा राहील.
Arogya Vibhag Group D Exam Question Paper 2023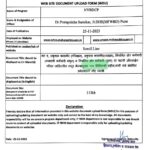 Aarogya Vibhag Test Series & Mock Test 2023
– Maharashtra Aarogya vibhga Bharti written examinations Important questions are covered in this Mock Tests. We keep adding More papers on this page. So keep visiting MahaBharti Exam on daily basis for latest Exam Updates. Also very Soon
Aarogya Vibhga Previous Year Questions papers
will be available for solving online & downloading.
Arogya Vibhag Exam will be in March 2023. Notification will Out in January 2023. So Regularly Attempt Arogya Vibhag Test Series Expected Paper and Score Good in Exam.
Maharashtra Health Department Mock Test
Arogya Vibhag Exam 2023 Online Exam or Practice Test will be very helpful for Complete Preparation of Written Examinations. This Online Tests Series helps you to score your target or More than that. Prepare Online Exam or Online Test For Maharashtra Arogya Vibhag Bharti Exam with Practice Test Papers or Online Mock Test at MahaBharti Exam.
Gram Vikas Zilla Parishad Arogya Vibhag Bharti Test Series
Try Our New Arogya Vibhag Maha Mock Test Series to score good in the examination. We have design this Mock as per latest Arogya Bharti Syllabus and Posts to be filled. For Upcoming Gram Vikas Zilla Parishad Arogya Vibhag Bharti this Online test series will be as a Booster to crack your Group C Exam. Try to take Our Free Gram Vikas Zilla Parishad Arogya Vibhag Bharti Test Series as many times as Possible because it will not only Score wells but also helpful to get Your Post
---