Pune University Online Result 2021 Released : Pune University UG And PG Results Declared Find Direct Link Here
The Savitribai Phule Pune University has announced results for the SPPU Result 2021. Students can check their results on the official SPPU website @exam.unipune.ac.in
Pune University – 2021 Result  : All the candidates who had participated in the B.A B.Com, B.Sc, BCA, BBA, B.Tech, B.Pharm, M.Tech, M.Sc, MTTM, PhD, MCA, MA, MBA, M.Com, Other UG, PG Semester/ Annual Exams must check the Pune University UG, PG Result 2021 from this page. Students can check the results only through online mode.
Pune University Result 2021 Released  : The Savitiribai Phule Pune University (SPPU) has declared the SPPU Result 2021 for undergraduate and postgraduate courses. The results were released on the official SPPU website on May 2021 . Read on to know which courses have had their results announced online and how students can check their results from the SPPU website.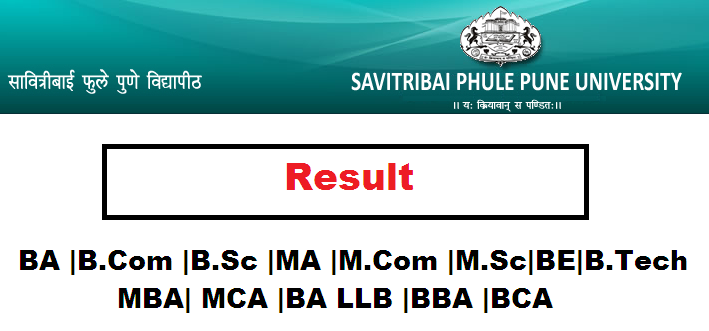 SPPU Result 2021 Announced  : The Savitribai Phule Pune University has declared the SPPU Result – 2021 for exams held in October of last year. The courses whose results have been announced include M.Com, MBA, Bachelors' in Hotel Management, and a few more. Candidates can check out their results online on the official Savitribai Phule Pune University website –unipune.ac.in. Here is the list of courses whose results have been recently declared.
Candidates are advised to regularly keep checking the SPPU website for any result related updates. There are a few courses whose results have not been declared yet, so students are advised to keep an eye out for them. Stay tuned for more updates on results and education news
Rear More for Pune University
M.Com.(External) – October 2020
Master of Commerce (REV 2013) – October 2020
M.Com (External) (Rev 2015) – October 2020
Bachelor in Hotel Management and Catering Tech (REV 16) – October 2020
Master of Business Administration (Information Technology) – October 2020
Master of Business Administration (Human Resource Development) – October 2020
Savitribai Phule Pune University Result 2022
BA |B.Com |B.Sc |MA |M.Com |M.Sc |BE |B.Tech |MBA| MCA |BA LLB |BBA |BCA 
| Sr. No | Course Name | Result Date | |
| --- | --- | --- | --- |
| 1 | FIRST YEAR B.PHARMACY 2015 PATTERN | 05-April-2022 | |
| 2 | SECOND YEAR B.PHARMACY 2015 PATTERN | 05-April-2022 | |
| 3 | THIRD YEAR B.PHARMACY 2015 PATTERN | 05-April-2022 | |
| 4 | FOURTH YEAR B.PHARMACY 2015 PATTERN | 05-April-2022 | |
| 5 | FIRST YEAR B.PHARMACY 2018 PATTERN | 04-April-2022 | |
| 6 | SECOND YEAR B.PHARMACY 2018 PATTERN | 04-April-2022 | |
| 7 | THIRD YEAR B.PHARMACY 2018 PATTERN | 04-April-2022 | |
| 8 | FOURTH YEAR B.PHARMACY 2018 PATTERN | 04-April-2022 | |
| 9 | BACHELOR OF PHYSICAL EDUCATION – SEPTEMBER 2021 | 01-April-2022 | |
Savitribai Phule Pune University Result 2022
BA |B.Com |B.Sc |MA |M.Com |M.Sc |BE |B.Tech |MBA| MCA |BA LLB |BBA |BCA

 
| Sr. No | Course Name | Result Date | |
| --- | --- | --- | --- |
| 1 | MASTER OF LAWS (REV.2014) – OCTOBER 2021 | 25-March-2022 | |
| 2 | MASTER OF EDUCATION (GENERAL)(REV.2016) – APRIL 2021 | 25-March-2022 | |
| Sr. No | Course Name | Result Date | |
| --- | --- | --- | --- |
| 1 | M.A./M.Sc. in Statistics(2019.Pattern) | 24-March-2022 | |
| 2 | BACHELOR OF LIBRARY AND INFORMATION SCIENCE (REV.20) – OCTOBER 2021 | 22-March-2022 | |
| 3 | BACHELOR OF EDUCATION (GENERAL) (REV.2015) – OCTOBER 2021 | 22-March-2022 | |
| 4 | M.SC.(IND.MATHS.WITH COMP.APPLICATION)(REV.19) – OCTOBER 2021 | 21-March-2022 | |
| 5 | POST GRADUATE DIPLOMA IN COMPUTER MANAGEMENT (REV.13) – OCTOBER 2021 | 21-March-2022 | |
| 6 | POST GRADUATE DIPLOMA IN BUSINESS MANAGEMENT (REV.13) – OCTOBER 2021 | 21-March-2022 | |
| 7 | DIPLOMA COURSE IN CYBER LAWS – OCTOBER 2021 | 21-March-2022 | |
| 8 | DIP.COURSE IN INTELLECTUAL PROPERTY RIGHTS LAWS – OCTOBER 2021 | 21-March-2022 | |
| 9 | DIPLOMA IN LABOUR LAWS AND LABOUR WELFARE (REV.) – OCTOBER 2021 | 21-March-2022 | |
| 10 | DIPLOMA IN TAXATION LAW (REV.06) – OCTOBER 2021 | 17-March-2022 | |
| 11 | DIPLOMA IN TAXATION LAW (REV.2018) – OCTOBER 2021 | 17-March-2022 | |
Pune University Result – 2021
Sr. No
Course Name
Result Date
1

MASTER OF PHARMACY (Rev.2019) – APRIL 2021

16-November-2021
2

MASTER OF BUSINESS ADMINISTRATION (REV.2019) – APRIL 2021

12-November-2021
3

MASTER OF BUSINESS ADMINISTRATION (HUMAN RESOURCE DEVELOPMENT) (REV.2020) – APRI

10-November-2021
4

MASTER OF BUSINESS ADMINISTRATION (INFORMATION TECHNOLOGY) (REV.2020) – APRIL 20

10-November-2021
5

MASTER OF BUSINESS ADMINISTRATION (REV.2013) – APRIL 2021

01-November-2021
6

MASTER OF BUSINESS ADMINISTRATION (REV.2016) – APRIL 2021

01-November-2021
7

MASTER OF COMPUTER APPLICATIONS (REVISED 2015) – APRIL 2021

30-October-2021
8

MASTER OF COMPUTER APPLICATIONS (REVISED 2019) – APRIL 2021

30-October-2021
9

B.Sc. To B.Sc (2013) EXAM.- APRIL 2021

29-October-2021
10

B.Sc. (2013) EXAM.- APRIL 2021 C.I.S

29-October-2021
11

MASTER OF COMPUTER APPLICATIONS (REVISED 2012-13) – APRIL 2021 C.I.S

28-October-2021
12

BACHELOR OF ARTS (2019) – APRIL 2021

27-October-2021
13

BACHELOR OF EDUCATION (GENERAL) (REV.2015) – SEPTEMBER 2021

27-October-2021
14

BACHELOR OF BUSINESS ADMINISTRATION (REV.2013) EXAM.- APRIL 2021 C.I.S

26-October-2021
15

BACHELOR OF COMPUTER APPLICATIONS (REV.2013) EXAM.- APRIL 2021 C.I.S

26-October-2021
16

BACHELOR OF BUSINESS ADMINISTRATION (COMP.APPLI.) EXAM.- APRIL 2021 C.I.S

26-October-2021
17

BACHELOR OF BUSINESS ADMINISTRATION (I.B.) EXAM.- APRIL 2021 C.I.S

26-October-2021
18

BACHELOR OF BUSINESS ADMINISTRATION (I.B.)(REV.2019) – APRIL 2021

25-October-2021
19

BACHELOR OF BUSINESS ADMINISTRATION (COMPUPER APPLICATION)(REV.2019) – APRIL 2021

25-October-2021
20

BACHELOR OF BUSINESS ADMINISTRATION (REV.2019) – APRIL 2021

25-October-2021
21

B.Sc.(COMPUTER SCIENCE) (Rev.2019) – APRIL 2021

25-October-2021
22

BACHELOR OF COMPUTER APPLICATIONS (SCIENCE) (2019) – APRIL 2021

25-October-2021
23

B.A. (2008) EXTERNAL EXAM.- APRIL 2021

22-October-2021
Pune University Result Summer- 2021
Sr. No
Course Name
Result Date
1

MASTER OF COMPUTER APPLICATIONS (REVISED 2012-13) – APRIL 2021

20-October-2021
2

MASTER OF COMPUTER APPLICATIONS (REVISED 2013) – APRIL 2021

20-October-2021
3

M.TECH.(IND.MATHS.WITH COMP.APPLICATIONS)(REV.19) – APRIL 2021

20-October-2021
4

M.Sc.(COMPUTER APPLICATIONS) REV.19 – APRIL 2021

20-October-2021
5

M.Sc.(COMPUTER APPLICATIONS) REV.20 – APRIL 2021

20-October-2021
Pune University Result Summer- 2021
| Sr. No | Course Name | Result Date | |
| --- | --- | --- | --- |
| 1 | BACHELOR OF HOTEL MGNT.And CATERING TECH.(REV.19) – APRIL 2021 | 14-October-2021 | |
| 2 | MASTER IN COMPUTER MANAGEMENT (REV.2013) – APRIL 2021 | 14-October-2021 | |
| 3 | MASTER OF BUSINESS ADMINISTRATION (INFORMATION TECHNOLOGY) – APRIL 2021 | 14-October-2021 | |
| 4 | MASTER IN PERSONNEL MANAGEMENT (REV.2013) – APRIL 2021 | 14-October-2021 | |
| 5 | MASTER OF BUSINESS ADMINISTRATION (HUMAN RESOURCE DEVELOPMENT) – APRIL 2021 | 14-October-2021 | |
| | | | |
Pune University Result Summer- 2021
| Sr. No | Course Name | Result Date | |
| --- | --- | --- | --- |
| 1 | FIRST YEAR B.PHARMACY 2018 PATTERN | 01-October-2021 | |
| 2 | SECOND YEAR B.PHARMACY 2018 PATTERN | 01-October-2021 | |
| 3 | THIRD YEAR B.PHARMACY 2018 PATTERN | 01-October-2021 | |
| 4 | FIRST YEAR B.PHARMACY 2019 PATTERN | 01-October-2021 | |
| 5 | SECOND YEAR B.PHARMACY 2019 PATTERN | 01-October-2021 | |
| 6 | MASTER OF COMMERCE (REV.2019) – APRIL 2021 | 29-September-2021 | |
| | | | |
Pune University Result Summer- 2021
| Sr. No | Course Name | Result Date | |
| --- | --- | --- | --- |
| 1 | M.Com.2013 (EXTERNAL) – APRIL 2021 | 15-September-2021 | |
| 2 | M.Com.(EXTERNAL)(Rev.2015) – APRIL 2021 | 15-September-2021 | |
| 3 | M.TECH.(IND.MATHS.WITH COMP.APPLICATIONS)(REV.13) – APRIL 2021 | 11-September-2021 | |
| 4 | MASTER OF COMPUTER APPLICATIONS (SCIENCE)(Rev.13) – APRIL 2021 | 11-September-2021 | |
| 5 | SECOND YEAR OF B.A.LL.B.(Rev.2017) – APRIL 2021 | 09-September-2021 | |
| 6 | THIRD YEAR OF B.A.LL.B.(Rev.2017) – APRIL 2021 | 09-September-2021 | |
| 7 | FOURTH YEAR OF B.A.LL.B.(Rev.2017) – APRIL 2021 | 09-September-2021 | |
| 8 | M.Sc.(COMPUTER SCIENCE) 2008 Pattern – APRIL 2021 | 09-September-2021 | |
| 9 | M.Sc.(COMPUTER SCIENCE) (Rev.13) – APRIL 2021 | 09-September-2021 | |
| 10 | MASTER OF PHARMACY (Rev.2013) JUNE 2021 | 09-September-2021 | |
| 11 | MASTER OF PHARMACY (Rev.2018) – APRIL 2021 | 09-September-2021 | |
| 12 | MASTER OF LAWS (REV.2014) – APRIL 2021 | 09-September-2021 | |
| 13 | MASTER IN BUSINESS STUDIES (REV.2013) – APRIL 2021 | 07-September-2021 | |
| 14 | MASTER OF COMMERCE (REV.2013) – APRIL 2021 | 07-September-2021 | |
| 15 | M.Sc. MATHEMATICS – APRIL 2021 | 07-September-2021 | |
| 16 | M.Sc. MATHEMATICS (PATTERN 2019) – APRIL 2021 | 07-September-2021 | |
| 17 | M.Sc. PHYSICS – APRIL 2021 | 07-September-2021 | |
| 18 | M.Sc. PHYSICS (PATTERN 2019) – APRIL 2021 | 07-September-2021 | |
| 19 | M.Sc. PHYSICS (PATTERN 2020) – APRIL 2021 | 07-September-2021 | |
| 20 | M.Sc. PHYSICAL CHEMISTRY – APRIL 2021 | 07-September-2021 | |
| 21 | M.Sc. PHYSICAL CHEMISTRY (PATTERN 2019) – APRIL 2021 | 07-September-2021 | |
| 22 | M.Sc. INORGANIC CHEMISTRY – APRIL 2021 | 07-September-2021 | |
| 23 | M.Sc. INORGANIC CHEMISTRY (PATTERN 2019) – APRIL 2021 | 07-September-2021 | |
| 24 | M.Sc. ORGANIC CHEMISTRY – APRIL 2021 | 07-September-2021 | |
| 25 | M.Sc. ORGANIC CHEMISTRY (PATTERN 2019) – APRIL 2021 | 07-September-2021 | |
| 26 | M.Sc. ANALYTICAL CHEMISTRY – APRIL 2021 | 07-September-2021 | |
| 27 | M.Sc. ANALYTICAL CHEMISTRY (PATTERN 2019) – APRIL 2021 | 07-September-2021 | |
| 28 | M.Sc. BIO-CHEMISTRY (PATTERN 2019) – APRIL 2021 | 07-September-2021 | |
| 29 | M.Sc. DRUG CHEMISTRY – APRIL 2021 | 07-September-2021 | |
| 30 | M.Sc. DRUG CHEMISTRY (PATTERN 2019) – APRIL 2021 | 07-September-2021 | |
| 31 | M.Sc. BOTANY – APRIL 2021 | 07-September-2021 | |
| 32 | M.Sc. BOTANY (PATTERN 2019) – APRIL 2021 | 07-September-2021 | |
| 33 | M.Sc. ZOOLOGY – APRIL 2021 | 07-September-2021 | |
| 34 | M.Sc. ZOOLOGY (PATTERN 2019) – APRIL 2021 | 07-September-2021 | |
| 35 | M.A. GEOGRAPHY – APRIL 2021 | 07-September-2021 | |
| 36 | M.A. GEOGRAPHY (PATTERN 2019) – APRIL 2021 | 07-September-2021 | |
| 37 | M.Sc. MICROBIOLOGY – APRIL 2021 | 07-September-2021 | |
| 38 | M.Sc. MICROBIOLOGY (PATTERN 2019) – APRIL 2021 | 07-September-2021 | |
| 39 | M.Sc. ENVIRONMENTAL SCIENCE – APRIL 2021 | 07-September-2021 | |
| 40 | M.Sc. ENVIRONMENTAL SCIENCE (PATTERN 2019) – APRIL 2021 | 07-September-2021 | |
| 41 | M.Sc. ELECTRONICS – APRIL 2021 | 07-September-2021 | |
| 42 | M.Sc. ELECTRONICS (PATTERN 2019) – APRIL 2021 | 07-September-2021 | |
| 43 | M.Sc. BIOTECHNOLOGY (PATTERN 2019) – APRIL 2021 | 07-September-2021 | |
| 44 | BACHELOR OF SCIENCE (HOSPITALITY STUDIES) (REV.17) EXAM.- APRIL 2021 | 07-September-2021 | |
| 45 | Third Year B.ARCH.(2008) REV.PATTERN – APRIL 2021 | 03-September-2021 | |
Pune University Result Summer- 2021
Sr. No
Course Name
Result Date
1

BACHELOR OF SCIENCE (HOSPITALITY STUDIES) (REV.17) EXAM.- APRIL 2021

07-September-2021
2

MASTER IN BUSINESS STUDIES (REV.2013) – APRIL 2021

07-September-2021
3

MASTER OF COMMERCE (REV.2013) – APRIL 2021

07-September-2021
4

MCA (ENGG.)(Rev.13) – APRIL 2021

03-September-2021
5

MCA (ENGG.)(Rev.20) – APRIL 2021

03-September-2021
6

MASTER OF COMPUTER APPLICATIONS (COMMERCE)(Rev13) – APRIL 2021

03-September-2021
7

MASTER OF ARTS (REV.2013) – APRIL 2021

03-September-2021
8

F.E.(2019 CREDIT PAT.) APR-MAY 2021

03-September-2021
9

S.E.2012 EXAMINATION APR-MAY 2021

02-September-2021
10

S.E.2014 EXAMINATION APR-MAY 2021

02-September-2021
11

F.E.(2012 PAT.) APR-MAY 2021

02-September-2021
12

F.E.(2014 PAT.) APR-MAY 2021

02-September-2021
13

F.E.(2015 CREDIT PAT.) APR-MAY 2021

02-September-2021
14

BACHELOR IN HOTEL MGNT AND CATERING TECH.(REV.16) – APRIL 2021

02-September-2021
15

BACHELOR OF SCIENCE (HOSPITALITY STUDIES) (REV.08) – APRIL 2021 EXAM.

01-September-2021
16

BACHELOR IN HOTEL MGNT.& CATERING TECH.(REV.08) EXAM.- APRIL 2021

01-September-2021
17

POST GRADUATE DIPLOMA IN COMPUTER MANAGEMENT (REV.13) – APRIL 2021

01-September-2021
18

POST GRADUATE DIPLOMA IN BUSINESS MANAGEMENT (REV.13) – APRIL 2021

01-September-2021
19

POST GRADUATE DIPLOMA IN MARKETING MANAGEMENT (REV.13) – APRIL 2021

01-September-2021
20

POST GRADUATE DIPLOMA IN HOSPITAL MANAGEMENT (REV.13) – APRIL 2021

01-September-2021
21

POST GRADUATE DIPLOMA IN HOSPITAL MANAGEMENT (REV.19) – APRIL 2021

01-September-2021
22

POST GRADUATE DIPLOMA IN FINANCIAL SERVICES (REV.13) – APRIL 2021

31-August-2021
23

POST GRADUATE DIPLOMA IN MATERIALS AND LOGISTICS MANAGEMENT(REV.13) – APRIL 2021

31-August-2021
24

POST GRADUATE DIPLOMA IN IMPORT AND EXPORT MANAGEMENT (REV.13) – APRIL 2021

31-August-2021
Pune University Result Summer- 2021
Sr. No
Course Name
Result Date
1

S.E.(2015 CREDIT PAT.) APR-MAY 2021

30-August-2021
2

BACHELOR OF COMPUTER APPLICATIONS (SCIENCE) (2016) – APRIL 2021

27-August-2021
3

M.E.(2017).First Year- MAY 2021

26-August-2021
4

M.E.(2017).Second Year- MAY 2021

26-August-2021
5

POST GRADUATE DIPLOMA IN BANKING & FINANCE (REV.2004) – APRIL 2021

24-August-2021
6

POST GRADUATE DIPLOMA IN BANKING & FINANCE (REV.2020) – APRIL 2021

24-August-2021
7

POST GRADUATE DIPLOMA IN TAXATION – APRIL 2021

24-August-2021
8

POST GRADUATE DIPLOMA IN INTERNATIONAL BUSINESS – APRIL 2021

24-August-2021
9

BACHELOR OF BUSINESS ADMINISTRATION (REV.2013) EXAM.- APRIL 2021

24-August-2021
10

BACHELOR OF COMPUTER APPLICATIONS (REV.2008-09) EXAM.- APRIL 2021

24-August-2021
11

BACHELOR OF COMPUTER APPLICATIONS (REV.2013) EXAM.- APRIL 2021

24-August-2021
12

BACHELOR OF BUSINESS ADMINISTRATION (COMP.APPLI.) EXAM.- APRIL 2021

24-August-2021
13

BACHELOR OF BUSINESS MANAGEMENT (I.B.)(REV.2013) EXAM.- APRIL 2021

24-August-2021
14

BACHELOR OF BUSINESS ADMINISTRATION (I.B.) EXAM.- APRIL 2021

24-August-2021
15

CERT.COURSE IN FORENSIC & MEDICAL JURISPRUDENCE – APRIL 2021

23-August-2021
16

DIPLOMA COURSE IN CYBER LAWS – APRIL 2021

23-August-2021
17

DIP.COURSE IN INTELLECTUAL PROPERTY RIGHTS LAWS – APRIL 2021

23-August-2021
18

DIPLOMA IN LABOUR LAWS AND LABOUR WELFARE (REV.) – APRIL 2021

23-August-2021
19

DIPLOMA IN TAXATION LAW (REV.06) – APRIL 2021

23-August-2021
20

DIPLOMA IN TAXATION LAW (REV.2018) – APRIL 2021

23-August-2021
21

S.E.(2019 CREDIT PAT.) APR-MAY 2021

23-August-2021
22

B.Sc.(COMP.SC.) (2013) EXAM.- APRIL 2021

20-August-2021
Pune University Result Summer- 2021
Sr. No
Course Name
Result Date
1

MASTER OF EDUCATION (GENERAL)(REV.2015) – APRIL 2021

17-August-2021
2

MASTER OF EDUCATION (GENERAL)(REV.2016) – APRIL 2021

17-August-2021
3

BE 2012 PATTERN EXAM PERIOD APR-MAY 2021

17-August-2021
4

BACHELOR OF PHYSICAL EDUCATION (2015 Pattern)- APRIL 2021

14-August-2021
Pune University Result Summer- 2021
| Sr. No | Course Name | Result Date | |
| --- | --- | --- | --- |
| 1 | BACHELOR OF EDUCATION (GENERAL) (REV.2014) – APRIL 2021 | 13-August-2021 | |
| 2 | BACHELOR OF EDUCATION (GENERAL) (REV.2015) – APRIL 2021 | 13-August-2021 | |
| 3 | T.E.2012 EXAMINATION APR-MAY 2021 | 12-August-2021 | |
Pune University Result Summer- 2021
| Sr. No | Course Name | Result Date | |
| --- | --- | --- | --- |
| 1 | THIRD YEAR B.PHARMACY 2013 PATTERN – MAY 2021 | 05-August-2021 | |
| 2 | FOURTH YEAR B.PHARMACY 2013 PATTERN – MAY 2021 | 05-August-2021 | |
| 3 | SECOND YEAR B.PHARMACY 2015 PATTERN – MAY 2021 | 05-August-2021 | |
| 4 | THIRD YEAR B.PHARMACY 2015 PATTERN – MAY 2021 | 05-August-2021 | |
| 5 | FOURTH YEAR B.PHARMACY 2015 PATTERN – MAY 2021 | 05-August-2021 | |
| 6 | T.E.(2015 PAT. PERCENTAGE) APR-MAY 2021 | 03-August-2021 | |
| 7 | T.E.(2015 CREDIT PAT.) APR-MAY 2021 | 03-August-2021 | |
| 8 | B.E.(2015 PAT. PERCENTAGE) APR-MAY 2021 | 31-July-2021 | |
| 9 | B.E.(2015 CREDIT PAT.) APR-MAY 2021 | 31-July-2021 | |
| 10 | BACHELOR OF ARCHITECTURE(REV.2015)(Third Year) – MAY 2021 EXAM | 28-July-2021 | |
| 11 | BACHELOR OF ARCHITECTURE(REV.2015)(Final Year) – MAY 2021 EXAM | 28-July-2021 | |
Savitribai Phule Pune University @unipune.ac.in- Download Result 
| Sr. No | Course Name | Result Date | |
| --- | --- | --- | --- |
| 1 | F.Y B.A. 2019 Pattern | 24-June-2021 | |
| 2 | BACHELOR OF COMMERCE (CHOICE BASED CREDIT SYSTEM) – OCTOBER 2020 | 22-June-2021 | |
| 3 | M.A.(REV.2013)(EXTERNAL) – OCTOBER 2020 | 22-June-2021 | |
| 4 | MASTER OF ARTS (REV.2013) – OCTOBER 2020 | 22-June-2021 | |
| 5 | M.Com.(EXTERNAL)(Rev.2015) – OCTOBER 2020 | 22-June-2021 | |
| 6 | MASTER OF COMMERCE (REV.2013) – OCTOBER 2020 | 19-June-2021 | |
| 7 | M.Com.(EXTERNAL) – OCTOBER 2020 | 19-June-2021 | |
| 8 | B.Com. (2008) EXAM.- OCTOBER 2020 | 19-June-2021 | |
| 9 | B.Com. (2013) EXAM.- OCTOBER 2020 | 19-June-2021 | |
| 10 | B.Com. (RESTRUCTURE) (2008) EXAM.- OCTOBER 2020 | 19-June-2021 | |
| 11 | B.Com. (RESTRUCTURE) (2013) EXAM.- OCTOBER 2020 | 19-June-2021 | |
| 12 | B.Com. (VOCATIONAL) (2013) EXAM.- OCTOBER 2020 | 19-June-2021 | |
| 13 | BACHELOR OF EDUCATION (GENERAL) (REV.2015) – OCTOBER 2020 | 19-June-2021 | |
| 14 | BACHELOR OF PHYSICAL EDUCATION – OCTOBER 2020 | 19-June-2021 | |
| 15 | MASTER OF EDUCATION (GENERAL)(REV.2016) – OCTOBER 2020 | 19-June-2021 | |
| 16 | MCA (ENGG.)(Rev.13) – OCTOBER 2020 | 19-June-2021 | |
| 17 | MCA (ENGG.)(Rev.19) – OCTOBER 2020 | 19-June-2021 | |
| 18 | BSc Restruture 2019 Pattern | 18-June-2021 | |
| 19 | BSc Voc_2019 Pattern | 18-June-2021 | |
| 20 | BSc_2019 Pattern | 18-June-2021 | |
| 21 | F.Y B.Com 2019 Pattern | 18-June-2021 | |
| 22 | BACHELOR OF ARTS (2019) – OCTOBER 2020 | 17-June-2021 | |
Pune University -2021 |SPPU Result -2021 |PU Result-2021
| Sr. No | Course Name | Result Date | |
| --- | --- | --- | --- |
| 1 | SECOND YEAR OF THREE YEAR LAW COURSE(SEM.PATT.)(REV.17) – OCTOBER 2020 | 14-June-2021 | |
| 2 | THIRD (FINAL) YEAR OF THREE YEAR LAW COURSE(SEM.PATT.)(REV.17) – OCTOBER 2020 | 14-June-2021 | |
| 3 | SECOND YEAR OF NEW FIVE YEAR LAW COURSE (SEM.PATTERN) – OCTOBER 2020 | 14-June-2021 | |
| 4 | THIRD YEAR OF NEW FIVE YEAR LAW COURSE (SEM.PATTERN) – OCTOBER 2020 | 14-June-2021 | |
| 5 | FOURTH YEAR OF NEW FIVE YEAR LAW COURSE (SEM.PATTERN) – OCTOBER 2020 | 14-June-2021 | |
Direct link to check here : PG Result 
| Sr. No | Course Name | Result Date | Download |
| --- | --- | --- | --- |
| 1 | BACHELOR OF SCIENCE (Rev.2019) – OCTOBER 2020 | 11-June-2021 | |
| 2 | MASTER OF BUSINESS ADMINISTRATION (REV.2013) – OCTOBER 2020 | 09-June-2021 | |
| 3 | MASTER OF BUSINESS ADMINISTRATION (REV.2016) – OCTOBER 2020 | 09-June-2021 | |
| 4 | MASTER OF COMPUTER APPLICATIONS (SCIENCE)(Rev.13) – OCTOBER 2020 | 09-June-2021 | |
| 5 | M.Sc. MATHEMATICS (REV 19) – OCTOBER 2020 | 09-June-2021 | |
| 6 | M.Sc. PHYSICS (REV 19) – OCTOBER 2020 | 09-June-2021 | |
| 7 | M.Sc. PHYSICAL CHEMISTRY (REV 19) – OCTOBER 2020 | 09-June-2021 | |
| 8 | M.Sc. ORGANIC CHEMISTRY (REV 19) – OCTOBER 2020 | 09-June-2021 | |
| 9 | M.Sc. INORGANIC CHEMISTRY (REV 19) – OCTOBER 2020 | 09-June-2021 | |
| 10 | M.Sc. ANALYTICAL CHEMISTRY (REV 19) – OCTOBER 2020 | 09-June-2021 | |
| 11 | M.Sc. BIO-CHEMISTRY (REV 19) – OCTOBER 2020 | 09-June-2021 | |
| 12 | M.Sc. DRUG CHEMISTRY (REV 19) – OCTOBER 2020 | 09-June-2021 | |
| 13 | M.Sc. BOTANY (REV 19) – OCTOBER 2020 | 09-June-2021 | |
| 14 | M.Sc. ZOOLOGY (REV 19) – OCTOBER 2020 | 09-June-2021 | |
| 15 | M.A. GEOGRAPHY (REV 19) – OCTOBER 2020 | 09-June-2021 | |
| 16 | M.Sc. ELECTRONICS (REV 19) – OCTOBER 2020 | 09-June-2021 | |
| 17 | M.Sc. BIOTECHNOLOGY (REV 19) – OCTOBER 2020 | 09-June-2021 | |
| 18 | M.Sc. MICROBIOLOGY (REV 19) – OCTOBER 2020 | 09-June-2021 | |
| 19 | M.Sc. ENVIRONMENTAL SCIENCE (REV 19) – OCTOBER 2020 | 09-June-2021 | |
| 20 | M.Sc.(COMPUTER APPLICATIONS) 2019 Pattern – OCTOBER 2020 | 09-June-2021 | |
| 21 | M.Sc.(COMPUTER APPLICATIONS) REV.20 – OCTOBER 2020 | 09-June-2021 | |
Pune University -2021 |SPPU Result -2021 |PU Result-2021
| Sr. No | Course Name | Result Date | |
| --- | --- | --- | --- |
| 1 | M.Sc. MATHEMATICS – OCTOBER 2020 | 07-June-2021 | |
| 2 | M.Sc. MATHEMATICS – OCTOBER 2020 | 07-June-2021 | |
| 3 | M.Sc. PHYSICAL CHEMISTRY – OCTOBER 2020 | 07-June-2021 | |
Pune University -2021 |SPPU Result -2021 |PU Result-2021
| Sr. No | Course Name | Result Date | |
| --- | --- | --- | --- |
| 1 | FIRST YEAR B.PHARMACY 2019 PATTERN | 04-June-2021 | |
| 2 | SECOND YEAR B.PHARMACY 2019 PATTERN | 04-June-2021 | |
Pune University -2021 |SPPU Result -2021 |PU Result-2021
| Sr. No | Course Name | Result Date | |
| --- | --- | --- | --- |
| 1 | MASTER OF BUSINESS ADMINISTRATION (INFORMATION TECHNOLOGY) (REV.2020) – OCTOBER | 03-June-2021 | |
| 2 | MASTER OF BUSINESS ADMINISTRATION (HUMAN RESOURCE DEVELOPMENT) (REV.2020) – OCTO | 03-June-2021 | |
Pune University -2021 |SPPU Result -2021 |PU Result-2021
| Sr. No | Course Name | Result Date | |
| --- | --- | --- | --- |
| 1 | M.Sc.(COMPUTER SCIENCE) (Rev.13) – OCTOBER 2020 | 01-June-2021 | |
| 2 | MCA (ENGG.)(Rev.13) – OCTOBER 2020 | 29-May-2021 | |
| 3 | MCA (ENGG.)(Rev.19) – OCTOBER 2020 | 29-May-2021 | |
Pune University -2021 |SPPU Result -2021 |PU Result-2021
| Sr. No | Course Name | Result Date | |
| --- | --- | --- | --- |
| 1 | MASTER OF COMPUTER APPLICATIONS (REVISED 2019) – OCTOBER 2020 | 28-May-2021 | |
| 2 | MASTER OF COMMERCE (REV.2019) – OCTOBER 2020 | 28-May-2021 | |
| 3 | M.Sc.(COMPUTER SCIENCE) (Rev.19) – OCTOBER 2020 | 27-May-2021 | |
| 4 | MASTER OF PHARMACY (Rev.2013) PHARMACEUTICS – JANUARY 2021 | 25-May-2021 | |
| 5 | MASTER OF PHARMACY (Rev.2018) – OCTOBER 2020 | 25-May-2021 | |
| 6 | MASTER OF PHARMACY (Rev.2019) – OCTOBER 2020 | 25-May-2021 | |
| 7 | MASTER OF PHARMACY (Rev.2013) PHARMACEUTICAL CHEMISTRY – JANUARY 2021 | 25-May-2021 | |
| 8 | MASTER OF PHARMACY (Rev.2013) PHARMACOLOGY – JANUARY 2021 | 25-May-2021 | |
| 9 | MASTER OF PHARMACY (Rev.2013) PHARMACOGNOSY – JANUARY 2021 | 25-May-2021 | |
| 10 | MASTER OF PHARMACY (Rev.2013) QUALITY ASSUARANCE TECHNIQUES – JANUARY 2021 | 25-May-2021 | |
| 11 | B.Sc. (2008) EXAM.- OCTOBER 2020 | 25-May-2021 | |
| 12 | B.Sc. (2013) EXAM.- OCTOBER 2020 | 25-May-2021 | |
| 13 | B.Sc. (RESTRUCTURE) (2008) EXAM.- OCTOBER 2020 | 25-May-2021 | |
| 14 | B.Sc. (RESTRUCTURE) (2013) EXAM.- OCTOBER 2020 | 25-May-2021 | |
| 15 | B.Sc. (VOCATIONAL) (2013) EXAM.- OCTOBER 2020 | 25-May-2021 | |
| 16 | BACHELOR OF BUSINESS ADMINISTRATION (COMPUPER APPLICATION)(REV.2019) – OCTOBER 2020 | 24-May-2021 | |
| 17 | BACHELOR OF HOTEL MGNT.AND CATERING TECH.(REV.19) – OCTOBER 2020 | 24-May-2021 | |
| 18 | MASTER IN COMPUTER MANAGEMENT (REV.2012-13) – OCTOBER 2020 | 24-May-2021 | |
| 19 | M.A.(REV.2013)(EXTERNAL) – OCTOBER 2020 | 24-May-2021 | |
| 20 | MASTER OF ARTS (REV.2013) – OCTOBER 2020 | 24-May-2021 | |
| 21 | BE 2012 PATTERN EXAM PERIOD OCT-NOV 2020 | 24-May-2021 | |
SPPU Result -2021 |PU Result-2021
| Sr. No | Course Name | Result Date | |
| --- | --- | --- | --- |
| 1 | B.Sc.(COMPUTER SCIENCE) (Rev.2019) – OCTOBER 2020 | 22-May-2021 | |
| 2 | BACHELOR OF COMPUTER APPLICATIONS (SCIENCE) (2019) – OCTOBER 2020 | 22-May-2021 | |
| 3 | MASTER OF LAWS (REV.2014) – OCTOBER 2020 | 21-May-2021 | |
| 4 | B.E.(2015 CREDIT PAT.) EXAM PERIOD OCT-NOV 2020 | 21-May-2021 | |
| 5 | BACHELOR OF COMPUTER APPLICATIONS (SCIENCE) (2016) – OCTOBER 2020 | 19-May-2021 | |
| 6 | BACHELOR OF BUSINESS ADMINISTRATION (REV.2013) EXAM.- OCTOBER 2020 | 19-May-2021 | |
SPPU Result -2021 |PU Result-2021
| Sr. No | Course Name | Result Date | |
| --- | --- | --- | --- |
| 1 | BACHELOR OF SCIENCE (HOSPITALITY STUDIES) (REV.15) – OCTOBER 2020 EXA | 18-May-2021 | |
| 2 | BACHELOR OF SCIENCE (HOSPITALITY STUDIES) (REV.17) EXAM.- OCTOBER 2020 | 18-May-2021 | |
| 3 | MASTER OF BUSINESS ADMINISTRATION (INFORMATION TECHNOLOGY) – OCTOBER 2020 | 17-May-2021 | |
| 4 | MASTER OF BUSINESS ADMINISTRATION (HUMAN RESOURCE DEVELOPMENT) – OCTOBER 2020 | 17-May-2021 | |
| 5 | BACHELOR IN HOTEL MGNT.& CATERING TECH.(REV.08) EXAM.- OCTOBER 2020 | 17-May-2021 | |
| 6 | BACHELOR IN HOTEL MGNT.AND CATERING TECH.(REV.16) – OCTOBER 2020 | 17-May-2021 | |
| 7 | M.Com.(EXTERNAL) – OCTOBER 2020 | 17-May-2021 | |
| 8 | MASTER OF COMMERCE (REV.2013) – OCTOBER 2020 | 17-May-2021 | |
| 9 | M.Com.(EXTERNAL)(Rev.2015) – OCTOBER 2020 | 17-May-2021 | |
Click here for more Education News