Karnataka State Open University KSOU 2022 Result (Out) Check UG/PG Result, Score Card, Merit List at ksoumysuru.ac.in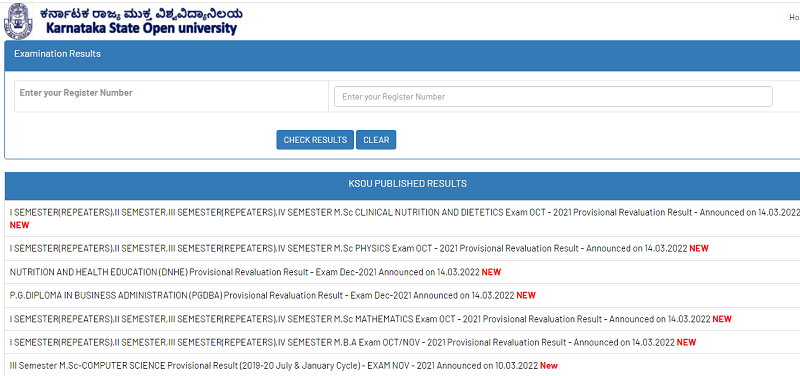 KSOU UG PG Result 2022: Karnataka State Open University has conducted the written exam for the students. After completion of the written exam almost all the students are very curious to know the KSOU-2022 Result . For that here we, mentioned the links to download the result. So students don't waste the time for searching KSOU-2022 Result Semester Results 2022 on other sites. Follow this page https://mahabharti.in/university and easily get your results. So candidates without any late check your  KSOU -2022 Exam Results from this page by using your Enter your Register Number. here we mentioned all the genuine information to the students.
KSOU- Result-2022 Out :Karnataka State Open University has released the KSOU- Result 2022 online at the official website, http://www.ksoumysuru.ac.in. The University releases the result for all the qualified students in login format for all the courses. Students can also check KSOU -Result through the link mentioned on this page. To download the result, students have to visit the official University website and login to the 'KSOU -Result' page by using their enrollment number. KSOU first releases the provisional result and then after that the final result. The marks provided by the University will be the final result. Check out the page for Karnataka State Open University (KSOU) Result 2022.
KSOU -2022 Result -Karnataka State Open University 2022 Result
I SEMESTER(REPEATERS),II SEMESTER,III SEMESTER(REPEATERS),IV SEMESTER M.Sc CLINICAL NUTRITION AND DIETETICS Exam OCT – 2021 Provisional Revaluation Result – Announced on 14.03.2022
NEW Check Results
I SEMESTER(REPEATERS),II SEMESTER,III SEMESTER(REPEATERS),IV SEMESTER M.Sc PHYSICS Exam OCT – 2021 Provisional Revaluation Result – Announced on 14.03.2022
NEW Check Results
NUTRITION AND HEALTH EDUCATION (DNHE) Provisional Revaluation Result – Exam Dec-2021 Announced on 14.03.2022
NEW Check Results
P.G.DIPLOMA IN BUSINESS ADMINISTRATION (PGDBA) Provisional Revaluation Result – Exam Dec-2021 Announced on 14.03.2022
NEW Check Results
I SEMESTER(REPEATERS),II SEMESTER,III SEMESTER(REPEATERS),IV SEMESTER M.Sc MATHEMATICS Exam OCT – 2021 Provisional Revaluation Result – Announced on 14.03.2022
NEW Check Results
I SEMESTER(REPEATERS),II SEMESTER,III SEMESTER(REPEATERS),IV SEMESTER M.B.A Exam OCT/NOV – 2021 Provisional Revaluation Result – Announced on 14.03.2022
NEW Check Results
III Semester M.Sc-COMPUTER SCIENCE Provisional Result (2019-20 July & January Cycle) – EXAM NOV – 2021 Announced on 10.03.2022
New Check Results
P.G.DIPLOMA IN INFORMATION SCIENCE (PGDIS) Provisional Result – Exam Dec-2021 Announced on 08.03.2022
NEW Check Results
B.Ed(REPEATERS) DEGREE Provisional Result – EXAM OCT/NOV – 2021 Announced on 07.03.2022 Check Results
III Semester M.Sc-CLINICAL NUTRITION AND DIETETTICS Provisional Result (2019-20 July & January Cycle) – EXAM NOV – 2021 Announced on 05.03.2022
New Check Results
I Semester M.Sc-BIOCHEMISTRY Provisional Result (2020-21 July & January Cycle) – EXAM NOV – 2021 Announced on 26.02.2022
NEW Check Results
P.G.DIPLOMA IN COMPUTER APPLICATION (PGDCA) Provisional Result – Exam Dec-2021 Announced on 25.02.2022
NEW Check Results
COMPUTER APPLICATION (DCA) Provisional Result – Exam Dec-2021 Announced on 23.02.2022
NEW Check Results
I Semester M.Sc MICROBIOLOGY OPEN BOOK Exam JAN/FEB – 2021 Provisional Result – Announced on 23.02.2022
NEW Check Results
I SEMESTER (REPEATERS), III SEMESTER (REPEATERS),IV Semester M.Sc-BIOCHEMISTRY Exam OCT – 2021 Provisional Result – Announced on 19.02.2022
NEW
M.Lib.I.Sc Degree Exam OCT – 2021 Provisional Revaluation Result – Announced on 19.02.2022
NEW Check Results
IV Semester M.Sc-MATHEMATICS Exam OCT – 2021 Provisional Result – Announced on 18.02.2022
NEW Check Results
I Semester M.Sc BIOTECHNOLOGY OPEN BOOK Exam JAN/FEB – 2021 Provisional Result – Announced on 18.02.2022
NEW Check Results
KSOU -2021 Result -Karnataka State Open University 2021 Result
KSOU PUBLISHED RESULTS
KUVEMPU SAHITHYA (PGDKS) Provisional Result – Exam Dec-2021 Announced on 17.02.2022
NEW Check Results
NUTRITION AND FOOD(CNF) Provisional Result – Exam Dec-2021 Announced on 17.02.2022
NEW Check Results
NUTRITION AND DIETETICS (PGDND) Provisional Result – Exam Dec-2021 Announced on 17.02.2022
NEW Check Results
NUTRITION AND HEALTH EDUCATION (DNHE) Provisional Result – Exam Dec-2021 Announced on 15.02.2022
NEW Check Results
B.Lib.I.Sc Degree Exam OCT – 2021 Provisional Revaluation Result – Announced on 15.02.2022
NEW Check Results
I YEAR (REPEATERS),II YEAR (REPEATERS),III YEAR B.A Annual Exam SEP/OCT/NOV – 2021 Provisional Revaluation Result Announced on 10.02.2022
NEW Check Results
I YEAR (REPEATERS),II YEAR (REPEATERS),III YEAR B.COM Annual Exam SEP/OCT/NOV – 2021 Provisional Revaluation Result Announced on 10.02.2022
NEW Check Results
JOURNALISM (DIJ) Provisional Result – Exam Dec-2021 Announced on 10.02.2022
NEW Check Results
I Semester (REPEATERS) , III Semester (REPEATERS) M.Sc-MATHEMATICS Exam OCT – 2021 Provisional Result – Announced on 09.02.2022
NEW Check Results
I YEAR (REPEATERS),II YEAR (REPEATERS) M.Ed – EXAM OCT/NOV – 2021 Provisional Result – Announced on 09.02.2022
NEW Check Results
JOURNALISM AND MASS COMMUNICATION (PGDJMC) Provisional Result – Exam Dec-2021 Announced on 09.02.2022
NEW Check Results
I YEAR (REPEATERS),II YEAR MA-MASS COMMUNICATION AND JOURNALISM – EXAM OCT – 2021 Provisional Revaluation Result – Announced on 09.02.2022
NEW Check Results
I YEAR (REPEATERS) , II YEAR (REPEATERS) M.Sc-PSYCHOLOGY(ANNUAL SCHEME) Exam OCT – 2021 Provisional Result – Announced on 07.02.2022
NEW Check Results
I Semester (REPEATERS) , II Semester (REPEATERS), III Semester (REPEATERS),IV SEMESTER (REPEATERS) MBA(LAW) Exam OCT/NOV – 2021 Provisional Result – Announced on 07.02.2022
NEW Check Results
I Semester (REPEATERS) , II Semester (REPEATERS), III Semester (REPEATERS),IV SEMESTER (REPEATERS) M.T.M Exam OCT/NOV – 2021 Provisional Result – Announced on 07.02.2022
NEW Check Results
I Semester (REPEATERS) , II Semester (REPEATERS), III Semester (REPEATERS),IV SEMESTER (REPEATERS) L.L.M(CONSTITUTION LAW) Exam OCT/NOV – 2021 Provisional Result – Announced on 07.02.2022
NEW Check Results
I Semester (REPEATERS) , II Semester (REPEATERS), III Semester (REPEATERS),IV SEMESTER (REPEATERS) L.L.M(BUSINESS LAW) Exam OCT/NOV – 2021 Provisional Result – Announced on 07.02.2022
NEW Check Results
KANNADA (CK) Provisional Result – Exam Dec-2021 Announced on 07.02.2022
NEW Check Results
KANNADA (DIK) Provisional Result – Exam Dec-2021 Announced on 07.02.2022
NEW Check Results
MARKETING MANAGEMENT (PGDMM) Provisional Result – Exam Dec-2021 Announced on 07.02.2022
NEW Check Results
BUSINESS ADMINISTRATION (PGDBA) Provisional Result – Exam Dec-2021 Announced on 07.02.2022
NEW Check Results
HUMAN RESOURCE MANAGEMENT (PGDHRM) Provisional Result – Exam Dec-2021 Announced on 07.02.2022
NEW Check Results
I Semester (REPEATERS) , II Semester M.Sc-PSYCHOLOGY Exam OCT – 2021 Provisional Result – Announced on 07.02.2022
NEW Check Results
I Semester (REPEATERS) , II Semester, III Semester (REPEATERS),IV SEMESTER M.Sc MICROBIOLOGY Exam OCT – 2021 Provisional Result – Announced on 04.02.2022
NEW Check Results
I Semester (REPEATERS) , II Semester, III Semester (REPEATERS),IV SEMESTER M.Sc MICROBIOLOGY Exam OCT – 2021 Provisional Result – Announced on 04.02.2022
NEW Check Results 
II Semester M.Sc-GEOGRAPHY Exam OCT – 2021 Provisional Result – Announced on 03.02.2022
NEW Check Results
II Semester M.Sc-CLINICAL NUTRITION AND DIETETTICS Exam OCT – 2021 Provisional Result – Announced on 03.02.2022
NEW Check Results
II YEAR M.A ECONOMICS Provisional Revaluation Result – EXAM OCT – 2021 Announced on 02.02.2022
NEW Check Results
I YEAR (REPEATERS) M.A POLITICAL SCIENCE Provisional Revaluation Result – EXAM OCT – 2021 Announced on 02.02.2022
NEW Check Results
II Semester M.Sc CHEMISTRY Exam OCT – 2021 Provisional Result – Announced on 02.02.2022
NEW Check Results
II Semester M.Sc BIOTECHNOLOGY Exam OCT – 2021 Provisional Result – Announced on 02.02.2022
NEW Check Results
II Semester M.Sc MATHEMATICS Exam OCT – 2021 Provisional Result – Announced on 01.02.2022
NEW Check Results
AMBEDKAR STUDIES (PGDAS) Provisional Result – Exam Dec-2021 Announced on 29.01.2022 Check Results
BUSINESS LAW (PGDBL) Provisional Result – Exam Dec-2021 Announced on 29.01.2022 Check Results
COMMUNICATIVE ENGLISH (PGDCE) Provisional Result – Exam Dec-2021 Announced on 29.01.2022 Check Results
ENGLISH (PGDE) Provisional Result – Exam Dec-2021 Announced on 29.01.2022 Check Results
FINANCIAL MANAGEMENT (PGDFM) Provisional Result – Exam Dec-2021 Announced on 28.01.2022 Check Results
PANCHAYAT RAJ (CPR) Provisional Result – Exam DEC-2021 Announced on 28.01.2022 Check Results
I YEAR B.A DEGREE EXAMINATION Provisional Result (2020-21 July Cycle) – EXAM NOV – 2021 Announced on 24.01.2022
NEW Check Results
II YEAR B.A DEGREE EXAMINATION Provisional Result (2019-20 July Cycle) – EXAM NOV – 2021 Announced on 24.01.2022
NEW Check Results
I Semester M.B.A Provisional Result (2020-21 July) – EXAM NOV – 2021 Announced on 24.01.2022
NEW
I YEAR MA-HISTORY Provisional Result (2020-21 July Cycle) – EXAM NOV – 2021 Announced on 24.01.2022
NEW Check Results
I YEAR MA-ECONOMICS Provisional Result (2020-21 July Cycle) – EXAM NOV – 2021 Announced on 24.01.2022
NEW Check Results
I YEAR B.COM DEGREE EXAMINATION Provisional Result (2020-21 July Cycle) – EXAM NOV – 2021 Announced on 18.01.2022
NEW Check Results
II YEAR B.COM DEGREE EXAMINATION Provisional Result (2019-20 July Cycle) – EXAM NOV – 2021 Announced on 18.01.2022
NEW Check Results
I Semester (REPEATERS) , II Semester (REPEATERS), III Semester (REPEATERS),IV SEMESTER (REPEATERS) M.B.A(OS) Exam OCT/NOV – 2021 Provisional Result – Announced on 17.01.2022
NEW Check Results
III Semester M.Sc-MICROBIOLOGY Provisional Result (2019-20 July & January Cycle) – EXAM NOV – 2021 Announced on 17.01.2022
NEW Check Results
I Semester M.Sc-MICROBIOLOGY Provisional Result (2020-21 July & January Cycle) – EXAM NOV – 2021 Announced on 17.01.2022
NEW Check Results
I Semester M.Sc-CLINICAL NUTRITION AND DIETETTICS Provisional Result (2020-21 July & January Cycle) – EXAM NOV – 2021 Announced on 17.01.2022
NEW Check Results
I Semester M.Sc-CHEMISTRY Provisional Result (2020-21 July & January Cycle) – EXAM NOV – 2021 Announced on 17.01.2022
NEW Check Results
I Semester (REPEATERS) , II Semester, III Semester (REPEATERS),IV SEMESTER M.B.A Exam OCT/NOV – 2021 Provisional Result – Announced on 15.01.2022
NEW Check Results
II YEAR M.A SOCIOLOGY Provisional Revaluation Result – EXAM OCT – 2021 Announced on 14.01.2022
NEW Check Results
I YEAR (REPEATERS) M.A ENGLISH Provisional Revaluation Result – EXAM OCT – 2021 Announced on 14.01.2022
NEW Check Results
I Semester M.Sc-BIOTECHNOLOGY Provisional Result (2020-21 July & January Cycle) – EXAM NOV – 2021 Announced on 14.01.2022
NEW Check Results
I YEAR MA-POLITICAL SCIENCE Provisional Result (2020-21 July Cycle) – EXAM NOV – 2021 Announced on 14.01.2022
NEW Check Results
I YEAR MA-SOCIOLOGY Provisional Result (2020-21 July Cycle) – EXAM NOV – 2021 Announced on 14.01.2022
NEW Check Results
I Semester M.Sc-COMPUTER SCIENCE Provisional Result (2020-21 July & January Cycle) – EXAM NOV – 2021 Announced on 14.01.2022
NEW Check Results
I Semester M.Sc-MATHEMATICS Provisional Result (2020-21 July & January Cycle) – EXAM NOV – 2021 Announced on 12.01.2022
NEW Check Results
III Semester M.Sc-MATHEMATICS Provisional Result (2019-20 July & January Cycle) – EXAM NOV – 2021 Announced on 12.01.2022
NEW Check Results
III Semester M.Sc-INFORMATION SCIENCE Provisional Result (2019-20 July & January Cycle) – EXAM NOV – 2021 Announced on 12.01.2022
NEW Check Results
I Semester M.Sc-INFORMATION SCIENCE Provisional Result (2020-21 July & January Cycle) – EXAM NOV – 2021 Announced on 12.01.2022
NEW Check Results
I Semester M.Sc-GEOGRAPHY Provisional Result (2020-21 July & January Cycle) – EXAM NOV – 2021 Announced on 12.01.2022
NEW Check Results
I YEAR MA-ANCIENT HISTORY AND ARCHAELOGY Provisional Result (2020-21 July Cycle) – EXAM NOV – 2021 Announced on 12.01.2022
NEW Check Results
I YEAR (REPEATERS) AND II YEAR M.COM Provisional Revaluation Result – EXAM OCT – 2021 Announced on 12.01.2022
NEW Check Results
II YEAR MA-PUBLIC ADMINISTRATION Provisional Revaluation Result – EXAM OCT – 2021 Announced on 10.01.2022
NEW Check Results
II YEAR MA-POLITICAL SCIENCE Provisional Revaluation Result – EXAM OCT – 2021 Announced on 10.01.2022
NEW Check Results
I Semester M.Sc-PHYSICS Provisional Result (2020-21 July & January Cycle) – EXAM NOV – 2021 Announced on 07.01.2022
NEW Check Results
III Semester M.Sc-PHYSICS Provisional Result (2019-20 July & January Cycle) – EXAM NOV – 2021 Announced on 07.01.2022
NEW Check Results
I YEAR (REPEATERS) AND II YEAR MA-ANCIENT HISTORY & ARCHAEOLOGY Provisional Revaluation Result – EXAM OCT – 2021 Announced on 07.01.2022
NEW Check Results
III SEMESTER M.Sc BIOTECHNOLOGY Provisional Result – Open Book Exam Oct-2020 Announced on 07.01.2022 Check Results
I SEMESTER M.Sc PSYCHOLOGY Provisional Result – Open Book Exam Jan/Feb-2021 Announced on 07.01.2022 Check Results
I YEAR (REPEATERS) AND II YEAR MA-KANNADA Provisional Revaluation Result – EXAM OCT – 2021 Announced on 07.01.2022
NEW Check Results
I Semester M.Sc-ENVIRONMENTAL SCIENCE Provisional Result (2020-21 July & January Cycle) – EXAM NOV – 2021 Announced on 06.01.2022
NEW Check Results
III Semester M.Sc-ENVIRONMENTAL SCIENCE Provisional Result (2019-20 July & January Cycle) – EXAM NOV – 2021 Announced on 06.01.2022
NEW Check Results
I Semester (REPEATERS) , IV Semester M.Sc BIOTECHNOLOGY Exam OCT – 2021 Provisional Result – Announced on 06.01.2022
NEW Check Results
I Semester (REPEATERS) , III Semester (REPEATERS), IV Semester M.Sc CLINICAL NUTRITION AND DIETETTICS Exam OCT – 2021 Provisional Result – Announced on 06.01.2022
NEW Check Results
I Semester (REPEATERS) M.Sc GEOGRAPHY Exam OCT – 2021 Provisional Result – Announced on 06.01.2022
NEW Check Results
I Semester (REPEATERS) , II Semester, III Semester (REPEATERS) M.Sc COMPUTER SCIENCE Exam OCT – 2021 Provisional Result – Announced on 06.01.2022
NEW Check Results
II YEAR MA-HINDI Provisional Revaluation Result – EXAM OCT – 2021 Announced on 06.01.2022
NEW Check Results
I YEAR M.COM Provisional Result (2020-21 July Cycle) – EXAM NOV – 2021 Announced on 05.01.2022
NEW Check Results
I YEAR MA-KANNADA Provisional Result (2020-21 July Cycle) – EXAM NOV – 2021 Announced on 05.01.2022
NEW Check Results
I YEAR MA-ENGLISH Provisional Result (2020-21 July Cycle) – EXAM NOV – 2021 Announced on 05.01.2022
NEW Check Results
I YEAR MA-HINDI Provisional Result (2020-21 July Cycle) – EXAM NOV – 2021 Announced on 05.01.2022
NEW Check Results
I YEAR MA-URDU Provisional Result (2020-21 July Cycle) – EXAM NOV – 2021 Announced on 05.01.2022
NEW Check Results
I YEAR MA-SANSKRIT Provisional Result (2020-21 July Cycle) – EXAM NOV – 2021 Announced on 05.01.2022
NEW Check Results
I YEAR MA-PUBLIC ADMINISTRATION Provisional Result (2020-21 July Cycle) – EXAM NOV – 2021 Announced on 05.01.2022
NEW Check Results
I YEAR MA-MASS COMMUNICATION AND JOURNALISM Provisional Result (2020-21 July Cycle) – EXAM NOV – 2021 Announced on 05.01.2022
NEW Check Results
II YEAR MA-HISTORY Provisional Revaluation Result – EXAM OCT – 2021 Announced on 04.01.2022
NEW Check Results
II YEAR MA-ENGLISH Provisional Revaluation Result – EXAM OCT – 2021 Announced on 04.01.2022
NEW Check Results
I Semester (REPEATERS) , III Semester (REPEATERS), IV Semester M.Sc CHEMISTRY Exam OCT – 2021 Provisional Result – Announced on 04.01.2022
NEW Check Results
I Semester (REPEATERS) , II Semester , III Semester (REPEATERS) M.Sc PHYSICS Exam OCT – 2021 Provisional Result – Announced on 04.01.2022
NEW Check Results