PCMC Bharti Mock Test – पिंपरी चिंचवड महानगरपालिका भरती टेस्ट सिरीज
PCMC Papers Test Series
PCMC Bharti Mock Test – पिंपरी चिंचवड महानगरपालिका भरती टेस्ट सिरीज
PCMC Papers Test Series
 Pimpri Chinchwad Mahanagarpalika Bharti Online Test Series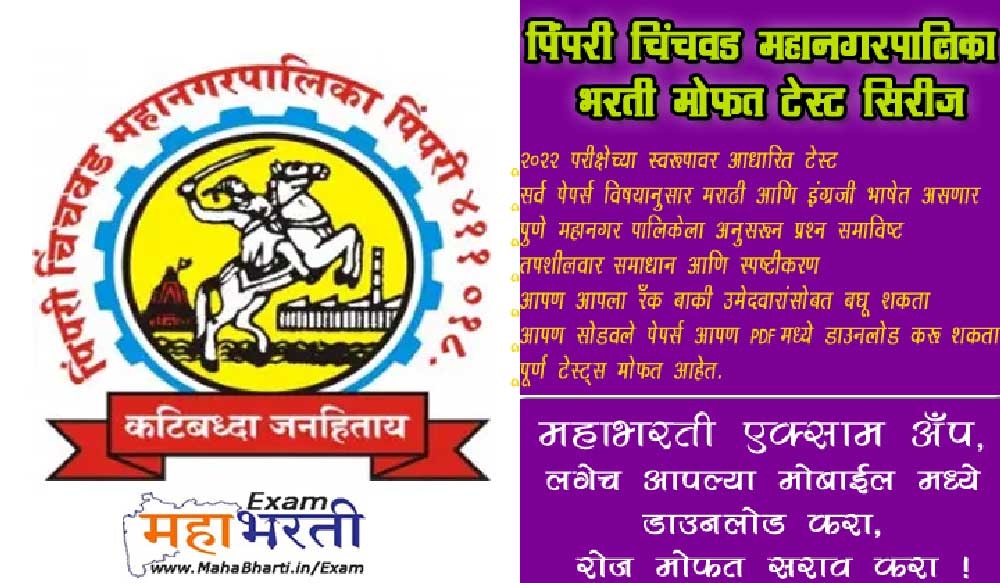 PCMC Test Series 2022-2023
PCMC Bharti Mock Test – Welcome to the new section PCMC Papers of Mahabharti Exam Portal. We will publish new papers daily on this page. These papers are given following PCMC written test. All the following papers will be useful for the upcoming Pimpri Chinchawad written exam. Click here to get all papers updates on Telegram. Attempt Free PCMC Bharti Mock Test for Various Posts in Marathi and English at MahaBharti Exam App ! Practice With PCMC Test Series 2023 Online to score Better in The exam. PCMC Sarav Prashnsanch is the Primary approach to start with the preparation of PCMC Exam 2023. This PCMC Online Free Test Series comes with Free PCMC Mock Test Series in Marathi and English which provides you detailed solution as well as performance analysis. So attempt MahaBharti Exam PCMC Mock Test Series 2023 and improve your Score:
PCMC Previous Year Question Paper With Answer Key – मागील वर्षीचे पेपर PDF डाउनलोड करा
PCMC Exam will Be in March – April Month !!!!!!
PCMC Exam Date 2023 :
26 May ते 28 May 2023
पिंपरी चिंचवड महानगरपालिका भरती टेस्ट सिरीज
या लेखाच्या शीर्षकावरून तुम्हाला कदाचित समजले असेल की आम्ही तुम्हाला पिंपरी चिंचवड महानगरपालिका भरती 2023 साठी नमुना पेपर, चाचणी PAPER, मागील वर्षाचे पेपर प्रदान करण्याचा प्रयत्न करत आहोत. मोठ्या संख्येने उमेदवारांनी पिंपरी चिंचवड महानगरपालिका भरतीसाठी अर्ज केले आहेत, त्यांना परीक्षेत चांगले गुण मिळवण्यासाठी मदत म्हणून आम्ही तुम्हाला मोफत पिंपरी चिंचवड महानगरपालिका मॉक टेस्ट/फ्री पिंपरी चिंचवड महानगरपालिका सॅम्पल पेपर/पिंपरी चिंचवड महानगरपालिका मागील वर्षाचे पेपर्स, पिंपरी चिंचवड महानगरपालिका सरल सेवा भरती परीक्षेसाठी मॉक टेस्ट देत आहोत जेणेकरून तुम्ही तुमची तयारी पूर्णपणे करू शकतात, कोणत्याही तणावाशिवाय. तुमच्या सुधारणेसाठी तुम्ही हे पेपर डाउनलोड देखील करू शकता
A large number of candidates GOING TO apply for Pimpri Chinchwad Municipal Corporation Recruitment, to help them score well in the exam we provide you with Free Pimpri Chinchwad Municipal Corporation Mock Test / Free Pimpri Chinchwad Municipal Corporation Sample Paper / Pimpri Chinchwad Municipal Corporation Previous Year Papers, Pimpri Chinchwad Municipal Corporation Saral Seva Recruitment Exam Mock Test So that you can complete your preparation without any stress. You can also download this paper for your improvement. Download PCMC Previous Papers PDF, Download PCMC Exam 2023 Practice Test PDF from this page, official website https://www.pcmcindia.gov.in/. We will keep adding the latest updates and details here and know how to prepare for PCMC Saral Seva Bharti Exam 2022.
Benefits OF PCMC MOCK TEST
Mock test based on latest exam format will consist of 4 sections
All papers will be in Marathi and English language depending on the subject
Questions included as per Pune Municipal Corporation
Detailed solution and explanation
You can see your rank with other candidates
You can download your solved papers in PDF format
Full tests are free.
---