Downlaod Maharashtra Group C Main Exam Syllabus PDF
MPSC Group C Main Exam Syllabus PDF – Download Maha Group C Service Exam Syllbus 2021 : For 12th Pass to Graduate Maharashtra Group C Servicess Exam is one Of the Most Important Examination conducted by Maharashtra Public Service Commission Every Year. Many Candidates form Maharashtra State are waited for this exam to be conducted by MPSC. MPSC Conducts Various Exams every Year to recruit candidates for Officers Posts. Here in this section we are Providing You Latest MPSC Syllabus, MPSC Group C Exam Pattern,  Detailed Maharashtra Group C Services Exam Pattern PDF. Those candidates who are preparing for Maharashtra Group C Services Exam can download MPSC Group C Services Mains Exam PDF Form Below Link. Go through Details Given below and boost Your Preparation with MahaBharti Exam Portal as we are Giving Daily Free MPSC Mocks Test..SO Keep Visiting Us………….
Finally MPSC Group C Advertisemnet had been Published. Accordingly 900 Posts will be filled . MPSC has also issued Syllabus for Additional Two Posts. Candidates can check it form below Link:
Under MPSC Group C, there is a vacancy for Excise Sub Inspector Post, Tax Assistant, Clerk-Typist, Industries Inspector and Technical Assistant. For this Post MPSC has published Modified Mains Syllabus. Download MPSC Clerk Typist Syllabus, MPSC Tax Assistant Syllabus PDF at below
📑 महाराष्ट्र गट – क सेवा पूर्व परीक्षा जाहिरात.
सर्व 5 संवर्ग मिळून 900 पदे
1) उद्योग निरीक्षक, गट – क (उद्योग संचलनालय = 103 पदे
2) दुय्यम निरीक्षक, गट – क (राज्य उत्पादन शुल्क) = 114 पदे
3) तांत्रिक सहाय्यक, गट – क (विमा संचालनालय = 14 पदे
4) कर सहाय्यक, गट – क = 117 पदे
5) लिपिक – टंकलेखक (मराठी) = 473 पदे
लिपिक – टंकलेखक (इंग्रजी) = 79 पदे
MPSC Group C Services Syllabus 2022
महाराष्ट्र गट-क सेवा मुख्य परीक्षेचा सुधारित अभ्यासक्रम आयोगाच्या संकेतस्थळावर प्रसिध्द करण्यात आला आहे. प्रस्तुत अभ्यासक्रमामध्ये उद्योग निरीक्षक व विमा संचालनालयातील तांत्रिक सहायक या संवर्गाच्या मुख्य परीक्षेचा अभ्यासक्रम अंतर्भूत करण्यात आला आहे. इच्छुक उमेदवार खाली दिलेल्या लिंक द्वारे थेट PDF  डाउनलोड करू शकतात 
For All 5 Posts Under Maharashtra Group C Mains Exam there will be two Question Papers of total 200 Marks. Section wise Marks distribustion is given below. Candidates can go through Latest  Maharashtra Group C Mains Exam Pattern…..
MPSC Syllabus 2021
Name of the Board
Maharashtra Public Service Commission (MPSC)
Post To Be Filled
Industry Inspector, Deputy Inspector, Technical Assistant, Clerical Typography (Marathi / English
 Vacancy
900 Posts
Exam Date

MPSC Group C Combined Prelims Exam Date : 3rd April 2022

MPSC Group C Mains Exam Date👇🏾
MPSC Maharashtra Group C Mains Exam Pattern 2021
MPSC Excise SI Mains Exam Pattern 2021
MPSC Tax Assistant Group C Exam Pattern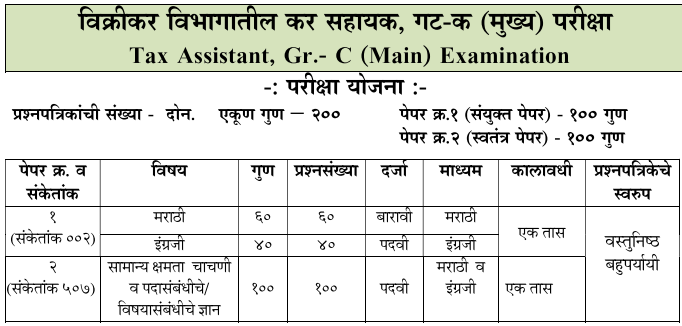 MPSC Clerk Typist Group C Exam Pattern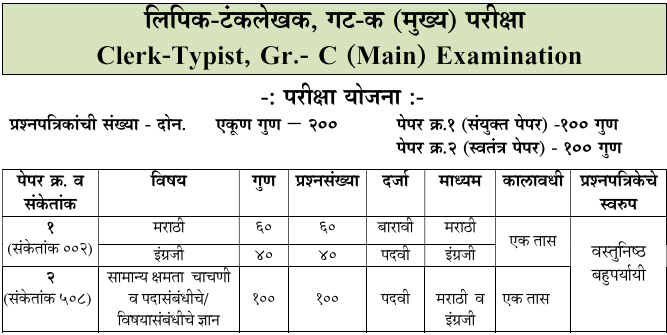 MPSC Technical Assistant Group C Exam Pattern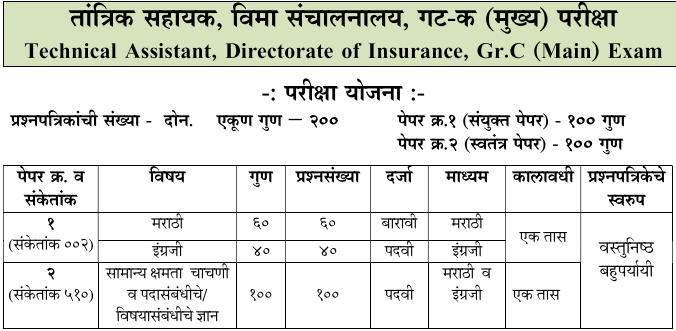 MPSC Industries Inspector Exam Pattern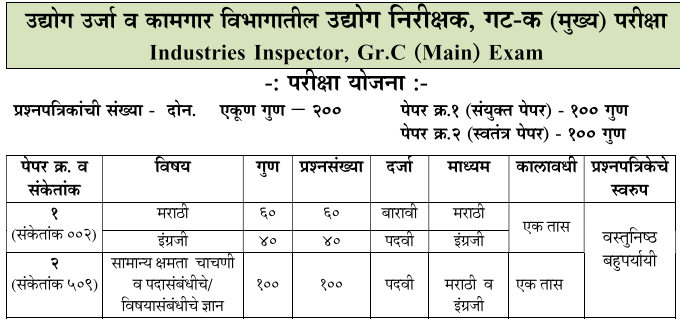 MPSC Group C Services Exam Syllabus 2021