Punjab University Result

-2023 Release to check the Results of semesters examination
BA, B.Com, B.Sc, BBA, BCA, BE, MBA, MCA, MA , M.Com, M.Sc | Panjab University UG & PG Semester Results @puchd.ac.in
Punjab University Result- 2023: Punjab University Result 2023 released on official website @puchd.ac.in. Students who are searching for the Punjab University Result– 2023 they can download result in this page.  Student here we uploaded the direct link to get the Punjab University Result UG & PG Semester Results in a very easy to download .Students who have successfully completed the university exam can check your https://puchd.ac.in Semester Result in the below of the page.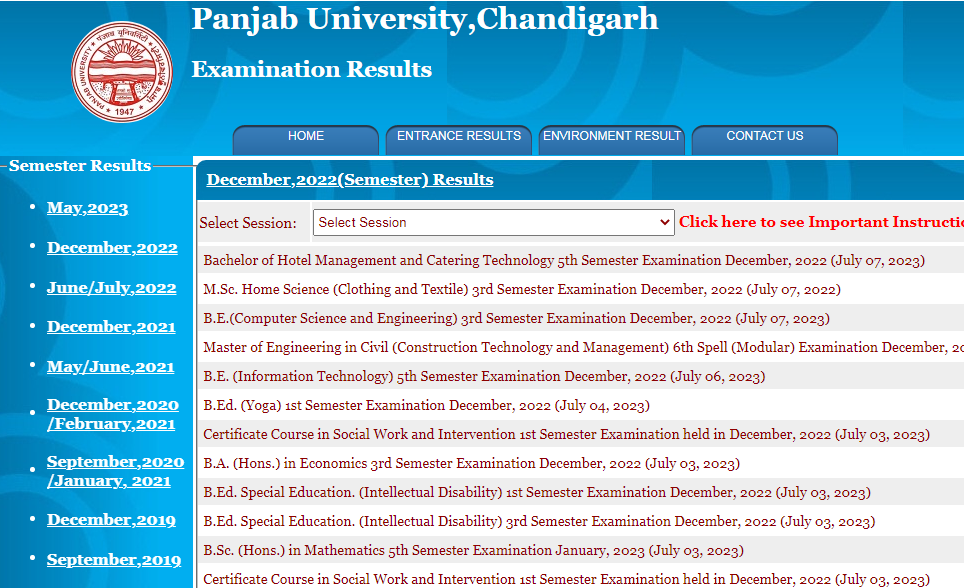 Update News for Student : Punjab University has conducted the written exam for the students. After completion of the written exam almost all the students are very curious to know the Punjab University Result- 2023. For that here we, mentioned the links to download the result. Students don't waste the time for searching puchd result 2023  on other sites. Follow this page https://mahabharti.in/university and easily get your results. Candidates without any late check your https://puchd.ac.in Exam Results from this page by using your roll number. here we mentioned all the genuine information to the students. puchd results name wise download here and also puchd result 2023 environment. The puchd notice board are display puchd datasheet – 2023
How to Check Online Punjab University Result 2023?
Candidates can check their yearly/ semester results online at the official website of the university. Follow the below-mentioned steps to know how to check the PU results.
Step 1: Go to the official website of the university – puchd.ac.in
Step 2: Open and Check for the Examination segment
Step 3: Choose the Result segment
Step 4: Choose the respective course/year
Step 5: Select the semester, exam type, and enter the roll number
Step 6: Check the results and download it
Panjab University Result 2023
B.Sc. (Honours) in Zoology 4th Semester Examination May, 2023 (September 20, 2023)
B.Voc. (Automobile) 6th Semester Examination May, 2023 (September 20, 2023)
B.Voc. (Hospitality & Tourism Management) 2nd Semester Examination May, 2023 (September 20, 2023)
B.Voc. (Medical Lab & Molecular Diagnostic Technology) 2nd Semester Examination May, 2023 (September 20, 2023)
B.Voc. (E-Commerce and Digital Marketing) 2nd Semester Examination May, 2023 (September 20, 2023)
B.Voc. (Global Professional in Beauty & Aesthetics) 6th Semester Examination May, 2023 (September 20, 2023)
M.Sc. Forensic Science and Criminology 4th Semester Examination May, 2023 (September 19, 2023)
M.B.B.S Final Prof. Part-I Examination held in July, 2023 (September 19, 2023)
Bachelor of Fine Arts 2nd Semester Examination May, 2023 (September 19, 2023)
B.A (Honours) in Economics 4th Semester Examination May, 2023 (September 19, 2023)
Panjab University Result 2023
M.A Ancient Indian History Culture Archaeology 2nd Semester Examination May, 2023 (September 18, 2023)
M.A. Indian Theatre 2nd Semester Examination held in May, 2023 (September 15, 2023)
Master in Disaster Management 2nd Semester Examination May, 2023 (September 15, 2023)
B.Voc. (Textile & Fashion Technology) 6th Semester Examination May, 2023 (September 15, 2023)
Pre.Ph.D Course work in Chemistry 1st Semester Examination May, 2023 (September 15, 2023)
B.E. (Biotechnology) 7th Semester Examination July, 2023 (September 15, 2023)
B.Sc. (Honours) Biophysics 2nd Semester Examination May, 2023 (September 15, 2023)
B.Sc. (Honours) Biophysics 1st Semester Special Examination July, 2023 (September 15, 2023)
B.Sc. (Honours) Microbiology 6th Semester Examination May, 2023 (September 15, 2023)
M.A. Indian Theatre 4th Semester Examination held in May, 2023 (September 15, 2023)
Bachelor of Architecture 9th Semester Examination held in August, 2023 (September 14, 2023)
Master of Arts (Defence & Strategic Studies) 4th Semester Examination held in May, 2023 (September 14, 2023)
Certificate Course in Vedic Studies (Annual) Examination June, 2023 (September 13, 2023)
Bacehlor of Optometry (B.Optom.) Part-III Examination July, 2023 (September 13, 2023)
B. Voc.(Food Processing and Quality Management) 6th Semester Examination May, 2023 (September 13, 2023)
Advance Diploma Course in French Examination June, 2023 (September 12, 2023)
B.Voc. (Textile and Fashion Technology) 2nd Semester Examination May, 2023 (September 12, 2023)
B.Voc. (Banking and Financial Services) 2nd Semester Examination May, 2023 (September 12, 2023)
M.A Women Studies 4th Semester Examination May, 2023 (September 12, 2023)
M.Sc. (Hons. School) in Computer Science 2nd Semester Examination May, 2023 (September 11, 2023)
Panjab University Result 2023
Panjab University Result 2023
B.Voc. (Horticulture Science) 2nd Semester Examination May, 2023 (September 08, 2023)
Certificate Course in Chinese Examination held in May, 2023 (September 08, 2023)
P.G. Diploma in Personnel Management & Labour Welfare 2nd Semester Examination May, 2023 (September 08, 2023)
Certificate Course in German Examination held in June, 2023 (September 08, 2023)
B.Voc. (Nutrition & Dietitics) 2nd Semester Examination May, 2023 (September 08, 2023)
B.Voc. (Tax, Laws & Management) 2nd Semester Examination May, 2023 (September 08, 2023)
Bachelor of Fine Arts 4th Semester Examination May, 2023 (September 06, 2023)
B.E. (Civil) 2nd Semester Examination May, 2023 (September 06, 2023)
B.Ed. Special Education (Learning Disability) 2nd Semester Examination May, 2023 (September 06, 2023)
Master of Surgery (M.S) Examination August, 2023 (September 06, 2023)
B.Voc. (Fashion Designing) 6th Semester Examination May, 2023 (September 06, 2023)
Master of Commerce (Accounting and Finance) 2nd Semester Examination May, 2023 (September 06, 2023)
M.Sc. in Fashion and Lifestyle Technology 2nd Semester Examination May, 2023 (September 06, 2023)
Advance Diploma in Human Rights and Duties 2nd Semester Examination May, 2023 (September 06, 2023)
Post Graduate Diploma in Applied Agriculture 2nd Semester Examination May, 2023 (September 05, 2023)
Bachelor of Optometry (B.Optom) Part-I (Supple) Examination July, 2023 (September 05, 2023)
Advance Diploma Course in Chinese Examination May, 2023 (September 05, 2023)
Bachelor of Hotel Management and Catering Technology 1st Semester Examination June, 2023 (September 05, 2023)
Diploma Course in Chinese Examination May, 2023 (September 05, 2023)
Post Graduate Diploma in Yoga Therapy 2nd Semester Examination May, 2023 (September 05, 2023)
M.Com. (Entrepreneurship and Family Business ) 2nd Semester Examination May, 2023 (September 05, 2023)
M.Sc. (Hons. School) Computer Science 4th Semester Examination May, 2023 (September 04, 2023)
B.Ed. Special Education (Intellectual Disability) 4th Semester Examination May, 2023 (September 04, 2023)
Diploma in Pre-School Education 2nd Semester Examination May, 2023 (September 04, 2023)
M.A. Governance and Leadership 2nd Semester Examination May, 2023 (September 04, 2023)
M.Sc. Mathematics 2nd Semester Examination May, 2023 (September 04, 2023)
Panjab University Result 2023
Bachelor of Physical Education (4 Year Course) 2nd Semester Examination (September 01, 2023) – May,2023
Master of Arts (Fine Arts) 2nd Semester Examination (September 01, 2023) – May,2023
Shastri 2nd Semester Examination (September 01, 2023) – May,2023
Bachelor of Laws 4th Semester Examination (September 01, 2023) – May,2023
Bachelor of Physical Education (4 Year Course) 4th Semester Examination (September 01, 2023) – May,2023
Bachelor of Laws (Under CGPA scheme) 2nd Semester Examination (August 31, 2023) – May,2023
Bachelor of Laws 2nd Semester Examination (August 31, 2023) – May,2023
Master of Arts [History] 4th Semester Examination (August 29, 2023) – May,2023
Shastri 6th Semester Examination (August 29, 2023) – May,2023
B.Sc. (Hons) (Bio-Informatics) 2nd Semester Examination (August 28, 2023) – May,2023
M.Com (Honours) (Hons School System) 2nd Semester Examination (August 25, 2023) – May,2023
Master of Arts (Philosophy) 2nd Semester Examination (August 25, 2023) – May,2023
Master of Business Administration (Human Resource) (Hons. School System) 2nd Semester Examination (August 25, 2023) – May,2023
Master of Business Administration (International Business) (Hons. School System) 2nd Semester Examination (August 25, 2023) – May,2023
Master of Social Work 2nd Semester Examination (August 25, 2023) – May,2023
Post Graduate Diploma in Computer Applications 2nd Semester Examination (August 25, 2023) – May,2023
Panjab University Result 2023
Master of Business Administration (USOL) 2nd Semester Examination (August 24, 2023) – May,2023
Master of Arts (Fine Arts) 4th Semester Examination (August 24, 2023) – May,2023
Master of Arts [Police Administration] 4th Semester Examination (August 24, 2023) – May,2023
Bachelor of Laws 5th Semester Examination (August 24, 2023) – May,2023
Master of Laws (LLM 2 Year Course) 2nd Semester Examination (August 23, 2023) – May,2023
Master of Science [ Environment Science ] 2nd Semester Examination (August 23, 2023) – May,2023
B.Sc. (Microbial and Food Technology) 2nd Semester Examination (August 23, 2023) – May,2023
Prak-Shastri 4th Semester Examination (August 22, 2023) – May,2023
Panjab University Result 2023
Advance Diploma Course in German Examination June, 2023 (August 21, 2023)
B.Voc. (Fashion Technology and Apparel Design) 6th Semester Examination May, 2023 (August 21, 2023)
B.Voc. (Logistic Management) 6th Semester Examination May, 2023 (August 21, 2023)
Master of Engineering in Mechanical Engineering (Manufacturing Technology) 4th Semester (Regular) Examination June, 2023 (August 21, 2023)
M.Sc. in Biochemistry 2nd Semester Examination May, 2023 (August 21, 2023)
M.Sc (Honours) in Mathematics 4th Semester Examination May, 2023 (August 21, 2023)
M.Sc (TYC) System Biology and Bioinformatics 3rd Semester Examination July, 2023 (August 21, 2023)
Master of Business Administration 3rd Semester Examination (Reappear Candidate) May, 2023 (August 21, 2023)
B.Voc. (Agri Business and Agrarian Entrepreneurship) 6th Semester Examination May, 2023 (August 21, 2023)
Master of Fine Arts 4th Semester Examination June, 2023 (August 21, 2023)
Master of Engineering in Mechanical Engineering (Manufacturing Technology) 3rd Semester Examination June, 2023 (August 21, 2023)
Advance Diploma Course in Persian Examination June, 2023 (August 21, 2023)
M.Sc. Applied Chemistry (Pharmaceutical) 4th Semester Examination May, 2023 (August 21, 2023)
B.Ed. Special Education (Learning Disability) 4th Semester Examination May, 2023 (August 18, 2023)
Master in Fashion Designing and Management 4th Semester Examination May, 2023 (August 16, 2023)
Master in Fashion Designing and Management 2nd Semester Examination May, 2023 (August 16, 2023)
Panjab University Result 2023
B.Voc. Multimedia (Graphics and Animation) 6th Semester Examination May, 2023 (August 14, 2023)
M.A. Community Education and Development 2nd Semester Examination May, 2023 (August 14, 2023)
M.A. Community Education and Development 4th Semester Examination May, 2023 (August 14, 2023)
Master of Fine Arts 2nd Semester Examination June, 2023 (August 14, 2023)
Advance Diploma Course in Russian Examination June, 2023 (August 14, 2023)
Panjab University Result 2023
MCA (Two Year Degree Programme) Ist Semester Examination (August 11, 2023) – May,2023
M.Sc. (Chemistry) 2nd Semester Examination (August 11, 2023) – May,2023
Master of Computer Applications ( MCA ) 3rd Semester Examination (August 11, 2023) – May,2023
Master of Arts (Sanskrit) 4th Semester Examination (August 11, 2023) – May,2023
Master of Arts (Sociology) 4th Semester Examination (August 11, 2023) – May,2023
Master of Arts [Psychology] 4th Semester Examination (August 11, 2023) – May,2023
Master of Arts (Sociology) 2nd Semester Examination (August 10, 2023) – May,2023
Panjab University Result 2023
Panjab University Result 2023
Bachelor of Hotel Management and Catering Technology 5th Semester Examination December, 2022 (July 07, 2023)
M.Sc. Home Science (Clothing and Textile) 3rd Semester Examination December, 2022 (July 07, 2022)
B.E.(Computer Science and Engineering) 3rd Semester Examination December, 2022 (July 07, 2023)
Master of Engineering in Civil (Construction Technology and Management) 6th Spell (Modular) Examination December, 2022 (July 06, 2023)
B.E. (Information Technology) 5th Semester Examination December, 2022 (July 06, 2023)
B.Ed. (Yoga) 1st Semester Examination December, 2022 (July 04, 2023)
Certificate Course in Social Work and Intervention 1st Semester Examination held in December, 2022 (July 03, 2023)
B.A. (Hons.) in Economics 3rd Semester Examination December, 2022 (July 03, 2023)
B.Ed. Special Education. (Intellectual Disability) 1st Semester Examination December, 2022 (July 03, 2023)
B.Ed. Special Education. (Intellectual Disability) 3rd Semester Examination December, 2022 (July 03, 2023)
B.Sc. (Hons.) in Mathematics 5th Semester Examination January, 2023 (July 03, 2023)
Certificate Course in Social Work and Intervention 1st Semester Examination held in December, 2022 (July 03, 2023)
Bachelor of Engineering (Electrical and Electronics) 1st Semester Examination December, 2022 (June 27, 2023)
B.Pharmacy 5th Semester Choice Based Credit System Examination December, 2022 (June 27, 2023)
B.Sc. (Home Science) 1st Semester Examination December, 2022 (June 27, 2023)
B.E. (Food Technology) 1st Semester Examination February, 2023 (June 26, 2023)
B.E. (Information Technology) 4th Semester Examination January, 2023 (June 26, 2023)
B.E. (Mechanical) 1st Semester Examination December, 2022 (June 26, 2023)
B.E. (Computer Science and Engineering) 1st Semester Examination December, 2022 (June 22, 2023)
B.E. (Bio Technology) 1st Semester Examination December, 2022 (June 22, 2023)
B.E. (Information Technology) 3rd Semester Examination December, 2022 (June 23, 2023)
M.Sc. in Biochemistry 1st Semester Examination December, 2022 (June 20, 2023)
B.E. (Mechanical) 8th Semester Examination January, 2023 (June 20, 2023)
M.Sc. (Honours) in Biochemistry 3rd Semester Examination December, 2022 (June 20, 2023)
Master of Commerce (Business Innovations) 1st Semester Examination December, 2022 (June 19, 2023)
Five Year Integrated Programme in Social Science 7th Semester (B.A.Hons.+M.A. Sem-I) Examination December, 2022 (June 19, 2023)
B.E. (Computer Science & Engineering) 6th Semester Examination, January 2023 (June 16, 2023)
B.Ed General (TYC) 4th Semester Examination, December 2022 (June 16, 2023)
B.E. (Mechanical) 3rd Semester Examination, December 2022 (June 16, 2023)
B.E. (Computer Science & Engineering) 4th Semester Examination, January 2023 (June 16, 2023)
Master of Commerce (Accounting & Finance) 1st Semester Examination held in December, 2022 (June 15 2023)
Pre Doctor of Philosophy Course Work (Civil Engineering) Examination 2023 (June 15 2023)
B.E. (Computer Science & Engineering) 8th Semester Examination held in January, 2023 (June 15 2023)
Bachelor of Science (Home Science) 5th Semester Examination December, 2022 (June 15 2023)
B.E. (Biotechnology) 3rd Semester Examination December, 2022 (June 14, 2023)
B.E. (Biotechnology) 5th Semester Examination December, 2022 (June 14, 2023)
B.A. (Honours) in Economics 5th Semester Examination December, 2022 (June 13, 2023)
Master of Business Administration 1st Semester Examination December, 2022 (June 12, 2023)
M.E. (Biotechnology) 3rd Semester Examination December, 2022 (June 12, 2023)
M.E. (Mechanical) 1st Semester Examination December, 2022 (June 12, 2023)
Pre Ph.D. Course Work in Zoology Examination, March 2023 (June 12, 2023)
B.E. (Computer Science & Engg.) 5th Semester Examination December, 2022 (June 12, 2023)
Master in Public Health 3rd Semester Examination December, 2022 (June 12, 2023)
Five Years Integrated Programme in Social Science Semester IX [B.A. Hons.+M.A.SemIII] Examination Held in December, 2022 (June 08, 2023)
B.Sc. (Honours) in Mathematics & Computing 1st Semester Examination December, 2022 (June 08, 2023)
Master of Technology (Instrumentation) 4th Semester Excamination, 2022 (June 08, 2023)
Master of Tech. (Material Science & Technology) 1st Semester Examination December, 2022 (June 07, 2023)
Master of Engineering in Civil Engineering (Construction Technology & Management) 1st Spell (Modular) Examination December, 2022 (June 07, 2023)
B.Sc. (Honours) in Biochemistry 1st Semester Examination December, 2022 (June 07, 2023)
Master of Engineering in Civil Engg. (Construction Technology & Management) 3rd Spell Modular Examination December, 2022 (June 07, 2023)
M.Sc. Home Science (Food & Nutrition) 3rd Semester Examination December, 2022 (June 07, 2023)
M.Sc. (Hons). in Biophysics 3rd Semester Examination December, 2022 (June 07, 2023)
Master in Public Health 1st Semester Examination January, 2023 (June 07, 2023)
Master of Tech. (Nano Science & Technology) 3rd Semester Examination December, 2022 (June 07, 2023)
B.Sc. (Honours) in Biochemistry 3rd Semester Examination December, 2022 (June 07, 2023)
B.Sc. (Honours) in Biochemistry 5th Semester Examination December, 2022 (June 07, 2023)
B.Sc. (Honours) Chemistry 1st Semester Examination December, 2022 (June 07, 2023)
Master of Engineering in Civil Engg. (Construction Technology & Management) 4th Spell (Modular) Examination December, 2022 (June 07, 2023)
M.Sc. Industrial Chemistry 3rd Semester Examination December, 2022 (June 07, 2023)
B.A. (Honours) in Social Sciences 1st Semester Examination held in December, 2022 (June 06, 2023)
M.B.B.S. Final Prof Part-I Examination held in March, 2023 (June 06, 2023)
B.Voc. (Food Science and Technology) 3rd Semester Examination December, 2022 (June 05, 2023)
B.E. (Civil) 4th Semester Examination January, 2023 (June 05, 2023)
B.Voc. (Nutrition and Dietetics) 3rd Semester Examination December, 2022 (June 05, 2023)
Master of Engineering in Civil Engineering (Construction Technology and Management) 3rd Semester Examination December, 2022 (June 05, 2023)
Post Graduate Diploma in Journalism and Mass Communication 1st Semester Examination December, 2022 (June 05, 2023)
Bachelor of Engineering (Electrical & Electronics) 2nd Semester (Reappear) Examination January, 2023 (June 05, 2023)
Master of Engineering in Civil Engineering (Construction Technology and Management) 2nd Semester Examination December, 2022 (June 05, 2023)
B.E.(Civil) 6th Semester Examination January, 2023 (June 05, 2023)
B.E. (Electrical and Electronics) 4th Semester (Reappear) Examination January, 2023 (June 05, 2023)
B.Voc. (Nutrition and Dietetics) 5th Semester Examination December, 2022 (June 05, 2023)
Master of Engineering in Civil Engineering (Construction Technology and Management) 1st Semester Examination December, 2022 (June 05, 2023)
B.Voc. (Journalism and Mass Communication) 3rd Semester Examination December, 2022 (June 05, 2023)
Master of Engg. Electrical Engg. (Instrumentation & Control) 3rd Semester Examination December, 2022 (June 05, 2023)
M.A. Women s Studies 3rd Semester Examination December, 2022 (June 02, 2023)
Master of Engg. Electrical (Power Systems) 1st Semester Examination December, 2022 (June 02, 2023)
Bachelor of Engineering (Chemical) with MBA 5th Semester Examination December, 2022 (June 02, 2023)
Master of Engg. (Computer Science &Engg.) 7th Spell (Modular Programme) Examination, 2022 (June 02, 2023)
Master of Engg. Electrical (Power Systems) 3rd Semester Examination, December 2022 (June 02, 2023)
M.Sc.(Industrial Chemistry) 1st Semester Examination December, 2022 (June 1, 2023)
B.E. (Civil) 7th Semester Examination December, 2022 (June 01, 2023)