Durg University Time Table 2022 For BA B.Sc B.Com MA M.Sc M.Com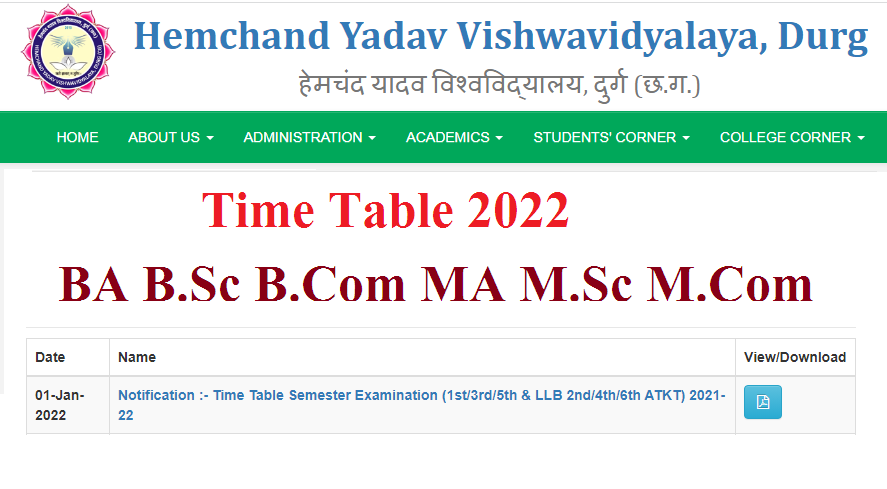 Durg University Time Table 2022 :Hemchand Yadav Vishwavidyalaya has released the Durg University time table online on the official website. Candidates can check the exam time table for the annual & semester exam on this page. The time table is available for B.A B.Com B.Sc M.A M.Sc M.Com MBA 1st/ 2nd/ 3rd Semester Annual Exam Scheme/ Schedule 2022 Durg University Odd Even Semester Exam Date Sheet Time Table 2021 Durg University Exam Schedule of UG PG Part – 1 2 3 Exam Dates Updates
The exam date, day, paper code, and paper name is available on the time table pdf. Candidates can also check the date of uploading the question paper on the website. Also, check the important guidelines mentioned for students on the time table. Check the page for Durg University Time Table 2022.
Hemchand Yadav Vishwavidyalaya has uploaded the exam time table online on the official website. Candidates can check/download the exam time table in a few simple steps. Firstly, visit the official website of Durg University. Hereafter, check the latest notice & notification section for the exam time table. Follow the steps mentioned below to check the exam time table.
Go to the university official website
Open the Durg University official page will appear
Click on the Time Table link mentioned under the quick link section
Durg University Time Table List page will appear
Check for the time table link and click on the link
Time Table will open in new tab
Check the exam schedules and also download the time table.
The time table on Hemchand Yadav Vishwavidyalaya's official website has details related to exam schedule and notifications. Some of the details mentioned in the time table are:
Exam name
Date of the examination
Day of the examination
Subject name
Shift details
Exam day instructions
Below are a few instructions to be followed on the day of the exam.
Report to the assigned exam centre 15 minutes earlier.
Carry the Admit Card and college id card on each day of the exam
Mobile Phone, programmable calculator, smartwatch are prohibited in the exam hall
Paper, book, programmable calculators, or any other form of material relevant to the subject of the exam (Theory / Practical in which the student is appearing is prohibited in the exam hall.
Do not misbehave with the examiner during the exams.
Do not involve in any kind of malpractice during the exam
Important Link Area Of Durg University