RTMNU Result Released For BA, B.Com, B.Sc, MA, M.Com, M.Sc, BBA, BCCA, MBA, MSc, BE, BCA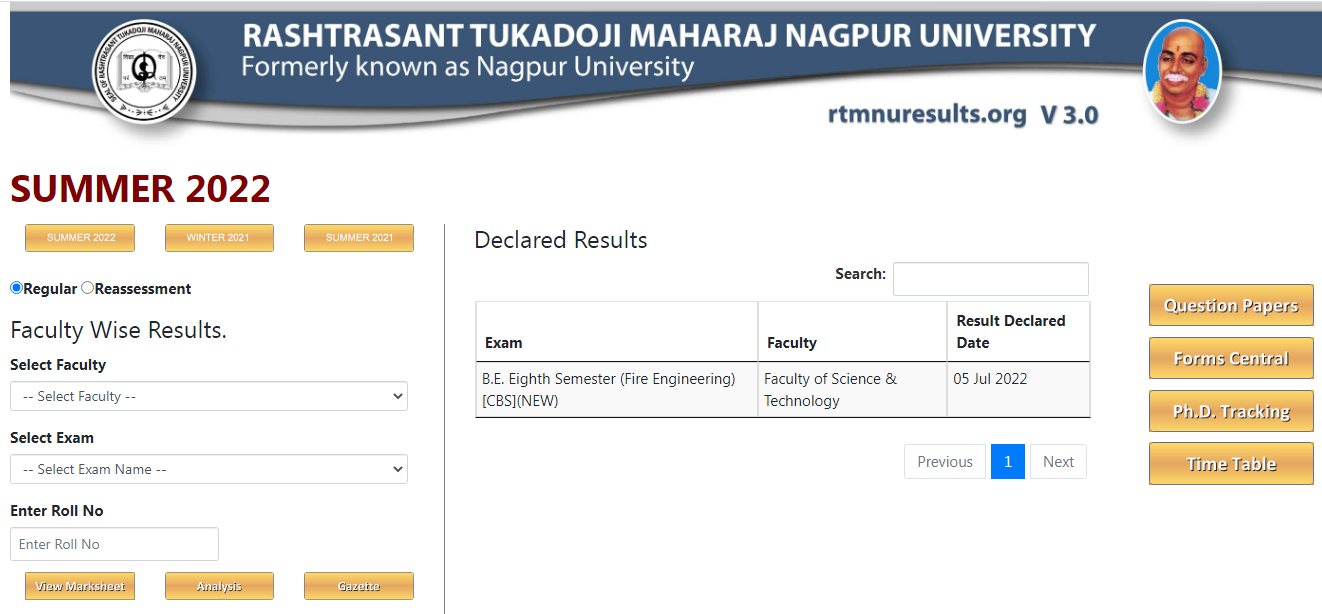 RTMNU Summer 2022 Result :The Rashtrasant Tukadoji Maharaj Nagpur University Summer Result 2022 released on official website nagpuruniversity.ac.in. Students who are searching for the RTMNU Result 2022 they can download result in this page.  Student here we uploaded the direct link to get the RTM Nagpur University UG & PG Semester Results in a very easy to download . Students who have successfully completed the university exam can check your  Semester Result in the below of the page.
RTMNU Result- Summer 2022 Released : Nagpur University has conducted the written exam for the students. After completion of the written exam almost all the students are very curious to know the RTMNU Result 2022. For that here we, mentioned the links to download the result. Students don't waste the time for searching RTMNU Results Summer 2022 on other sites. Follow this page https://mahabharti.in/university and easily get your results. Candidates without any late check your Exam RTM University Results from this page by using your roll number. here we mentioned all the genuine information to the students.
How to check RTMNU UG/PG Result 2022
Visit to official website
The students are required to click on direct link available at below.
You will now redirect on Result Portal of University.
Here you need to select Winter 2021 Result
Now you have to select Faculty, Select Exam etc.
Enter your Roll Number now.
Now click on "View Marksheet Button".
Finally, the students will be able to check RTMNU Result.
Check your Result and take printout of result for further uses.
More : RTMNU Revised Syllabus 2021
Read More : RTMNU Update New Syllabus 2021
More Read : RTMNU Result -Winter 2021 Check here to Download UG and PG Results
Read More :RTMNU BCCA 6th Semester Result Summer 2022
Read More : RTMNU BCCA I Sem Results Winter 2021
Read More : RTMNU BA 6th Semester Result Summer 2022 
Read More : RTMNU B.Com 6th Semester Result Summer 2022
| | | |
| --- | --- | --- |
| Exam | Faculty | Result Declared Date |
| B.Tech. (Chemical Technology) Fifth Semester (Food Technology) [CBS] (New) Click here to view result | Faculty of Science & Technology | 27 Feb 2023 |
| B.Tech. (Chemical Technology) Eighth Semester (Petrol Reffing & Petrochem) (NEW)(CBS) Click here to view result | Faculty of Science & Technology | 25 Feb 2023 |
| B.Tech. (Chemical Engineering) Sixth Semester (New)[CBS] Click here to view result | Faculty of Science & Technology | 25 Feb 2023 |
| B.F.A. Fourth Semester (Applied Art) (New)[CBS] Click here to view result | Faculty of Humanities | 25 Feb 2023 |
| M.COM. (Professional) Fourth Semester [CBCS] Click here to view result | Faculty of Commerce & Management | 25 Feb 2023 |
| B.T.S. Fourth Semester Click here to view result | Faculty of Science & Technology | 25 Feb 2023 |
| M.COM. Fourth Semester [CBCS] Click here to view result | Faculty of Commerce & Management | 25 Feb 2023 |
| | | |
| --- | --- | --- |
| Exam | Faculty | Result Declared Date |
| B.E. Seventh Semester (Civil Engineering) [CBS] (New) Click here to view result | Faculty of Science & Technology | 21 Feb 2023 |
| B.E. Seventh Semester (Mechanical Engineering) [CBS] (New) Click here to view result | Faculty of Science & Technology | 21 Feb 2023 |
| B.E. Seventh Semester (Electrical Engineering) (E&P) [CBS] (New) Click here to view result | Faculty of Science & Technology | 21 Feb 2023 |
| B.E. Seventh Semester (Electronics & Telecommunication) [CBS] (New) Click here to view result | Faculty of Science & Technology | 21 Feb 2023 |
| B.E. Seventh Semester (Electronics & Communication) [CBS] (New) Click here to view result | Faculty of Science & Technology | 21 Feb 2023 |
| B.E. Seventh Semester (Aeronautical Engineering) [CBS] (New) Click here to view result | Faculty of Science & Technology | 21 Feb 2023 |
| B.E. Seventh Semester (Computer Science & Engineering) [CBS] (New) Click here to view result | Faculty of Science & Technology | 21 Feb 2023 |
| B.E. Seventh Semester (Computer Technology) [CBS] (New) Click here to view result | Faculty of Science & Technology | 21 Feb 2023 |
| B.E. Seventh Semester (Information Technology) [CBS] (New) Click here to view result | Faculty of Science & Technology | 21 Feb 2023 |
| B.E. Seventh Semester (Computer Engineering) [CBS] (New) Click here to view result | Faculty of Science & Technology | 21 Feb 2023 |
| B.E. Eighth Semester (Information Technology) [CBS] (New) Click here to view result | Faculty of Science & Technology | 16 Feb 2023 |
| B.E. Seventh Semester (Electronics Engineering) [CBS] (New) Click here to view result | Faculty of Science & Technology | 16 Feb 2023 |
| B.E. Sixth Semester (Civil Engineering) (New)[CBS] Click here to view result | Faculty of Science & Technology | 16 Feb 2023 |
| B.E. Sixth Semester (Computer Engineering) (New)[CBS] Click here to view result | Faculty of Science & Technology | 16 Feb 2023 |
| B.E. Sixth Semester (Computer Science & Engineering) (New)[CBS] Click here to view result | Faculty of Science & Technology | 16 Feb 2023 |
| B.E. Sixth Semester (Electrical Engineering)(E & P) (New)[CBS] Click here to view result | Faculty of Science & Technology | 16 Feb 2023 |
| B.E. Sixth Semester (Electronic & Communication) (New)[CBS] Click here to view result | Faculty of Science & Technology | 16 Feb 2023 |
| B.E. Sixth Semester (Electronic & Telecommunication) (New)[CBS] Click here to view result | Faculty of Science & Technology | 16 Feb 2023 |
| B.E. Sixth Semester (Electronic Engineering) (New)[CBS] Click here to view result | Faculty of Science & Technology | 16 Feb 2023 |
| B.E. Sixth Semester (Information Technology) (New)[CBS] Click here to view result | Faculty of Science & Technology | 16 Feb 2023 |
| B.E. Sixth Semester (Mechanical Engineering) (New)[CBS] Click here to view result | Faculty of Science & Technology | 16 Feb 2023 |
| B.E. Fifth Semester (Electronics Engineering) [CBS] (New) Click here to view result | Faculty of Science & Technology | 16 Feb 2023 |
| B.E. Seventh Semester (Electronics Engineering) [CBS] Click here to view result | Faculty of Science & Technology | 16 Feb 2023 |
| Bachelor of Cosmetic Technology Fifth Semester Click here to view result | Faculty of Science & Technology | 16 Feb 2023 |
| B.F.A. Third Semester (Applied Art) (New) [CBS] Click here to view result | Faculty of Humanities | 16 Feb 2023 |
| B.F.A. Third Semester (Painting)(New) [CBS] Click here to view result | Faculty of Humanities | 16 Feb 2023 |
| B.E. Fifth Semester (Mechanical Engineering)[CBS] Click here to view result | Faculty of Science & Technology | 16 Feb 2023 |
| B.E. Fifth Semester (Electrical Engineering) (E&P) [CBS] Click here to view result | Faculty of Science & Technology | 16 Feb 2023 |
| B.E. Fifth Semester (Civil Engineering) [CBS] Click here to view result | Faculty of Science & Technology | 16 Feb 2023 |
RTMNU Summer 2022 Result
Declared Results
| | | | | |
| --- | --- | --- | --- | --- |
| 1 | 02-12-2022 | SECOND SEMESTER BACHELOR OF ARTS | View | View |
RTMNU Summer 2022 Result
Declared Results
| | | | | |
| --- | --- | --- | --- | --- |
| 1 | 21-11-2022 | SECOND SEMESTER B.Sc. | View | View |
| 2 | 30-11-2022 | SECOND SEM P.G.D.T.T (TRAVEL & TOURISM) | View | View |
| 3 | 30-11-2022 | SECOND SEMESTER B.LIB | View | View |
| 4 | 30-11-2022 | SECOND SEMESTER P.G.D.C.C.A | View | View |
| 5 | 01-12-2022 |  SECOND SEMESTER PGD IN INDUSTRIAL ROBOTICS (CBS) | View | View |
| 6 | 01-12-2022 | SECOND SEMESTER PGD IN CLOUD TECHNOLOGY (CBS) | View | View |
RTMNU Summer 2022 Result
Declared Results
| | | | | |
| --- | --- | --- | --- | --- |
| 1 | 10-11-2022 | Second Sem B.TECH. (FIRE ENGINEERING) | View | View |
| 2 | 15-11-2022 | SECOND SEMESTER B.P.ED | View | View |
| 3 | 15-11-2022 | SECOND SEMESTER B.TECH (NO BRANCH) | View | View |
| 4 | 15-11-2022 | SECOND SEMESTER B.COM | View | View |
| 5 | 15-11-2022 | SECOND SEMESTER M.COM | View | View |
| 6 | 15-11-2022 | SECOND SEMESTER M.S.W | View | View |
RTMNU Summer 2022 Result
Declared Results
| Exam | Faculty | Result Declared Date |
| --- | --- | --- |
| B.E. Fourth Semester (Mechanical Engineering) [CBCS] Click here to view result | Faculty of Science & Technology | 17 Nov 2022 |
| B.E. Fourth Semester (Aeronautical Engineering) [CBCS] Click here to view result | Faculty of Science & Technology | 17 Nov 2022 |
| B.E. Fourth Semester (Computer Technology) [CBCS] Click here to view result | Faculty of Science & Technology | 17 Nov 2022 |
| B.E. Fourth Semester (Artificial Intelligence ) [CBCS] Click here to view result | Faculty of Science & Technology | 17 Nov 2022 |
| B.E. Fourth Semester (Artificial Intelligence & Data Science) [CBCS] Click here to view result | Faculty of Science & Technology | 17 Nov 2022 |
| Exam | Faculty | Result Declared Date |
| --- | --- | --- |
| B.COM.(Computer Application) Part-I (First Semester)[CBS] (Ex-Student) Click here to view result | Faculty of Commerce & Management | 17 Nov 2022 |
| B.COM.(Computer Application) Part-I (Second Semester)[CBS] Click here to view result | Faculty of Commerce & Management | 17 Nov 2022 |
RTMNU Summer 2022 Result
Declared Results
RTMNU Summer 2022 Result
Declared Results
SUMMER 2022 Result Gazette
Sr.No
Result Date
           Course Name                         
Gazette 
Marksheet  
1
27-07-2022
FIRST YEAR MASTER OF LABOUR STUDIES
View
View
2
16-09-2022
SECOND SEM. M.A.(HOME ECONOMICS)
View
View
3
16-09-2022
SECOND SEM. M.A.(INDIAN MUSIC)
View
View
4
16-09-2022
SECOND SEM. M.A.(MASS COMMUNICATION)
View
View
5
16-09-2022
SECOND SEM. M.A.(AMBEDKAR THOUGHT)
View
View
6
16-09-2022
SECOND SEMESTER M.A.(PALI-PRAKRIT)
View
View
7
16-09-2022
SECOND SEMESTER M.A.(PERSIAN)
View
View
8
16-09-2022
SECOND SEMESTER M.A.(PHILOSOPHY)
View
View
9
16-09-2022
SECOND SEMESTER M.A.(SANSKRIT)
View
View
10
16-09-2022
SECOND SEMESTER M.Sc.(BIOCHEMISTRY)
View
View
11
16-09-2022
SECOND SEMESTER M.Sc.(GEOLOGY)
View
View
12
16-09-2022
SECOND SEM. M.SC.(INFORMATION TECH.)
View
View
13
19-09-2022
SECOND SEM. M.C.T. (CBCS)
View
View
14
19-09-2022
SECOND SEM. M.T.D TEXTILE DES.(CBCS)
View
View
15
19-09-2022
SECOND SEM. M.F.D (CBCS)
View
View
16
19-09-2022
SECOND SEM MASTER OF HOSP.
MANAGEMENT (CBCS)
View
View
17
19-09-2022
SECOND SEMESTER M.LIB.
View
View
18
19-09-2022
SECOND SEM M.SC.(BIOTECHNOLOGY)
View
View
19
19-09-2022
SECOND SEM M.SC.(COMPUTER SCIENCE)
View
View
SUMMER 2022 Result Gazette
| | | | | |
| --- | --- | --- | --- | --- |
| 20 | 21-09-2022 | BACHELOR OF JOURNALISM | View | View |
| 21 | 21-09-2022 | First Year B.A.(MASS COMMUNICATION) | View | View |
| 22 | 21-09-2022 | Certificate Course In English Language | View | View |
| 23 | 21-09-2022 | Certificate Course In French Language | View | View |
| 24 | 21-09-2022 | Certificate Course In German Language | View | View |
| 25 | 21-09-2022 | PGD IN NANOSCIENCE & NANOTECHNOLOGY | View | View |
| 26 | 21-09-2022 | PGD In Forensic Science & Related law | View | View |
| 27 | 21-09-2022 | PGD Graduate Diploma In Digital & Cyber Forensic & Related law | View | View |
| 28 | 21-09-2022 | DIPLOMA IN SERICULTURE | View | View |
| 29 | 21-09-2022 | PGD In Video Programming | View | View |
| 30 | 21-09-2022 | Second Sem. M.A. (Psychology) | View | View |
SUMMER 2022 Result Gazette
31
28-09-2022
Second Sem. M.PHARM
(PHARMACEUTICAL CHEMI.)
View
View
32
28-09-2022
Second Sem. M.PHARM
(PHARMA.QUAL.ASSURA.)
View
View
33
28-09-2022
Second Sem. M.PHARM
(PHARMA. REGUL. AFFAIRS)
View
View
34
28-09-2022
Second Sem.M.PHARM (PHARMACEUTICS)
View
View
35
28-09-2022
Second Sem.M.PHARM (PHARMACOLOGY)
View
View
36
28-09-2022
Second Sem.M.PHARM (PHARMACOGNOSY)
View
View
| | | | | |
| --- | --- | --- | --- | --- |
| 37 | 28-09-2022 | SECOND SEM BACHELOR OF ARTS (RURAL SERVICES) | View | View |
SUMMER 2022 Result Gazette
| | | | | |
| --- | --- | --- | --- | --- |
| 38 | 29-09-2022 | SECOND SEM M.A. (URDU) | View | View |
| 39 | 29-09-2022 | SECOND SEM M.A. (ARABIC) | View | View |
| 40 | 29-09-2022 | SECOND SEM M.Sc. HOME SCI (HUMAN DEVELOPMENT) | View | View |
| 41 | 29-09-2022 | SECOND SEM M.Sc.HOME SCI (EXTENSION) | View | View |
| 42 | 29-09-2022 | SECOND SEM M.Sc.HOME SCI (TEXTILE & CLOTHING) | View | View |
| 43 | 07-10-2022 | SECOND SEM B.VOC (ACTING) | View | View |
| 44 | 07-10-2022 | SECOND SEM B.VOC (CONSUMER ELECTRONICS) | View | View |
| 45 | 07-10-2022 | SECOND SEM B.VOC (INDUS. WASTE TREATMENT TECH.) | View | View |
| 46 | 07-10-2022 | SECOND SEM B.VOC (MEDICAL LAB) | View | View |
| 47 | 07-10-2022 | SECOND SEM B.VOC (RETAIL MANAGEMENT) | View | View |
| 48 | 07-10-2022 | SECOND SEM B.VOC (SOFTWARE DEVEL.) | View | View |
| 49 | 07-10-2022 | SECOND SEM B.VOC (THEATRE) | View | View |
| 50 | 07-10-2022 | SECOND SEM B.VOC (TOURISM) | View | View |
| 51 | 07-10-2022 | SECOND SEM M.A.(GEOGRAPHY) | View | View |
| 52 | 07-10-2022 | SECOND SEM M.A.(HINDI) | View | View |
| 53 | 07-10-2022 | SECOND SEM M.A.(SOCIOLOGY) | View | View |
| 54 | 07-10-2022 | SECOND SEM M.A.(HISTORY) | View | View |
| 55 | 07-10-2022 | SECOND SEM M.A.(MARATHI) | View | View |
| 56 | 07-10-2022 | SECOND SEM M.A.(ECONOMICS) | View | View |
| 57 | 07-10-2022 | SECOND SEM M.A.(ENGLISH) | View | View |
| 58 | 07-10-2022 | SECOND SEM B.B.A | View | View |
RTMNU Summer 2022 Result
Declared Results
SUMMER 2022 Result Gazette
| | | | | |
| --- | --- | --- | --- | --- |
| 59 | 08-10-2022 | SECOND SEM B.A.E.S.T. | View | View |
| 60 | 08-10-2022 | SECOND SEM M.Sc.(MATHEMATICS) | View | View |
| 61 | 08-10-2022 | Second Sem.M.Tech.(CAD/CAM) | View | View |
| 62 | 08-10-2022 | Second Sem.M.Tech.(Computer Sci. & Engg) | View | View |
| 63 | 08-10-2022 | Second Sem.M.Tech.(Environmental Engg) | View | View |
| 64 | 08-10-2022 | Second Sem.M.Tech.(Electronics Comm.) | View | View |
| 65 | 08-10-2022 | Second Sem.M.Tech.(Heat Power Engg) | View | View |
| 66 | 08-10-2022 | Second Sem.M.Tech.(Power Elect. & Power System) | View | View |
| 67 | 08-10-2022 | Second Sem.M.Tech. (Defence) | View | View |
| 68 | 08-10-2022 | Second Sem.M.Tech.(Industrial Drives & Control) | View | View |
| 69 | 08-10-2022 | Second Sem.M.Tech.(Software System) | View | View |
| 70 | 08-10-2022 | Second Sem.M.Tech.(Structural Engineering) | View | View |
| 71 | 08-10-2022 | Second Sem.M.Tech.(V.L.S.I.) | View | View |
| 72 | 08-10-2022 | Second Sem.M.Tech.(Mechanical Engineering Design) | View | View |
| 73 | 08-10-2022 | SECOND SEM M.Tech.(FOOD TECHNOLOGY) | View | View |
| 74 | 08-10-2022 | SECOND SEM M.Tech.(OIL TECHNOLOGY) | View | View |
| 75 | 08-10-2022 | SECOND SEM M.Tech.(PETRO CHEMICAL TECH.) | View | View |
| 76 | 08-10-2022 | SECOND SEM M.Arch.(Environmental Arch.) | View | View |
| 77 | 08-10-2022 | SECOND SEM M.Arch.(Urban Design) | View | View |
| 78 | 08-10-2022 | Second Sem. M.Arch.(Landscape Architecture) | View | View |
| 79 | 08-10-2022 | Second Sem.M.Arch.(Architecture Education) | View | View |
| 80 | 08-10-2022 | SECOND SEM M.Tech (ELECTRONICS ENGG.) | View | View |
| 81 | 08-10-2022 | FIRST YEAR B.P.E & SPORTS | View | View |
| 82 | 08-10-2022 | SECOND SEM M.TECH.(Integrated Power System) | View | View |
| 83 | 08-10-2022 | SECOND SEM M.DES.(Industrial Design) | View | View |
SUMMER 2022 Result Gazette
| | | | | |
| --- | --- | --- | --- | --- |
| 84 | 08-10-2022 | SECOND SEM M.DES.(Industrial Design) | View | View |
| 85 | 12-10-2022 | SECOND SEM B.C.T | View | View |
| 86 | 12-10-2022 | SECOND SEM BACHELOR OF FASHION DESIGN | View | View |
| 87 | 12-10-2022 | SECOND SEM BACHELOR OF TEXTILE SCIENCE | View | View |
| 88 | 12-10-2022 | SECOND SEM BACHELOR OF INTERIOR DESIGN | View | View |
| 89 | 12-10-2022 | SECOND SEM M.TECH (AIDS) | View | View |
| 90 | 12-10-2022 | SECOND SEM M.COM (Professional) | View | View |
| 91 | 12-10-2022 | PG DIPLOMA IN BANKING LAWS | View | View |
| 92 | 12-10-2022 | PG DIPLOMA IN TAXATION | View | View |
| 93 | 12-10-2022 | PG DIPLOMA IN ENVIRONMENTAL LAW | View | View |
| 94 | 12-10-2022 | FIRST YEAR MASTER OF HUMAN RIGHTS & DUTIES EDUCATION | View | View |
| 95 | 13-10-2022 | SECOND SEMESTER B.S.W. | View | View |
| 96 | 13-10-2022 | SECOND SEMESTER B.PHARM | View | View |
| 97 | 13-10-2022 | SECOND SEM M.Sc.(MICROBIOLOGY) | View | View |
| 98 | 13-10-2022 | SECOND SEM M.Sc.(CHEMISTRY) | View | View |
| 99 | 13-10-2022 | SECOND SEM M.Sc.(ZOOLOGY) | View | View |
| 100 | 13-10-2022 | SECOND SEM M.Sc.(PHYSICS) | View | View |
| 101 | 13-10-2022 | SECOND SEM M.Sc.(BOTANY) | View | View |
| 102 | 13-10-2022 | SECOND SEM M.Sc.(ENVIRON. SCIENCE) | View | View |
| 103 | 13-10-2022 | SECOND SEM M.Sc.(ELECTRONICS) | View | View |
| 104 | 13-10-2022 | SECOND SEM LL.M.(BUSINESS LAW) | View | View |
| 105 | 13-10-2022 | SECOND SEM LL.M.(INTELL. PROPERTY LAWS) | View | View |
| 106 | 13-10-2022 | SECOND SEM M.Sc.(Forensic Science) | View | View |
| 107 | 13-10-2022 | SECOND SEM LL.M.(CRIMINAL LAW) | View | View |
| 108 | 13-10-2022 | SECOND SEM LL.M.(CONSTITU. LAW & ADMINISTRATIVE LAW) | View | View |
| 109 | 13-10-2022 | SECOND SEM LL.M.(LABOUR,CAPITAL & LAW) | View | View |
| 110 | 15-10-2022 | SECOND SEM B.Sc.(INFORMATION TECH.) | View | View |
| 111 | 15-10-2022 | SECOND SEM B.SC.(FORENSIC SCIENCE) | View | View |
| 112 | 15-10-2022 | SECOND SEM M.A.(POLITICAL SCIENCE) | View | View |
| 113 | 15-10-2022 | SECOND SEM B.F.A.(APPLIED ARTS) | View | View |
| 114 | 15-10-2022 | SECOND SEM B.F.A.(PAINTING) | View | View |
| 115 | 15-10-2022 | SECOND SEM B.A.LL.B (5 YEARS COURSE) | View | View |
| 116 | 15-10-2022 | SECOND SEM LL.B (3 YEARS COURSE) | View | View |
| 117 | 15-10-2022 | SECOND SEM MASTER OF EDUCATION | View | View |
| 118 | 15-10-2022 | SECOND SEM M.P.ED | View | View |
| 119 | 15-10-2022 | SECOND SEMESTER B.C.A | View | View |
| 120 | 15-10-2022 | SECOND SEM BACHELOR (HOTEL MANAG.& CATERING TECH.) | View | View |
SUMMER 2022 Result Gazette
| | | | | |
| --- | --- | --- | --- | --- |
| 121 | 17-10-2022 | SECOND SEMESTER B.C.C.A | View | View |
| 122 | 20-10-2022 | SECOND SEMESTER B.ED | View | View |
| 123 | 20-10-2022 | SECOND SEMESTER M.B.A | View | View |
| 124 | 20-10-2022 | SECOND SEM B.SC (HOME SCI) | View | View |
| 125 | 20-10-2022 | SECOND SEMESTER M.C.M | View | View |
| 126 | 20-10-2022 | SECOND SEMESTER M.C.A | View | View |
| 127 | 20-10-2022 | SECOND SEM M.TECH (CHEMICAL ENGG) | View | View |
| 128 | 21-10-2022 | SECOND SEM M.TECH (Comp. Aided Structural Engg) | View | View |
| 129 | 21-10-2022 | DIPLOMA IN CYBER LAWS AND INFORMATION TECHNOLOGY | View | View |
| 130 | 03-11-2022 | Second Sem B.Tech.(Chemical Tech.) OILS,FATS & SURFACTANTS TECH | View | View |
| 131 | 03-11-2022 | Second Sem B.Tech.(Chemical Tech.) PETROL REFINING & PETROCHEMICAL TECH. | View | View |
| 132 | 03-11-2022 | Second Sem B.Tech.(Chemical Tech.) PLASTIC & POLYMER TECH. | View | View |
| 133 | 03-11-2022 | Second Sem B.Tech.(Chemical Tech.) PULP & PAPER TECH | View | View |
| 134 | 03-11-2022 | Second Sem B.Tech.(Chemical Tech.) SURFACE COATING TECH. | View | View |
| 135 | 03-11-2022 | Second Sem B.Tech.(Chemical Tech.) FOOD TECH | View | View |
| 136 | 03-11-2022 | Second Sem B.Tech.(Chemical Engineering) | View | View |
| 137 | 03-11-2022 | Second Sem B.TECH.(BIOTECHNOLOGY) | View | View |
RTMNU Summer 2022 Result
Declared Results
SUMMER 2022 Result Gazette
Sr.No
Result Date
           Course Name                         
Gazette 
Marksheet  
1
27-07-2022
FIRST YEAR MASTER OF LABOUR STUDIES
View
View
2
16-09-2022
SECOND SEM. M.A.(HOME ECONOMICS)
View
View
3
16-09-2022
SECOND SEM. M.A.(INDIAN MUSIC)
View
View
4
16-09-2022
SECOND SEM. M.A.(MASS COMMUNICATION)
View
View
5
16-09-2022
SECOND SEM. M.A.(AMBEDKAR THOUGHT)
View
View
6
16-09-2022
SECOND SEMESTER M.A.(PALI-PRAKRIT)
View
View
7
16-09-2022
SECOND SEMESTER M.A.(PERSIAN)
View
View
8
16-09-2022
SECOND SEMESTER M.A.(PHILOSOPHY)
View
View
9
16-09-2022
SECOND SEMESTER M.A.(SANSKRIT)
View
View
10
16-09-2022
SECOND SEMESTER M.Sc.(BIOCHEMISTRY)
View
View
11
16-09-2022
SECOND SEMESTER M.Sc.(GEOLOGY)
View
View
12
16-09-2022
SECOND SEM. M.SC.(INFORMATION TECH.)
View
View
13
19-09-2022
SECOND SEM. M.C.T. (CBCS)
View
View
14
19-09-2022
SECOND SEM. M.T.D TEXTILE DES.(CBCS)
View
View
15
19-09-2022
SECOND SEM. M.F.D (CBCS)
View
View
16
19-09-2022
SECOND SEM MASTER OF HOSP.
MANAGEMENT (CBCS)
View
View
17
19-09-2022
SECOND SEMESTER M.LIB.
View
View
18
19-09-2022
SECOND SEM M.SC.(BIOTECHNOLOGY)
View
View
19
19-09-2022
SECOND SEM M.SC.(COMPUTER SCIENCE)
View
View
RTMNU Summer 2022 Result
Declared Results
RTMNU Summer 2022 Result
Declared Results
RTMNU Summer 2022 Result
Declared Results
| Exam | Faculty | Result Declared Date |
| --- | --- | --- |
| B.Com. (AS) Third Semester & Fourth Semester Click here to view result | Faculty of Commerce & Management | 14 Sep 2022 |
| M.Tech. First Semester (Chemical Technology)(Oil Technology) [CBCS] New Click here to view result | Faculty of Science & Technology | 14 Sep 2022 |
| B.Com. (AS) Fifth Semester & Sixth Semester Click here to view result | Faculty of Commerce & Management | 14 Sep 2022 |
SUMMER 2022 Result Gazette
RTMNU Summer 2022 Result
Declared Results
| | | |
| --- | --- | --- |
| Exam | Faculty | Result Declared Date |
| B.Tech. (Biotechnology) Fourth Semester [CBCS] Click here to view result | Faculty of Science & Technology | 07 Sep 2022 |
| B.Tech. (Chemical Engineering) Fourth Semester [CBCS] Click here to view result | Faculty of Science & Technology | 07 Sep 2022 |
| B.Tech. (Chemical Technology) Fourth Semester (Food Technology) [CBCS] Click here to view result | Faculty of Science & Technology | 07 Sep 2022 |
| B.Tech. (Chemical Technology) Fourth Semester (Pulp & Paper Technology) [ CBCS] Click here to view result | Faculty of Science & Technology | 07 Sep 2022 |
| B.Tech. (Chemical Technology) Fourth Semester (Petrol Reffing & Petrochem) [CBCS] Click here to view result | Faculty of Science & Technology | 07 Sep 2022 |
| B.Tech. (Chemical Technology) Fourth Semester (Technology of Oil, Fats and Surfactants) [CBCS] Click here to view result | Faculty of Science & Technology | 07 Sep 2022 |
| B.Tech. (Chemical Technology) Fourth Semester (Plastics and Polymer Technology) [CBCS] Click here to view result | Faculty of Science & Technology | 07 Sep 2022 |
| B.Tech. (Chemical Technology) Fourth Semester (Surface Coating Technology) [CBCS] Click here to view result | Faculty of Science & Technology | 07 Sep 2022 |
SUMMER 2022 Result Gazette
RTMNU Summer 2022 Result
Declared Results
SUMMER 2022 Result Gazette
RTMNU Summer 2022 Result
Declared Results
RTMNU Summer 2022 Result
Declared Results
RTMNU Summer 2022 Result
Declared Results
RTMNU Summer 2022 Result
Declared Results
Winter 2021 Results 
| | | | | |
| --- | --- | --- | --- | --- |
| Sr.No | Result Date | Course Name | Gazette  | Marksheet |
| 1 | 01-07-2022 | First Semester M.A.(POLITICAL SCIENCE) | View | View |
| 2 | 01-07-2022 | First Semester M.A.(HISTORY) | View | View |
| 3 | 01-07-2022 | First Semester M.A.(ECONOMICS) | View | View |
| 4 | 01-07-2022 | First Semester M.A.(GEOGRAPHY) | View | View |
| 5 | 01-07-2022 | First Semester MA.(PSYCHOLOGY) | View | View |
| 6 | 01-07-2022 | First Semester M.A.(HINDI) | View | View |
| 7 | 01-07-2022 | First Semester M.A.(AMBEDKAR THOUGHT) | View | View |
| 8 | 01-07-2022 | First Semester M.A.(URDU) | View | View |
| 9 | 01-07-2022 | First Semester M.A.(HOME ECONOMICS) | View | View |
| 10 | 01-07-2022 | First Semester M.A.(PALI- PRAKRIT) | View | View |
| 11 | 01-07-2022 | First Semester M.A.(MASS COMM.) | View | View |
| 12 | 01-07-2022 | First Semester M.A.(ARABIC) | View | View |
| 13 | 01-07-2022 | First Semester M.A.(SANSKRIT) | View | View |
| 14 | 01-07-2022 | First Semester M.A.(SOCIOLOGY) | View | View |
| 15 | 01-07-2022 | First Semester M.A.(PHILOSOPHY) | View | View |
| 16 | 01-07-2022 | First Semester M.A.(PERSIAN) | View | View |
| 17 | 01-07-2022 | First Semester M.A.(MUSIC) | View | View |
| 18 | 01-07-2022 | First Semester M.A.(MARATHI) | View | View |
| 19 | 01-07-2022 | First Semester M.A.(ENGLISH) | View | View |
| | | | | |
| --- | --- | --- | --- | --- |
|    20 | 04-07-2022 | First Semester M. Sc.(MICROBIOLOGY) | View       |   View         |
| 21 | 04-07-2022 | First Semester M. Sc.(MATHEMATICS) | View | View |
| 22 | 04-07-2022 | First Semester M. Sc.(CHEMISTRY) | View | View |
| 23 | 04-07-2022 | First Semester M. Sc.(ZOOLOGY) | View | View |
| 24 | 04-07-2022 | First Semester M. Sc.(BIOTECHNOLOGY) | View | View |
| 25 | 04-07-2022 | First Semester M. Sc.(PHYSICS) | View | View |
| 26 | 04-07-2022 | First Semester M. Sc.(BOTANY) | View | View |
| 27 | 04-07-2022 | First Semester M. Sc.(COMPUTER SCI.) | View | View |
| 28 | 04-07-2022 | First Semester M. Sc.(ENVIR.SCI.) | View | View |
| 29 | 04-07-2022 | First Semester M. Sc.(BIOCHEMISTRY) | View | View |
| 30 | 04-07-2022 | First Semester M. Sc.(GEOLOGY) | View | View |
| 31 | 04-07-2022 | First Semester M. Sc.(INFORMATION TECH.) | View | View |
| 32 | 04-07-2022 | First Semester M. Sc.(ELECTRONICS) | View | View |
| 33 | 04-07-2022 | First Semester M. Sc.H.SC.(HUMAN DEV.) | View | View |
| 34 | 04-07-2022 | First Semester M. Sc.H.SC.(EXTENSION) | View | View |
| 35 | 04-07-2022 | First Semester M. Sc.H.SC.(TEX. & CLOTH.) | View | View |
| 36 | 04-07-2022 | First Semester M. Sc.(Forensic Science) | View | View |
| 37 | 04-07-2022 | First Semester B.VOC(ACTING) | View | View |
| 38 | 04-07-2022 | First Semester B.VOC(TOURISM) | View | View |
| 39 | 04-07-2022 | First Semester B.VOC (CONSUMER ELEC.) | View | View |
| 40 | 04-07-2022 | First Semester B.VOC (FOOD PROC.& ENG.) | View | View |
| 41 | 04-07-2022 | First Semester B.VOC (IND.WASTE TR.TEC.) | View | View |
| 42 | 04-07-2022 | First Semester B.VOC (RETAIL MGT.) | View | View |
| 43 | 04-07-2022 | First Semester B.VOC (SOFT. DEVEL.) | View | View |
| 44 | 04-07-2022 | First Semester B.VOC (THEATRE ) | View | View |
| 45 | 04-07-2022 | First Semester B.VOC (Medical Lab) | View | View |
| 46 | 04-07-2022 | First Semester M.C.M | View | View |
| | | | | |
| --- | --- | --- | --- | --- |
|    47 | 07-07-2022 | First Semester B.B.A. |    View      |      View       |
| 48 | 07-07-2022 | First Semester P.G.D.C.C.A. | View | View |
| 49 | 07-07-2022 | First Semester B.C.A | View | View |
| 50 | 07-07-2022 | First Semester B.C.C.A | View | View |
| 51 | 07-07-2022 | First Sem. LL.M (BUSINESS LAW) | View | View |
| 52 | 07-07-2022 | First Sem. LL.M (INTEL.PROP. LAWS) | View | View |
| 53 | 07-07-2022 | First Sem. LL.M (CRIMINAL LAW) | View | View |
| 54 | 07-07-2022 | First Sem. LL.M (CON.LAW & ADM. LAW) | View | View |
| 55 | 07-07-2022 | First Sem. LL.M (LABOUR, CAPIT.& LAW) | View | View |
| 56 | 07-07-2022 | First Semester M.C.A | View | View |
| 57 | 07-07-2022 | First Semester B.F.A.(PAINTING) | View | View |
| 58 | 07-07-2022 | First Semester B.F.A.(APPLIED ARTS) | View | View |
| 59 | 07-07-2022 | First Semester B.LIB. | View | View |
| 60 | 07-07-2022 | First Semester M.LIB. | View | View |
| 61 | 07-07-2022 | First Semester M.COM | View | View |
| 62 | 07-07-2022 | First Semester M.COM (PROFESSIONAL) | View | View |
| 63 | 07-07-2022 | First Semester B.P.Ed. | View | View |
| | | | | |
| --- | --- | --- | --- | --- |
|    64 | 12-07-2022 | First Semester B.S.W. |    View      |      View      |
| 65 | 12-07-2022 | First Semester B.ED | View | View |
| 66 | 12-07-2022 | First Semester B.SC (IT) | View | View |
| 67 | 12-07-2022 | First Semester B.A.(RURAL SERVICES) | View | View |
| 68 | 12-07-2022 | First Semester B.SC.(HOME SCIENCE) | View | View |
| 69 | 12-07-2022 | CERTIFICATE IN LIBRARY SCIENCE | View | View |
| 70 | 12-07-2022 | First Semester M.ED | View | View |
| 71 | 12-07-2022 | First Semester M.P.ED | View | View |
| 72 | 12-07-2022 | First Semester M.B.A. | View | View |
| 73 | 15-07-2022 | First Semester Bachelor of Cosmetic Tech. | View | View  |
| 74 | 15-07-2022 | First Semester B.Sc. Forensic Science | View  | View  |
| 75 | 15-07-2022 | First Semester B.A.E.S.T. | View  | View  |
| 76 | 15-07-2022 | First Sem. BACHELOR OF INT. DESIGN | View  | View  |
| 77 | 15-07-2022 | First Semester B.H.M.C.T | View  | View  |
| 78 | 15-07-2022 | First Semester Bachelor Of Architecture | View  | View  |
| 79 | 16-07-2022 | First Semester B.T.S | View  | View  |
| 80 | 16-07-2022 | First Semester B.F.D | View  | View  |
| 81 | 19-07-2022 | First Semester M.C.T (Cosmetic Technology) | View  | View  |
| 82 | 19-07-2022 | First Semester M.T.D (TEXTILE DESIGN) | View  | View  |
| 83 | 19-07-2022 | First Sem.P.G.D.T.T.(TRAVEL & TOURISM) | View  | View  |
| 84 | 19-07-2022 | First Semester M.Tech.(CAD/CAM ) | View  | View |
| 85 | 19-07-2022 | First Sem. M.Tech.(Computer Sci. & Engg.) | View  | View |
| 86 | 19-07-2022 | First Sem. M.Tech.(Environmental Engg) | View | View |
| 87 | 19-07-2022 | First Sem. M.Tech.(Electronics & Comm.) | View | View |
| 88 | 19-07-2022 | First Sem. M.Tech.(Heat Power Engg.) | View | View |
| 89 | 19-07-2022 | First Sem. M.Tech.(Power Elec.& Power Syst) | View | View |
| 90 | 19-07-2022 | First Semester M.Tech.(Defence) | View | View |
| 91 | 19-07-2022 | First Sem. M.Tech.(Indu.Drives & Control) | View | View |
| 92 | 19-07-2022 | First Sem. M.Tech.(Software System) | View | View |
| 93 | 19-07-2022 | First Sem. M.Tech.(Structural Engg.) | View | View |
| 94 | 19-07-2022 | First Sem. M.Tech.(V.L.S.I.) | View | View |
| 95 | 19-07-2022 | First Sem. M.Tech.(Mechanical Engg Design) | View | View |
| 96 | 19-07-2022 | First Sem. M.Tech.(ELECTRONICS ENGG.) | View | View |
| 97 | 19-07-2022 | First Sem. M.Tech.(Comp. Aided Struct.Engg) | View | View |
| 98 | 19-07-2022 | First Sem M.TECH (Integrated Power Syst.) | View | View |
| 99 | 21-07-2022 | First Sem MASTER OF FAISHION DESIGN | View | View |
| 100 | 21-07-2022 | First Sem Master of Tech. (CHEMI. ENGG) | View | View |
| 101 | 21-07-2022 | First Sem Master of Chem.Tech. (FOOD TECH) | View | View |
| 102 | 21-07-2022 | First Sem Master of Chem.Tech. (OIL TECH.) | View | View |
| 103 | 21-07-2022 | First Sem Master of Chem.Tech.(PETRO.TECH) | View | View |
| 104 | 21-07-2022 | First Sem Master of Arch. (Environmental Arch.) | View | View |
| 105 | 21-07-2022 | First Sem Master of  Arch.(Urban Design) | View | View |
| 106 | 21-07-2022 | First Sem Master of  Arch. (Landscape Arch.) | View | View |
| 107 | 21-07-2022 | First Sem Master Of Arch. (Architecture Edu.) | View | View |
| 108 | 21-07-2022 | First Sem M.DES (Industrial Design) | View | View |
| 109 | 25-07-2022 | First Semester LL.B 3 Years | View | View |
| 110 | 25-07-2022 | First Semester LL.B 5 Years | View | View |
| 111 | 25-07-2022 | First Sem MASTER OF HOSP. MANAGEMENT | View | View |
| 112 | 01-08-2022 | First Sem.M.PHARM (PHARMACEUTICAL CHEM.) | View | View |
| 113 | 01-08-2022 | First Sem.M.PHARM (PHARMA. QUAL.ASSURA.) | View | View |
| 114 | 01-08-2022 | First Sem.M.PHARM (PHARMA. REGUL. AFFAIRS) | View | View |
| 115 | 01-08-2022 | First Sem M.PHARM (PHARMACEUTICS) | View | View |
| 116 | 01-08-2022 | First Sem M.PHARM (PHARMACOLOGY) | View | View |
| 117 | 01-08-2022 | First Sem M.PHARM (PHARMACOGNOSY) | View | View |
| 118 | 05-08-2022 | First Sem M.TECH (Artifi.Intelligence & Data Sci) | View | View |
| 119 | 08-08-2022 | First Semester BACHELOR OF COMMERCE | View | View |
RTMNU Summer 2022 Result
Declared Results
| | | |
| --- | --- | --- |
| Exam | Faculty | Result Declared Date |
| M.Tech. Second Semester Artificial Intelligence & Machine Learning [CBCS] Click here to view result | Faculty of Science & Technology | 06 Aug 2022 |
| Master of Computer Application Part-III (Semester-I) Click here to view result | Faculty of Science & Technology | 06 Aug 2022 |
| B.COM.(Computer Application) Part-II (Third Semester)[CBS] (A/S) Click here to view result | Faculty of Commerce & Management | 06 Aug 2022 |
| Master of Textile Design Third Semester [CBCS] Click here to view result | Faculty of Science & Technology | 06 Aug 2022 |
| Bachelor of Physical Education Third Semester Click here to view result | Faculty of Interdisciplinary Studies | 06 Aug 2022 |
| M.COM. Third Semester [CBCS] Click here to view result | Faculty of Commerce & Management | 06 Aug 2022 |
| B.COM.(Computer Application) Part-II (Third Semester)[CBS] Click here to view result | Faculty of Commerce & Management | 06 Aug 2022 |
| Master of Computer Management Third Semester [CBCS] Click here to view result | Faculty of Commerce & Management | 06 Aug 2022 |
| M.COM. (Professional) Third Semester [CBCS] Click here to view result | Faculty of Commerce & Management | 06 Aug 2022 |
RTMNU Summer 2022 Result
Declared Results
RTMNU Summer 2022 Result
Declared Results
| | | |
| --- | --- | --- |
| Exam | Faculty | Result Declared Date |
| B.E. Sixth Semester (Aeronautical Engineering) [CBS] Click here to view result | Faculty of Science & Technology | 30 Jul 2022 |
| B.E. Sixth Semester (Electrical Engineering)(E & P) [CBS] Click here to view result | Faculty of Science & Technology | 30 Jul 2022 |
| B.E. Sixth Semester (Electronic Engineering) [CBS] Click here to view result | Faculty of Science & Technology | 30 Jul 2022 |
| B.E. Sixth Semester (Electronic & Telecommunication) [CBS] Click here to view result | Faculty of Science & Technology | 30 Jul 2022 |
| B.E. Sixth Semester (Mechanical Engineering)[CBS] Click here to view result | Faculty of Science & Technology | 30 Jul 2022 |
| B.E. Sixth Semester (Electronic & Communication) [CBS] Click here to view result | Faculty of Science & Technology | 30 Jul 2022 |
| B.E. Sixth Semester (Information Technology) [CBS] Click here to view result | Faculty of Science & Technology | 30 Jul 2022 |
| B.E. Sixth Semester (Computer Engineering) [CBS] Click here to view result | Faculty of Science & Technology | 30 Jul 2022 |
| B.E. Sixth Semester (Computer Technology) [CBS] Click here to view result | Faculty of Science & Technology | 30 Jul 2022 |
| B.E. Sixth Semester (Civil Engineering) [CBS] Click here to view result | Faculty of Science & Technology | 30 Jul 2022 |
| B.E. Sixth Semester (Computer Science & Engineering)[CBS] Click here to view result | Faculty of Science & Technology | 30 Jul 2022 |
| B.E. Sixth Semester (Aeronautical Engineering) (New)[CBS] Click here to view result | Faculty of Science & Technology | 30 Jul 2022 |
| B.E. Sixth Semester (Civil Engineering) (New)[CBS] Click here to view result | Faculty of Science & Technology | 30 Jul 2022 |
| B.E. Sixth Semester (Computer Engineering) (New)[CBS] Click here to view result | Faculty of Science & Technology | 30 Jul 2022 |
| B.E. Sixth Semester (Computer Science & Engineering) (New)[CBS] Click here to view result | Faculty of Science & Technology | 30 Jul 2022 |
| B.E. Sixth Semester (Computer Technology) (New)[CBS] Click here to view result | Faculty of Science & Technology | 30 Jul 2022 |
| B.E. Sixth Semester (Electrical Engineering)(E & P) (New)[CBS] Click here to view result | Faculty of Science & Technology | 30 Jul 2022 |
| B.E. Sixth Semester (Electronic & Communication) (New)[CBS] Click here to view result | Faculty of Science & Technology | 30 Jul 2022 |
| B.E. Sixth Semester (Electronic & Telecommunication) (New)[CBS] Click here to view result | Faculty of Science & Technology | 30 Jul 2022 |
| B.E. Sixth Semester (Electronic Engineering) (New)[CBS] Click here to view result | Faculty of Science & Technology | 30 Jul 2022 |
| B.E. Sixth Semester (Fire Engineering) (New)[CBS] Click here to view result | Faculty of Science & Technology | 30 Jul 2022 |
| B.E. Sixth Semester (Information Technology) (New)[CBS] Click here to view result | Faculty of Science & Technology | 30 Jul 2022 |
| B.E. Sixth Semester (Mechanical Engineering) (New)[CBS] Click here to view result | Faculty of Science & Technology | 30 Jul 2022 |
RTMNU Summer 2022 Result
Declared Results
RTMNU Summer 2022 Result
Declared Results
| | | |
| --- | --- | --- |
| Exam | Faculty | Result Declared Date |
| B.F.A. Seventh Semester (Applied Art) [CBS] (New) Click here to view result | Faculty of Humanities | 28 Jul 2022 |
| B.F.A. Seventh Semester (Painting) [CBS] (New) Click here to view result | Faculty of Humanities | 28 Jul 2022 |
| B.F.A. Fifth Semester (Applied Art) [CBS] (New) Click here to view result | Faculty of Humanities | 28 Jul 2022 |
| B.F.A. Fifth Semester (Painting) [CBS] (New) Click here to view result | Faculty of Humanities | 28 Jul 2022 |
| B.Tech. (Chemical Technology) Sixth Semester (Petro Refining & Petrochem.) (New)[CBS] Click here to view result | Faculty of Science & Technology | 28 Jul 2022 |
| Bachelor of Pharmacy Fourth Semester [CGBS] Click here to view result | Faculty of Science & Technology | 28 Jul 2022 |
| B. Arch. Sixth Semester [CBS] Click here to view result | Faculty of Science & Technology | 28 Jul 2022 |
| B. Arch. Eighth Semester (New)CBS Click here to view result | Faculty of Science & Technology | 28 Jul 2022 |
| B.Tech. (Chemical Technology) Sixth Semester (Technology of Oil,Fats & Surfactants) (New)[CBS] Click here to view result | Faculty of Science & Technology | 28 Jul 2022 |
| B.Tech. (Chemical Technology) Sixth Semester (Plastics & Polymer Technology) (New)[CBS] Click here to view result | Faculty of Science & Technology | 28 Jul 2022 |
| B.Tech. (Chemical Technology) Sixth Semester (Surface Coating Technology) (New)[CBS] Click here to view result | Faculty of Science & Technology | 28 Jul 2022 |
| B.Tech. (Biotechnology) Sixth Semester (New)[CBS] Click here to view result | Faculty of Science & Technology | 28 Jul 2022 |
| B.Tech. (Chemical Engineering) Sixth Semester (New)[CBS] Click here to view result | Faculty of Science & Technology | 28 Jul 2022 |
| Bachelor of Pharmacy Sixth Semester [CGBS] Click here to view result | Faculty of Science & Technology | 28 Jul 2022 |
| B. Arch. Sixth Semester (New)[CBS] Click here to view result | Faculty of Science & Technology | 28 Jul 2022 |
| B.Tech. (Chemical Technology) Sixth Semester (Food Technology) (New)[CBS] Click here to view result | Faculty of Science & Technology | 28 Jul 2022 |
| B.Tech. (Chemical Technology) Sixth Semester (Pulp & Paper Technology ) (New)[CBS] Click here to view result | Faculty of Science & Technology | 28 Jul 2022 |
| B. A. (Mass Communication) Part-II Click here to view result | Faculty of Humanities | 27 Jul 2022 |
RTMNU Summer 2022 Result
Declared Results
| | | |
| --- | --- | --- |
| Exam | Faculty | Result Declared Date |
| Bachelor of Vocation (B.Voc.) Fourth Semester (Consumer Electronics) [CBS] Click here to view result | Faculty of Science & Technology | 25 Jul 2022 |
| Bachelor of Science in Forensic Science Part -II (Fourth Semester) Click here to view result | Faculty of Science & Technology | 25 Jul 2022 |
| B.Sc. (Information Technology) Fourth Semester Click here to view result | Faculty of Science & Technology | 25 Jul 2022 |
| Bachelor of Computer Application Fourth Semester Click here to view result | Faculty of Science & Technology | 25 Jul 2022 |
| Bachelor of Vocation (B.Voc.) Fourth Semester (Acting) [CBS] Click here to view result | Faculty of Interdisciplinary Studies | 25 Jul 2022 |
| Bachelor of Vocation (B.Voc.) Fourth Semester (Theatre & Stage Craft) [CBS] Click here to view result | Faculty of Interdisciplinary Studies | 25 Jul 2022 |
| Bachelor of Vocation (B.Voc.) Fourth Semester (Automotive) [CBS] Click here to view result | Faculty of Science & Technology | 25 Jul 2022 |
| Bachelor of Vocation (B.Voc.) Fourth Semester (Building Technology ) [CBS] Click here to view result | Faculty of Science & Technology | 25 Jul 2022 |
| Bachelor of Vocation (B.Voc.) Fourth Semester (Software Development) [CBS] Click here to view result | Faculty of Science & Technology | 25 Jul 2022 |
| Bachelor of Vocation (B.Voc.) Fourth Semester (Retail Management) [CBS] Click here to view result | Faculty of Commerce & Management | 25 Jul 2022 |
| Bachelor of Vocation (B.Voc.) Fourth Semester (Food Processing) [CBS] Click here to view result | Faculty of Science & Technology | 25 Jul 2022 |
| Bachelor of Physical Education Part-II Click here to view result | Faculty of Interdisciplinary Studies | 25 Jul 2022 |
| Master of Business Administration Fourth Semester [CBCS] (Out Come Based) Click here to view result | Faculty of Commerce & Management | 25 Jul 2022 |
| B.Sc. (Home Science) Fourth Semester Click here to view result | Faculty of Science & Technology | 25 Jul 2022 |
| B.COM.(Computer Application) Part-II (Fourth Semester)[CBS] Click here to view result | Faculty of Commerce & Management | 25 Jul 2022 |
| Master of Business Administration Fourth Semester [CBCS] Click here to view result | Faculty of Commerce & Management | 25 Jul 2022 |
| B.B.A. Fourth Semester [CBS] Click here to view result | Faculty of Commerce & Management | 25 Jul 2022 |
| B.A. (R.S.) Semester IV Click here to view result | Faculty of Humanities | 25 Jul 2022 |
| B.S.W. Fourth Semester Click here to view result | Faculty of Humanities | 25 Jul 2022 |
| Bachelor of Vocation (B.Voc.) fourth Semester (Hardware technology And Networking) [CBS] Click here to view result | Faculty of Science & Technology | 25 Jul 2022 |
| Bachelor of Vocation (B.Voc.) Fourth Semester (Industrial Waste Treatment Technology) [CBS] Click here to view result | Faculty of Science & Technology | 25 Jul 2022 |
| Bachelor of Vocation (B.Voc.) Fourth Semester (Medical Laboratory and Molecular Diagnostic Technology) [CBS] Click here to view result | Faculty of Science & Technology | 25 Jul 2022 |
| Bachelor of Vocation (B.Voc.) Fourth Semester (Tourism) [CBS] Click here to view result | Faculty of Humanities | 25 Jul 2022 |
RTMNU Summer 2022 Result
Declared Results
RTMNU Summer 2022 Result
Declared Results
RTMNU Summer 2022 Result
Declared Results
RTMNU Summer 2022 Result
Declared Results
RTMNU Summer 2022 Result
Declared Results
| | | |
| --- | --- | --- |
| Exam | Faculty | Result Declared Date |
| B.E. Eighth Semester (Electrical Engineering) (E&P) [CBS] Click here to view result | Faculty of Science & Technology | 14 Jul 2022 |
| B.E. Eighth Semester (Electronics Engineering) [CBS] Click here to view result | Faculty of Science & Technology | 14 Jul 2022 |
| B.E. Eighth Semester (Electronics & Telecommunication) [CBS] Click here to view result | Faculty of Science & Technology | 14 Jul 2022 |
| B.E. Eighth Semester (Computer Science & Engineering) [CBS] Click here to view result | Faculty of Science & Technology | 14 Jul 2022 |
| B.E. Eighth Semester (Information Technology) [CBS] Click here to view result | Faculty of Science & Technology | 14 Jul 2022 |
| B.E. Eighth Semester (Computer Engineering) [CBS] Click here to view result | Faculty of Science & Technology | 14 Jul 2022 |
| B.E. Eighth Semester (Mechanical Engineering) [CBS] Click here to view result | Faculty of Science & Technology | 14 Jul 2022 |
| B.E. Eighth Semester (Civil Engineering) [CBS] Click here to view result | Faculty of Science & Technology | 14 Jul 2022 |
| B.Tech. (Chemical Engineering) Eighth Semester (NEW)[CBS] Click here to view result | Faculty of Science & Technology | 14 Jul 2022 |
| B.E. Eighth Semester (Computer Technology) [CBS] Click here to view result | Faculty of Science & Technology | 14 Jul 2022 |
| B.Sc. (Home Science) Sixth Semester Click here to view result | Faculty of Science & Technology | 14 Jul 2022 |
| B.E. Eighth Semester (Computer Engineering) [CBS] (New) Click here to view result | Faculty of Science & Technology | 14 Jul 2022 |
| B.E. Eighth Semester (Power Engineering) [CBS] (New) Click here to view result | Faculty of Science & Technology | 14 Jul 2022 |
| B.E. Eighth Semester (Civil Engineering) [CBS] (New) Click here to view result | Faculty of Science & Technology | 14 Jul 2022 |
| B.E. Eighth Semester (Mechanical Engineering) [CBS] (New) Click here to view result | Faculty of Science & Technology | 14 Jul 2022 |
| B.E. Eighth Semester (Electrical Engineering) (E&P) [CBS] (New) Click here to view result | Faculty of Science & Technology | 14 Jul 2022 |
| B.E. Eighth Semester (Electronics Engineering) [CBS](New) Click here to view result | Faculty of Science & Technology | 14 Jul 2022 |
| B.E. Eighth Semester (Electronics & Telecommunication) [CBS] (New) Click here to view result | Faculty of Science & Technology | 14 Jul 2022 |
| B.E. Eighth Semester (Electronics & Communication) [CBS] (New) Click here to view result | Faculty of Science & Technology | 14 Jul 2022 |
| B.E. Eighth Semester (Aeronautical Engineering) [CBS] (New) Click here to view result | Faculty of Science & Technology | 14 Jul 2022 |
| B.E. Eighth Semester (Computer Science & Engineering) [CBS] (New) Click here to view result | Faculty of Science & Technology | 14 Jul 2022 |
| B.E. Eighth Semester (Computer Technology) [CBS] (New) Click here to view result | Faculty of Science & Technology | 14 Jul 2022 |
| B.E. Eighth Semester (Information Technology) [CBS] (New) Click here to view result | Faculty of Science & Technology | 14 Jul 2022 |
| B.Tech. (Biotechnology) Eigth Semester (NEW)[CBS] Click here to view result | Faculty of Science & Technology | 14 Jul 2022 |
| B.Tech. (Chemical Technology) Eighth Semester (Technology of Oil, Fats and Surfactants) (NEW)(CBS) Click here to view result | Faculty of Science & Technology | 14 Jul 2022 |
| B.Tech. (Chemical Technology) Eighth Semester (Surface Coating Technology) (NEW)(CBS) Click here to view result | Faculty of Science & Technology | 14 Jul 2022 |
| B.Tech. (Chemical Technology) Eighth Semester (Food Technology) (NEW)(CBS) Click here to view result | Faculty of Science & Technology | 14 Jul 2022 |
| B.Tech. (Chemical Technology) Eighth Semester (Plastics and Polymer Technology) (NEW)(CBS) Click here to view result | Faculty of Science & Technology | 14 Jul 2022 |
| B.Tech. (Chemical Technology) Eighth Semester (Pulp & Paper Technology) (NEW)(CBS) Click here to view result | Faculty of Science & Technology | 14 Jul 2022 |
| B.Tech. (Chemical Technology) Eighth Semester (Petrol Reffing & Petrochem) (NEW)(CBS) Click here to view result | Faculty of Science & Technology | 14 Jul 2022 |
RTMNU Summer 2022 Result
Declared Results
RTMNU Summer 2022 Result
Declared Results
| | | |
| --- | --- | --- |
| Exam | Faculty | Result Declared Date |
| Bachelor of Vocation (B.Voc.) Sixth Semester (Consumer Electronics) [CBS] Click here to view result | Faculty of Science & Technology | 09 Jul 2022 |
| Bachelor of Vocation (B.Voc.) Sixth Semester (Hardware technology And Networking) [CBS] Click here to view result | Faculty of Science & Technology | 09 Jul 2022 |
| Bachelor of Vocation (B.Voc.) Sixth Semester (Acting) [CBS] Click here to view result | Faculty of Humanities | 09 Jul 2022 |
| Bachelor of Vocation (B.Voc.) Sixth Semester (Automotive) [CBS] Click here to view result | Faculty of Humanities | 09 Jul 2022 |
| Bachelor of Vocation (B.Voc.) Sixth Semester (Food Processing) [CBS] Click here to view result | Faculty of Humanities | 09 Jul 2022 |
| Bachelor of Vocation (B.Voc.) Sixth Semester (Retail Management) [CBS] Click here to view result | Faculty of Humanities | 09 Jul 2022 |
| Bachelor of Vocation (B.Voc.) Sixth Semester (Software Development) [CBS] Click here to view result | Faculty of Humanities | 09 Jul 2022 |
| Bachelor of Vocation (B.Voc.) Sixth Semester (Theatre & Stage Craft) [CBS] Click here to view result | Faculty of Humanities | 09 Jul 2022 |
| LL.B. (Three Year) Sixth Semester [CBS] (New) Click here to view result | Faculty of Humanities | 09 Jul 2022 |
| Bachelor of Vocation (B.Voc.) Sixth Semester (Building Technology ) [CBS] Click here to view result | Faculty of Humanities | 09 Jul 2022 |
| LL.B. (Three Year) Sixth Semester [CBS] Click here to view result | Faculty of Humanities | 09 Jul 2022 |
| Bachelor of Vocation (B.Voc.) Sixth Semester (Industrial Waste Treatment Technology) [CBS] Click here to view result | Faculty of Science & Technology | 09 Jul 2022 |
| Bachelor of Vocation (B.Voc.) Sixth Semester (Medical Laboratory and Molecular Diagnostic Technology) [CBS] Click here to view result | Faculty of Science & Technology | 09 Jul 2022 |
| Bachelor of Vocation (B.Voc.) Sixth Semester (Tourism) [CBS] Click here to view result | Faculty of Humanities | 09 Jul 2022 |
| Bachelor of Pharmacy Eighth Semester [CGBS]  Click here to view result | Faculty of Science & Technology | 09 Jul 2022 |
RTMNU Summer 2022 Result
Declared Results
RTMNU Summer 2022 Result
Declared Results
Winter 2021 Results 
| | | | | |
| --- | --- | --- | --- | --- |
| Sr.No | Result Date | Course Name | Gazette  | Marksheet |
| 1 | 01-07-2022 | First Semester M.A.(POLITICAL SCIENCE) | View | View |
| 2 | 01-07-2022 | First Semester M.A.(HISTORY) | View | View |
| 3 | 01-07-2022 | First Semester M.A.(ECONOMICS) | View | View |
| 4 | 01-07-2022 | First Semester M.A.(GEOGRAPHY) | View | View |
| 5 | 01-07-2022 | First Semester MA.(PSYCHOLOGY) | View | View |
| 6 | 01-07-2022 | First Semester M.A.(HINDI) | View | View |
| 7 | 01-07-2022 | First Semester M.A.(AMBEDKAR THOUGHT) | View | View |
| 8 | 01-07-2022 | First Semester M.A.(URDU) | View | View |
| 9 | 01-07-2022 | First Semester M.A.(HOME ECONOMICS) | View | View |
| 10 | 01-07-2022 | First Semester M.A.(PALI- PRAKRIT) | View | View |
| 11 | 01-07-2022 | First Semester M.A.(MASS COMM.) | View | View |
| 12 | 01-07-2022 | First Semester M.A.(ARABIC) | View | View |
| 13 | 01-07-2022 | First Semester M.A.(SANSKRIT) | View | View |
| 14 | 01-07-2022 | First Semester M.A.(SOCIOLOGY) | View | View |
| 15 | 01-07-2022 | First Semester M.A.(PHILOSOPHY) | View | View |
| 16 | 01-07-2022 | First Semester M.A.(PERSIAN) | View | View |
| 17 | 01-07-2022 | First Semester M.A.(MUSIC) | View | View |
| 18 | 01-07-2022 | First Semester M.A.(MARATHI) | View | View |
| 19 | 01-07-2022 | First Semester M.A.(ENGLISH) | View | View |
| | | | | |
| --- | --- | --- | --- | --- |
|    20 | 04-07-2022 | First Semester M. Sc.(MICROBIOLOGY) | View       |   View         |
| 21 | 04-07-2022 | First Semester M. Sc.(MATHEMATICS) | View | View |
| 22 | 04-07-2022 | First Semester M. Sc.(CHEMISTRY) | View | View |
| 23 | 04-07-2022 | First Semester M. Sc.(ZOOLOGY) | View | View |
| 24 | 04-07-2022 | First Semester M. Sc.(BIOTECHNOLOGY) | View | View |
| 25 | 04-07-2022 | First Semester M. Sc.(PHYSICS) | View | View |
| 26 | 04-07-2022 | First Semester M. Sc.(BOTANY) | View | View |
| 27 | 04-07-2022 | First Semester M. Sc.(COMPUTER SCI.) | View | View |
| 28 | 04-07-2022 | First Semester M. Sc.(ENVIR.SCI.) | View | View |
| 29 | 04-07-2022 | First Semester M. Sc.(BIOCHEMISTRY) | View | View |
| 30 | 04-07-2022 | First Semester M. Sc.(GEOLOGY) | View | View |
| 31 | 04-07-2022 | First Semester M. Sc.(INFORMATION TECH.) | View | View |
| 32 | 04-07-2022 | First Semester M. Sc.(ELECTRONICS) | View | View |
| 33 | 04-07-2022 | First Semester M. Sc.H.SC.(HUMAN DEV.) | View | View |
| 34 | 04-07-2022 | First Semester M. Sc.H.SC.(EXTENSION) | View | View |
| 35 | 04-07-2022 | First Semester M. Sc.H.SC.(TEX. & CLOTH.) | View | View |
| 36 | 04-07-2022 | First Semester M. Sc.(Forensic Science) | View | View |
| 37 | 04-07-2022 | First Semester B.VOC(ACTING) | View | View |
| 38 | 04-07-2022 | First Semester B.VOC(TOURISM) | View | View |
| 39 | 04-07-2022 | First Semester B.VOC (CONSUMER ELEC.) | View | View |
| 40 | 04-07-2022 | First Semester B.VOC (FOOD PROC.& ENG.) | View | View |
| 41 | 04-07-2022 | First Semester B.VOC (IND.WASTE TR.TEC.) | View | View |
| 42 | 04-07-2022 | First Semester B.VOC (RETAIL MGT.) | View | View |
| 43 | 04-07-2022 | First Semester B.VOC (SOFT. DEVEL.) | View | View |
| 44 | 04-07-2022 | First Semester B.VOC (THEATRE ) | View | View |
| 45 | 04-07-2022 | First Semester B.VOC (Medical Lab) | View | View |
| 46 | 04-07-2022 | First Semester M.C.M | View | View |
| | | | | |
| --- | --- | --- | --- | --- |
|    47 | 07-07-2022 | First Semester B.B.A. |    View    |      View      |
| 48 | 07-07-2022 | First Semester P.G.D.C.C.A. | View | View |
| 49 | 07-07-2022 | First Semester B.C.A | View | View |
| 50 | 07-07-2022 | First Semester B.C.C.A | View | View |
| 51 | 07-07-2022 | First Sem. LL.M (BUSINESS LAW) | View | View |
| 52 | 07-07-2022 | First Sem. LL.M (INTEL.PROP. LAWS) | View | View |
| 53 | 07-07-2022 | First Sem. LL.M (CRIMINAL LAW) | View | View |
| 54 | 07-07-2022 | First Sem. LL.M (CON.LAW & ADM. LAW) | View | View |
| 55 | 07-07-2022 | First Sem. LL.M (LABOUR, CAPIT. & LAW) | View | View |
| 56 | 07-07-2022 | First Semester M.C.A | View | View |
| 57 | 07-07-2022 | First Semester B.F.A.(PAINTING) | View | View |
| 58 | 07-07-2022 | First Semester B.F.A.(APPLIED ARTS) | View | View |
| 59 | 07-07-2022 | First Semester B.LIB. | View | View |
| 60 | 07-07-2022 | First Semester M.LIB. | View | View |
| 61 | 07-07-2022 | First Semester M.COM | View | View |
| 62 | 07-07-2022 | First Semester M.COM (PROFESSIONAL) | View | View |
| 63 | 07-07-2022 | First Semester B.P.Ed. | View | View |
| | | | | |
| --- | --- | --- | --- | --- |
| 64 | 12-07-2022 | First Semester B.S.W. |    View      |      View      |
| 65 | 12-07-2022 | First Semester B.ED | View | View |
| 66 | 12-07-2022 | First Semester B.SC (IT) | View | View |
| 67 | 12-07-2022 | First Semester B.A.(RURAL SERVICES) | View | View |
| 68 | 12-07-2022 | First Semester B.SC.(HOME SCIENCE) | View | View |
| 69 | 12-07-2022 | CERTIFICATE IN LIBRARY SCIENCE | View | View |
| 70 | 12-07-2022 | First Semester M.ED | View | View |
| 71 | 12-07-2022 | First Semester M.P.ED | View | View |
| 72 | 12-07-2022 | First Semester M.B.A. | View | View |
| | | | | |
| --- | --- | --- | --- | --- |
| 73 | 15-07-2022 | First Semester Bachelor of Cosmetic Tech. | View | View  |
| 74 | 15-07-2022 | First Semester B.Sc. Forensic Science | View  | View  |
| 75 | 15-07-2022 | First Semester B.A.E.S.T. | View  | View  |
| 76 | 15-07-2022 | First Sem. BACHELOR OF INT. DESIGN | View  | View  |
| 77 | 15-07-2022 | First Semester B.H.M.C.T | View  | View  |
| 78 | 15-07-2022 | First Semester Bachelor Of Architecture | View  | View  |