RTMNU Online Admission 2022-23 BA, B.Com, B.Sc, BBA, BCCA First Year UG, PG  Academic Year 2022-23
RTMNU Admission : महाविद्यालयात प्रवेशासाठी 1 सप्टेंबरपर्यंत मुदतवाढ
Admission Schedule for the admission in the first year of Under Graduate Non-Professional Courses for the Academic Year 2022-23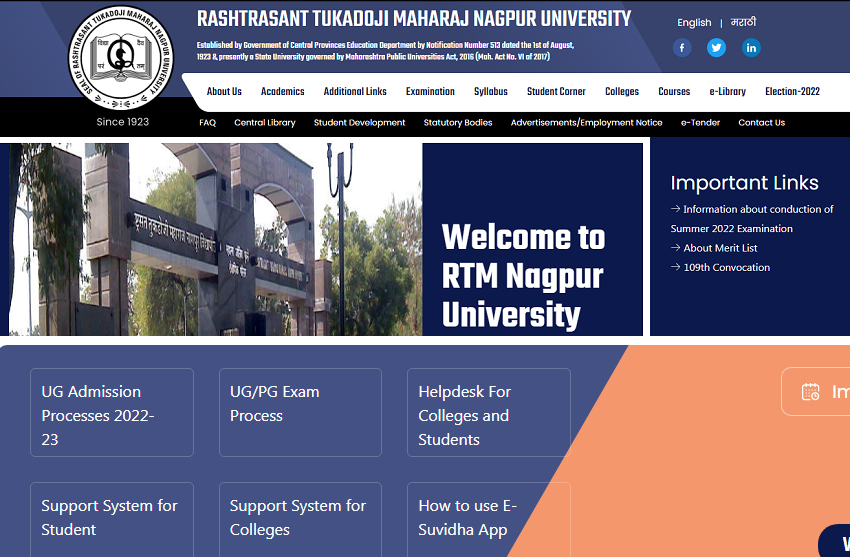 RTMNU Online Admission 2022-23: Rashtrasant Tukadoji Maharaj Nagpur University (RTMNU)  is inviting an application form for admission to the UG & PG courses, the application form of which will begin from the 8th June 2022 and last date of submission application 27 Junr 2022. The admission to the courses of BA, B.Com, B.Sc, BBA, BCCA and UG and PG many of other  courses.
RTMNU Application Form will be Released in 8th June 2022 on the official website and those candidates are wishing to get admission in the various programs from the various affiliated colleges of this university, they can fill the Application Form through online mode by visiting on the official website.
Notification regarding extension of Admission date for session 2022-23
RTMNU  Admission 2022-23 Application Procedure
First, go through the RTMNU official website. (https://www.nagpuruniversity.org)

Click on the link "application form" that shows them in the corner.
After clicking registration form will be coming out.
The applicant has to fill that form with all their details such as name, date of birth, education details, etc.
Check before the submission of the registration form.
After that click on the submit button.
It will take a few mins to process
The applicant has to pay the amount for registration.
Online Admission Registration and Enrollment Form Submission – First Year
प्रथम वर्ष प्रवेश नोंदणी आणि नामांकनासाठी ऑनलाईन फॉर्म सादर करणे.
UG Admission Process Guidelines
For Colleges
Guidelines for Confirming Applications in PFD form
Guidelines for Confirming Application in Video form
For Students
Guideline Video for Students to Editing Profile
Common Admission Schedule for Under Graduate Non-Professional Courses Conducted by the Affiliated Colleges for the Academic Year 22022-23
Registration on RTMNU Site From 05-06-2022 to 27-06-2022
Sale of Prospectus From 08.06.2022
Submission of Application form to the colleges. From 08-06-2022 to 03-07-2022
Display of Merit List & Waiting List. Date 06-07-2022.
Finalization of Admissions From Merit List From 07-07-2022 to 11-07-2022
Finalization of Ad missions From Waiting List From 13-07-2022 to 15-07-2022
Counseling & Spot Admissions (if necessary) Till last date of admission prescribed by the University against Vacant Seats
Required Documents for RTMNU Admission
10th Mark-sheets
Passing certificate
10+2 Mark-sheets
Passing certificate
Income Certificate
Category Certificate
Admission Test Admit card/Scorecard
Transfer Certificate
Passport Size Photographs
RTMNU Admission Faculty
STUDENTS CAN APPLY FOR MULTIPLE COURSES THROUGH SINGLE LOGIN.
THERE IS NO NEED FOR ENTERING PERSONAL DETAILS AND UPLOADING DOCUMENTS AGAIN
Student Level
• Portal : https://rtmnu.university.
• Student to login through portal .
• After login ; click on apply course for adding another courses .
• Select the courses and then click on submit button.
• After confirming the course selection take each printout of applied courses through preview tab.
Rashtrasant Tukadoji Maharaj Nagpur University UG,PG Admission 2022-23
Student Level
 Portal : https://rtmnu.university
 Student to register at the portal
After registration, the student will be provided username and password for login
The student on login to fill Admission registration form.
Apart from details the student to upload photo, signature and documents.
The scanned copy of marksheets of X and XII have to be compulsorily uploaded
If the student is short of document other than marksheets he/she can still proceed with completion of admission registration.
On successful filling of form an "Admission Registration Number" (ARN) will be generated.
Student can take print out of the same.
College Level
Student while applying to college will provide ARN
Ccollege will be responsible for authentication of student's documents uploaded on portal
The college can upload/edit/delete documents of a student
College can download the documents
The college will follow regular admission procedure
On finalisation of admission the college will update ARN of all admitted students on the portal
The college will ensure that at the time of finalisation of admission of a student all relevant documents of the student are uploaded to portal
UG & PG  ADMISSION REGISTRATION 2022-23
Direct Link to Online Application : Click Here