Mumbai University Results 2022 Declared For BA, B.Com, B.Sc, MA, M.Sc, M.Com, BE, MBA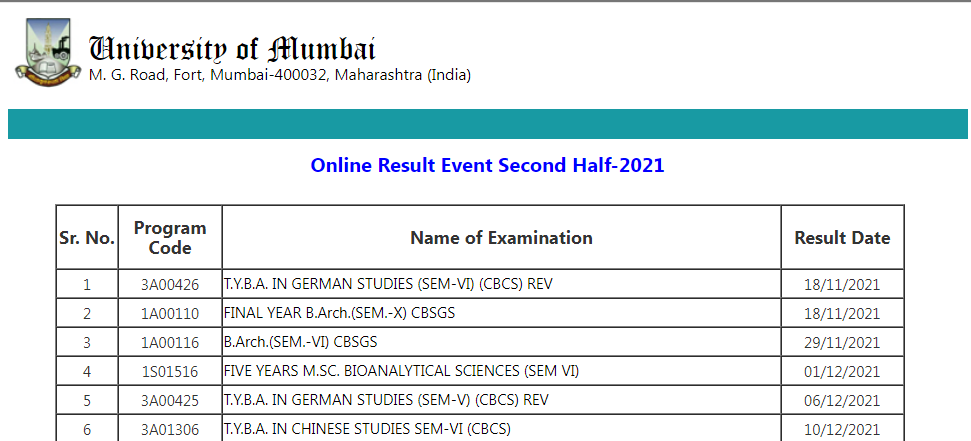 Mumbai University Results 2022 Download : The Mumbai University (MU) had declared the MU UG, PG Exam Results 2022-23 for the BA BC.om B.Sc, BBA, BCA, MA, M.Com,M.Sc an online Odd/Event first/Second half exam 2022, Online Result Event Second Half. So, candidates need to check the Mumbai University Results 2022 online from the official site or through this page. Yes at the below of this page we have given a direct link to check Mumbai University Results 2022. Those who are waiting to check out the MU BA,B.Sc, B.com,M.A,M.Sc,M.Com Results 2022 must be latest updates. You can also check the Other Semester Results of Mumbai University from the end of this page. Go through the below sections for more information about MU FY SY TY B.A B.Sc B.Com M.A Result.
| | |
| --- | --- |
| Organizer | University of Mumbai |
| Name of Exam | B.Sc, B.Com, BBA, BCA and MA, MSc, M.Com, MBA Exam |
| Type of Exam | Annual/Semester Exam |
| Location of University | Maharashtra |
| Academic Session | 2022-23 |
| Article Category | University Result |
| Year/Semester | 1st 2nd 3rd Year/1st 2nd 3rd 4th 5th 6th 7th 8th Semester |
| Mode of Result | Online |
| Release Date of Result | Available Now |
| Official Website | mu.ac.in |
How to Check Mumbai University  FY SY TY B.A B.Sc B.Com M.A Results 2022
Visit the official site of the Mumbai University (MU) @ mu.ac.in.
There, you can see the home page of the organisation.
Check for the Results section on the screen.
On that page, you can see the program code along with the name of the examination.
There, you need to check the Exam Results release date.
Choose the desired one.
Then, you all need to click on it.
A list of declared results will appear on the screen.
Choose your course.
The student will navigate to another page.
Here, they will enter the application ID/ Roll Number and submit it.
The result will appear on the screen.
Save the visible MU Semester Results 2022.
Take the printout of the Result 2022.
 University of Mumbai (MU) Result for  MU /FY /SY /TY /BA /B.Sc /B.com /M.A /M.Sc /M.Com.
Online Result Event First Half 2022
Online Result Event Second Half-2021
Sr. No.

Program Code

Name of Examination

Result Date

3A00426

T.Y.B.A. IN GERMAN STUDIES (SEM-VI) (CBCS) REV

18/11/2021

1A00110

FINAL YEAR B.Arch.(SEM.-X) CBSGS

18/11/2021

1A00116

B.Arch.(SEM.-VI) CBSGS

29/11/2021

1S01516

FIVE YEARS M.SC. BIOANALYTICAL SCIENCES (SEM VI)

01/12/2021

3A00425

T.Y.B.A. IN GERMAN STUDIES (SEM-V) (CBCS) REV

06/12/2021

3A01306

T.Y.B.A. IN CHINESE STUDIES SEM-VI (CBCS)

10/12/2021

2C00245

BACHELOR OF COMMERCE (FINANCIAL MARKETS)(SEM.V)(CBSGS) (75:25)(REVISED COURSE)

15/12/2021

3A01305

T.Y.B.A. IN CHINESE STUDIES SEM-V (CBCS)

15/12/2021

1P00128

FINAL YEAR BACHELOR OF PHARMACY, SEMESTER-VIII (CBSGS)

16/12/2021

1A00524

MASTER OF ARCHITECTURE (ARCHITECTURAL & URBAN CONSERVATION) SEM-IV(CBCGS)

16/12/2021

1A000724

MASTER OF ARCHITECTURE (PROJECT MANAGEMENT) SEM-IV (CBCGS)

16/12/2021

1T01627

B.E. (PRINTING & PACKAGING TECHNOLOGY ENGINEERING) (SEM VII) (CHOICE BASED)

16/12/2021

1A00624

MASTER OF ARCHITECTURE (URBAN DESIGN) SEM-IV (CBCGS)

17/12/2021

1T00917

B.E. (ELECTRONICS AND ELECRICAL ENGINEERING) (SEM VII) (CBGS)

18/12/2021

1T01517

B.E. (MECHATRONICS) (SEM VII) (CBGS)

18/12/2021

1S00725

BACHELOR OF SCIENCE (AVIATION)(SEMESTER-V) (CBSGS)

20/12/2021

4O01615

T.Y.B.A (Culinary Arts) (Semester-V) (CBCS)

22/12/2021

1S00725

BACHELOR OF SCIENCE (AVIATION)(SEM-V)(CBCS)

23/12/2021

2C00825

T.Y.B.COM(INVESTMENT MANAGEMENT)(SEM-V)(CHOICE BASED)

23/12/2021

2C01025

T.Y.B.COM(TRANSPORT MANAGEMENT)(SEM-V)(CHOICE BASED)

24/12/2021

2C00925

T.Y.B.COM(FINANCIAL MANAGEMENT)(SEM-V)(CHOICE BASED)

25/12/2021

1P00137

B.PHARM. (SEM VII) (CHOICE BASED)

28/12/2021

1P00138

B.PHARM. (SEM VIII) (CHOICE BASE)

28/12/2021

3A00111

T.Y.B.A. (REV-IDOL)

28/12/2021

1S00726

BACHELOR OF SCIENCE (AVIATION)(SEM-VI)(CBCS)

29/12/2021

2C00445

BACHELOR OF COMMERCE (ACCOUNTING AND FINANCE)(SEM-V)(CBSGS)(75:25)(REVISED COURSE)
BACHELOR OF COMMERCE (ACCOUNTING & FINANCE)(SEM-V)(CBSGS)(75:25-OLD TO 75:25-REV)

31/12/2021

2C00335

BACHELOR OF COMMERCE (BANKING AND INSURANCE) (SEM.V) (CBSGS) (75:25)

31/12/2021

3A00613

M.A.(HONOURS) IN GERMAN STUDIES (SEM-III)(CBCS)

01/01/2022

3A01113

M.A. IN GERMAN STUDIES (SEM-III)(CBCS)

01/01/2022

4O01535

T.Y.B.A.(FILM TELEVISION & NEW MEDIA PRODUCTION)(SEM-V)(CHOICE BASED)

01/01/2022

1T00327

B.E. (BIOMEDICAL ENGINEERING) (SEM VII) (CHOICE BASED)

01/01/2022

3A00511

M.A. (PART I)

03/01/2022

3A00512

M.A. DEGREE

03/01/2022

T10117

FINAL YEAR BACHELOR OF PHARMACY,SEMESTER – VII (OLD TO REVISED)

04/01/2022

T10118

FINAL YEAR BACHELOR OF PHARMACY, DEGREE SEMESTER-VIII (OLD TO REVISED)

04/01/2022

2C00111

T.Y.B.COM.(IDOL) GROUP PASSING
T.Y.B.COM.(IDOL) INDL-PASS

04/01/2022

1T00427

B.E. (BIOTECHNOLOGY ENGINEERING) (SEM VII) (CHOICE BASED)

04/01/2022

1S00915

B.Sc. (NAUTICAL SCIENCE) (SEM V) (CBCS)

04/01/2022

4O00325

BACHELOR OF SOCIAL WORK (B.S.W) (CBCS) SEM-V

06/01/2022

4O00366

BACHELOR OF SOCIAL WORK (B.S.W) (CBCS) SEM-VI

06/01/2022

1S01211

(UPDATED) M.Sc. (PART I)(IDOL FRESH)

06/01/2022

1S01212

(UPDATED) M.Sc. (PART II)(IDOL FRESH)

06/01/2022

2C00345

T.Y.B.COM. (Banking and Insurance) (Semester-V) (CBCGS)
T.Y.B.Com. (Banking & Insurance) (Semester-V) (CBCGS) (7 GRADE POINT)

06/01/2022

2C01115

T.Y.B.COM\B.M.S.(ENVIRONMENTAL MANAGEMENT & ECONOMICS)(SEM-V)(CHOICE BASED)

07/01/2022

1S01915

B.VOC. MEDICAL LABORATORY TECHNOLOGY SEM.- V (CBCGS)

07/01/2022

2C00255

T.Y.B.Com. (Financial Markets) (Semester-V) (CBCGS)
T.Y.B.Com. (Financial Markets) (Semester-V) (CBCGS) (7 GRADE POINT)

07/01/2022

1T00227

B.E. (AUTOMOBILE ENGINEERING) (SEM VII) (CHOICE BASED)

10/01/2022

1T01327

B.E. (INSTRUMENTATION ENGINEERING) (SEM VII) (CHOICE BASED)

10/01/2022

4O02215

T.Y.B.Voc.(MEDIA PRODUCTION) (SEM.-V)(CBCS)
T.Y.B.Voc.(MEDIA PRODUCTION) (SEM.-V) CBSGS (75:25)

11/01/2022

1T01227

B.E. (INFORMATION TECHNOLOGY ENGINEERING) (SEM VII) (CHOICE BASED)

12/01/2022

1T01127

B.E. (ELECTRONICS ENGINEERING) (SEM VII) (CHOICE BASED)

12/01/2022

1S00155

B.Sc. (COMPUTER SCIENCE)(SEM V)(CBCGS)
B.Sc. (COMPUTER SCIENCE)(SEM V)(CBSGS)(7 GRADE POINT)

12/01/2022

2C00455

T.Y.B.Com. (Accounting and Finance) (Semester-V) (CBCGS)
T.Y.B.Com. (Accounting & Finance) (Semester-V) (CBCGS) (7 GRADE POINT)

13/01/2022

1S00156

B.Sc. (COMPUTER SCIENCE)(SEM VI)(CBCGS)
B.Sc. (COMPUTER SCIENCE)(SEM VI)(CBSGS)(7 GRADE POINT)

14/01/2022

4O00155

BACHELOR OF MASS MEDIA (B.M.M.) (SEM-V) (CBSGS)(R-2016)(10.GRADE)(75:25)
(UPDATED) BACHELOR OF MASS MEDIA (B.M.M.) (SEM-V) (CBSGS)(R-2016)(10.GRADE)(75:25)
BACHELOR OF MASS MEDIA (B.M.M.)(SEM-V)(CBSGS)(REV.)(75:25)(7 GRADE)

14/01/2022

2C00256

T.Y.B.Com. (Financial Markets) (Semester-VI) (CBCGS)

15/01/2022

2C00336

BACHELOR OF COMMERCE (BANKING & INSURANCE) (SEM.VI) (CBSGS)(75:25)

15/01/2022

2C00446

BACHELOR OF COMMERCE BACHELOR OF COMMERCE (ACCOUNTING & FINANCE)(SEM-VI)(CBSGS)(75:25-OLD TO 75:25-REV)
BACHELOR OF COMMERCE (ACCOUNTING AND FINANCE)(SEM-VI)(REVISED COURSE)(CBSGS)(75:25) DEGREE

15/01/2022

1S00245

B.SC. (INFORMATION TECHNO.)(SEM-V)(CBSGS)(75:25)(THREE YEAR DEGREE COURSE)

15/01/2022

3A00146

T.Y.B.A (SEM.-VI)(CBCS)
T.Y.B.A (SEM.-VI)(CBCS)(7 GRADE POINT)

15/01/2022

1T00827

B.E. (ELECTRICAL ENGINEERING) (SEM VII) (CHOICE BASED)

17/01/2022

1S02215

T.Y.B.VOC. (INTERIOR DESIGN) (SEM-V) (CBCS)

17/01/2022

1S00165

B.Sc. BIOTECHNOLOGY (SEM V)(CBCGS)
B.Sc. BIOTECHNOLOGY (SEM V)(CBSGS) (7 GRADE POINT)

17/01/2022

1S00166

B.Sc. BIOTECHNOLOGY (SEM VI)(CBCGS) (10 GRADE POINT)

17/01/2022

1T00627

B.E. (CIVIL ENGINEERING) (SEM VII) (CHOICE BASED)

17/01/2022

1S00515

BACHELOR OF SCIENCE (AERONAUTICS)(SEM-V)(CBCS) (REV)

18/01/2022

2C00246

BACHELOR OF COMMERCE (FINANCIAL MARKETS) (SEM.VI) (CBSGS)(75:25)(REVISED COURSE) DEGREE

18/01/2022

2C00346

T.Y.B.Com. (Banking & Insurance)(Semester-VI) (CBCGS) (7 GRADE POINT)
T.Y.B.Com. (Banking & Insurance) (Semester-VI) (CBCGS)

18/01/2022

2C00456

T.Y.B.Com. (Accounting and Finance) (Semester-VI) (CBCGS) (7 GRADE POINT)
T.Y.B.Com. (Accouting & Finance) (Semester-VI) (CBCGS)

18/01/2022

1S00615

BACHELOR OF SCIENCE (MARITIME HOSPITALITY STUDIES)(SEM-V)(CBCS)REV

19/01/2022

1T00727

B.E. (COMPUTER ENGINEERING) (SEM VII) (CHOICE BASED)

19/01/2022

2M00155

BACHELOR OF MANAGEMENT STUDIES (SEM V) (75:25) (CHOICE BASE)(10 GRADE)
(UPDATED) BACHELOR OF MANAGEMENT STUDIES (SEM V) (75:25) (CHOICE BASE)(10 GRADE)
(ADDITIONAL CANDIDATES RESULT) BACHELOR OF MANAGEMENT STUDIES (SEM V) (75:25) (CHOICE BASE)(10 GRADE)
(UPDATED) BACHELOR OF MANAGEMENT STUDIES (SEM V) (75:25) (CHOICE BASE)(10 GRADE)
(UPDATED) BACHELOR OF MANAGEMENT STUDIES (SEM V) (75:25) (CHOICE BASE)(10 GRADE)
(UPDATED)(For Seat No. 4272121)BACHELOR OF MANAGEMENT STUDIES (SEM V) (75:25) (CHOICE BASE)(10 GRADE)
BACHELOR OF MANAGEMENT STUDIES (SEM V) (75:25) (CHOICE BASE)(7 GRADE)
(UPDATED)BACHELOR OF MANAGEMENT STUDIES (SEM V) (75:25) (CHOICE BASE)(7 GRADE)

19/01/2022

2C00511

M.COM. (PART – I)

20/01/2022

2C00512

M.COM. (PART – II)

20/01/2022

1S02216

B.VOC (INTERIOR DESIGN) (SEM-VI) (CBCS)

20/01/2022

1A00622

MASTER OF ARCHITECTURE (URBAN DESIGN) SEM-II (CBCGS)

20/01/2022

1T00527

B.E. (CHEMICAL) (SEM VII) (CHOICE BASED)

21/01/2022

1T01027

B.E. (ELECTRONICS & TELECOMMUNICATION ENGG.) (SEM VII) (CHOICE BASED)

21/01/2022

1S00255

B. Sc. (Information Technology) (Semester-V) (CBCGS)
B. Sc. (Information Technology) (Semester-V) (CBCGS) (7 GRADE POINT)

24/01/2022

2C00511

M.COM. PART – I (JAN-DEC)

24/01/2022

2C00512

M.COM. (PART – II) (JAN-DEC)
(UPDATED) M.COM. (PART – II) (JAN-DEC)

24/01/2022

3A00523

M.A. PART-II (SEM.-III)(CBSGS)

24/01/2022

1T01427

B.E. (MECHANICAL ENGINEERING) (SEM VII) (CHOICE BASED)

25/01/2022

1S00246

B.SC. (INFORMATION TECHNOLOGY)(SEM-VI)(CBSGS)(75:25)(THREE YEAR DEGREE COURSE)

27/01/2022

1S00256

B.Sc.(Information Technology) (Semester-VI) (CBCGS)
B. Sc.(Information Technology) (Semester-VI) (CBCGS) (7 GRADE POINT)

27/01/2022

2C00135

T.Y.B.COM. (SEM-V)(CBSGS)(75:25)

27/01/2022

4E00311

B.ED.(H.I) (SEM I)(CBGS)

28/01/2022

1S00145

B.Sc.(SEM V)(CBSGS)(7 GRADE)
B.Sc.(SEM V)(CBCGS)(10 GRADE)

28/01/2022

4O00165

B.A. in Multimedia and Mas Communication (B.M.M.) (SEM V) (CHOICE BASE)(UPDATED)
B.A. in Multimedia and Mas Communication (B.M.M.) (SEM V) (CHOICE BASE) COLL NO 210


31/01/2022

4E00611

BACHELOR OF EDUCATION (SPECIAL EDU.)(L.D)(SEM I)(2 Yr.) (CBCS)

01/02/2022

4E00612

BACHELOR OF EDUCATION (SPECIAL EDU.)(L.D)(SEM II)(2 Yr.) (CBCS)

01/02/2022

4E00511

BACHELOR OF EDUCATION (SPECIAL EDU.)(I.D) (SEM I)(2 Yr.)(CBCS)

01/02/2022

1S00146

B.Sc. (SEM VI)(CBCGS)(10 GRADE)
B.Sc. (SEM VI)(CBSGS)(7 GRADE)

01/02/2022

1S00135

B.Sc. (SEM V)(75:25)

01/02/2022

3L00419

(UPDATED) FIFTH YEAR B.B.A/LL.B (HONS.)(FIVE YEAR INTEGRATED COURSE)(CBCGS)(SEM.IX)

02/02/2022

4E00312

BACHELOR OF EDUCATION (SPECIAL EDU.)(H.I)(SEM II)(2 Yr.) (CBCS)

02/02/2022

1S00111

THIRD YEAR B.Sc.(THREE YEAR COURSE)(IDOL)

02/02/2022

1T00617

B.E. (CIVIL ENGINEERING) (SEM VII) (CBGS TO CHOICE)

02/02/2022

1T00817

B.E. (ELECTRICAL ENGINEERING) (SEM VII) (CBGS TO CHOICE)

02/02/2022

1T01117

B.E. (ELECTRONICS) (SEM VII) (CBGS TO CHOICE)

02/02/2022

1T01417

B.E. (MECHANICAL ENGINEERING) (SEM VII) (CBGS TO CHOICE)

02/02/2022

4E00142

B.ED.(SEM-II)(CBCS)(TWO YEAR COURSE)

02/02/2022

1T00217

B.E. (AUTOMOBILE) (SEM VII) (CBGS TO CHOICE)

02/02/2022

1T01017

B.E. (ELECTRONICS AND TELECOMMUNICATION ENGINEERING) (SEM VII)(CBGS TO CHOICE)

02/02/2022

1T01217

B.E. (INFORMATION TECHNOLOGY) (SEM VII) (CBGS TO CHOICE)

02/02/2022

2C01116

T.Y.B.Com./T.Y.B.M.S.(Environmental Management & Economics) (Sem-VI) (Choice Based)

03/02/2022

2C00826

T.Y.B.Com. (Investment Management) (Sem-VI) (Choice Based)

03/02/2022

1S00125

B.SC. (SEM V)(60:40) TO (75:25)

03/02/2022

1S00126

B.SC. (SEM VI)(60:40) TO (75:25)

03/02/2022

4E00141

TWO YEAR BACHELOR OF EDUCATION (SEM.-I) (CBCS)

04/02/2022

2C00136

T.Y.B.COM. (SEM VI)(CBSGS)(75:25)

04/02/2022

1T01417

B.E. (MECHANICAL) (SEM VII) (REVISED TO CHOICE)

04/02/2022

1T01117

B.E. (ELECTRONICS ENGINEERING)(SEM VII)(REVISED TO CHOICE COURSE)

04/02/2022

1T01017

B.E.(ELECTRONICS & TELECOMMUNICATION ENGG.)(SEM VII)(REVISED TO CHOICE)

04/02/2022

1T00817

B.E. (ELECTRICAL) (SEM VII) (REVISED TO CHOICE)

04/02/2022

1T00717

B.E. (COMPUTER ENGINEERING)(SEM VII)(REVISED TO CHOICE COURSE)

04/02/2022

1T00617

B.E. (CIVIL ) (SEM VII) (REVISED TO CHOICE)

04/02/2022

1S00136

(UPDATED) B.Sc. (SEM VI)(75:25)

05/02/2022

4E00412

BACHELOR OF EDUCATION (SPECIAL EDU.)(A.S.D)(SEM II)(2 Yr.) (CBCS)

05/02/2022

2C00145

B.COM (SEM.-V)(CBCS) FROM 4101393 TO 4109091
B.COM (SEM.-V)(CBCS) FROM 4109092 TO 4116738
B.COM (SEM.-V)(CBCS) FROM 4116739 TO 4124886
B.COM (SEM.-V)(CBCS) FROM 4124887 TO 4132458
B.COM (SEM.-V)(CBCS) FROM 4132459 TO 4140151
B.COM (SEM.-V)(CBCS) FROM 4140152 TO 4147858
B.COM (SEM.-V)(CBCS) FROM 4147859 TO 4155560
B.COM (SEM.-V)(CBCS) FROM 4155561 TO 4163101
B.COM (SEM.-V)(CBCS) FROM 4163102 TO 4171787
(ADDITIONAL CANDIDATES RESULT) B.COM (SEM.-V)(CBCS)

B.COM (SEM.-V)(CBCGS)(7 GRADE POINT)
(ADDITIONAL CANDIDATES RESULT) B.COM (SEM.-V)(CBCGS)(7 GRADE POINT)


05/02/2022

3A00145

T.Y.B.A (SEM.-V)(CBCS)
T.Y.B.A (SEM.-V)(CBCS) (7 GRADE POINT)

08/02/2022

3A00125

T.Y.B.A. (SEM.-V) CBSGS(60:40)(EQUIVALANCE SUBJECT)

08/02/2022

3A00126

T.Y.B.A. (SEM.-VI 60:40) CBSGS (EQUIVALANCE SUBJECT)

08/02/2022

2C00245

BACHELOR OF COMMERCE (FINANCIAL MARKETS)(SEM.V)(CBSGS)(75:25-OLD TO 75:25-REV. COURSE)

08/02/2022

2C00246

BACHELOR OF COMMERCE (FINANCIAL MARKETS)(SEM.VI)(CBSGS)(75:25-OLD TO 75:25-REV. COURSE)

08/02/2022

2C00335

BACHELOR OF COMMERCE (BANKING & INSURANCE)(SEM.V)(60:40 TO 75:25) (CBSGS)

08/02/2022

2C00336

BACHELOR OF COMMERCE (BANKING AND INSURANCE) (SEM.VI)(60:40 TO 75:25)(CBSGS)

08/02/2022

3A00135

T.Y.B.A. (SEM.-V) CBSGS (75:25)

08/02/2022

2M00236

M.F.M.(THIRD YEAR)(SEM.-II) CBSGS REV

08/02/2022

2C00146

B.COM (SEM.-VI)(CBCS)
B.COM (SEM.-VI)(CBCGS)(7 GRADE POINT)

08/02/2022

2M00823

MASTER OF MANAGEMENT STUDIES (M.M.S.)(SEMESTER III)(CHOICE BASE)

08/02/2022

2M00824

MASTER OF MANAGEMENT STUDIES (M.M.S.)(DIGITAL BUSINESS MANAGEMENT)(SEMESTER IV)(CHOICE BASE)

08/02/2022

3L00210

FIFTH YEAR LL.B./B.L.S. (FIVE YEAR COURSE)(SEM.X)

08/02/2022

3L00219

FIFTH YEAR LL.B/B.L.S.(FIVE YEAR COURSE) (SEM-IX)

08/02/2022

2M00636

M.M.M.(THIRD YEAR)(SEM.-II) CBSGS

08/02/2022

3A00136

T.Y.B.A. (SEM.-VI) CBSGS (75:25)

08/02/2022

2C00445

BACHELOR OF COMMERCE (ACCOUNTING AND FINANCE)(SEM-V)(CBSGS)(60:40 TO 75:25-REV)

08/02/2022

2C00446

BACHELOR OF COMMERCE (ACCOUNTING AND FINANCE)(SEM-VI)(CBSGS)(60:40 TO 75:25-REV)

08/02/2022

1S01915

B.VOC. MEDICAL LABORATORY TECHNOLOGY SEM.- V, (75:25)

10/02/2022

3A00524

M.A. PART-II (SEM.-IV) CBSGS

10/02/2022

3A00521

M.A. PART-I (SEM.-I)(CBSGS)

10/02/2022

3A00522

M.A. PART-I (SEM.-II)(CBSGS)

10/02/2022

4E00812

MASTER OF EDUCATION-SPECIAL EDUCATION (HEARING IMPAIRMENT)(SEM-II)(CBCS)

11/02/2022

1T00228

B.E. (AUTOMOBILE ENGINEERING) (SEM VIII) (CHOICE BASED)

11/02/2022

1T00528

B.E. (CHEMICAL ENGINEERING) (SEM VIII) (CHOICE BASED)

11/02/2022

1T00628

B.E. (CIVIL ENGINEERING) (SEM VIII) (CHOICE BASED)

11/02/2022

1T00728

B.E. (COMPUTER ENGINEERING) (SEM VIII) (CHOICE BASED)

11/02/2022

1T00828

B.E. (ELECTRICAL ENGINEERING) (SEM VIII) (CHOICE BASED)

11/02/2022

1T01028

B.E. (ELECTRONICS AND TELECOMMUNICATION ENGINEERING) (SEM VIII) (CHOICE BASED)

11/02/2022

1T01128

B.E. (ELECTRONICS ENGINEERING) (SEM VIII) (CHOICE BASED)

11/02/2022

1T01228

B.E. (INFORMATION TECHNOLOGY ENGINEERING) (SEM VIII) (CHOICE BASED)

11/02/2022

1T01428

B.E. (MECHANICAL ENGINEERING) (SEM VIII) (CHOICE BASED)

11/02/2022

4E00512

BACHELOR OF EDUCATION (SPECIAL EDU.)(I.D.)(SEM II)(2 Yr.) (CBCS)

11/02/2022

2C00926

T.Y.B.Com. (Financial Management) (Sem-VI) (Choice Based)

14/02/2022

1S01212

M.Sc. (PART II)(OTHERTHAN IDOL)

15/02/2022

2M00723

MASTER OF MANAGEMENT STUDIES (M.M.S.)(SEMESTER III)(CBSGS)(OLD)

15/02/2022

4O00722

M.A. IN COMMUNICATION & JOURNALISM (SEM.-II)(CBCS)

15/02/2022

4O00724

M.A.(COMMUNICATION JOURNALISM)(SEM-IV)(CBCS)

15/02/2022

4O00824

M.A.(PUBLIC RELATIONS)(SEM-IV)(CBCS)

15/02/2022

1T00218

B.E. (AUTOMOBILE ENGINEERING) (SEM VIII) (CBSGS TO CBCGS)

16/02/2022

1T00618

B.E. (CIVIL) (SEM VIII) (CBSGS TO CBCGS)

16/02/2022

1T00818

B.E. (ELECTRICAL ENGINEERING) (SEM VIII) (CBSGS TO CBCGS)

16/02/2022

1T01018

B.E. (ELECTRONICS AND TELECOMMUNICATION ENGINEERING) (SEM VIII) (CBSGS TO CBCGS)

16/02/2022

1T01118

B.E. (ELECTRONICS ENGINEERING) (SEM VIII) (CBSGS TO CBCGS)

16/02/2022

1T01218

B.E. (INFORMATION TECHNOLOGY ENGINEERING) (SEM VIII) (CBSGS TO CBCGS)

16/02/2022

1T01418

B.E. (MECHANICAL) (SEM VIII) (CBSGS TO CBCGS)

16/02/2022

1S01211

M.Sc. (PART I)(OTHERTHAN IDOL)

16/02/2022

2C00613

M.Com.(E_COMMERCE SEM-III) (CREDIT BASED SEMESTER GRADING SYSTEM)

16/02/2022

2C00622

M.Com.(E-COMMERCE)(SEM-II)(CHOICE BASE CREDIT GRADING SYSTEM)

16/02/2022

2C00623

M.Com (E-Commerce) (SEM.-III)(CHOICE BASE)

16/02/2022

2C00532

M.Com.(SEM-II)(CHOICE BASE CREDIT GRADING SYSTEM)

17/02/2022

1S00425

B.Sc. (HOSPITALITY STUDIES) (SEM V) (CBCS)
B.Sc. (HOSPITALITY STUDIES) (SEM V) (CBSGS)(7CR)

18/02/2022

2M00723

MASTER OF MANAGEMENT STUDIES (M.M.S.)(SEMESTER III)(CBSGS)(REVISED)

21/02/2022

2M00724

MASTER OF MANAGEMENT STUDIES (M.M.S.)(SEMESTER IV)(CBSGS)(REVISED)

21/02/2022

4O01023

M.A.IN FILM TELEVISION & NEW MEDIA PRODUCTION (SEM-III)(CBCS)

21/02/2022

2M00246

MASTER'S DEGREE IN FINANCIAL MANAGEMENT (THIRD YEAR)(SEM.-II)(CHOICE BASE)

21/02/2022

2M00443

MASTER'S DEGREE IN HUMAND RESOURCES DEVELOPMENT MANAGEMENT (SECOND YEAR)(SEM.-I)(CHOICEBASE)

21/02/2022

2M00633

M.M.M.(SECOND YEAR)(SEM.-I) (REV)CBSGS

21/02/2022

2M01119

B.M.S.- M.B.A. (FIVE YEAR INTEGRATED COURSE) (SEM IX) (CHOICE BASE) (75:25)

22/02/2022

1T00143

M.C.A. (SEM-III)(CBGS TO CHOICE)

23/02/2022

1T00144

M.C.A. (SEM-IV)(CBGS TO CHOICE)

23/02/2022

1T00145

M.C.A. (SEM-V)(CBGS TO CHOICE)

23/02/2022

4O01021

M.A. IN FILM TELEVISION & NEW MEDIA PROD. (SEM.-I)(CBCS)

23/02/2022

4O01024

M.A.(FILM TELEVISION & NEW MEDIA PRODUCTION)(SEM-IV)(CBCS)

23/02/2022

1T00628

B.E. DEGREE (CIVIL) (SEM VIII) (REVISED TO CBCGS)
B.E. DEGREE (CIVIL ) (SEM VIII) (OLD TO CBCGS)

23/02/2022

1T00828

B.E. DEGREE (ELECTRICAL ) (SEM VIII)(REVISED TO CBCGS)
B.E. DEGREE (ELECTRICAL ) (SEM VIII)(OLD TO CBCGS)

23/02/2022

1T01028

B.E. DEGREE (ELECTRONICS & TELECOMMUNICATION ENGINEERING) (SEM VIII) (REVISED TO CBCGS)
B.E. DEGREE (ELECTRONICS & TELECOMMUNICATION ENGINEERING) (SEM VIII) (OLD TO CBCGS COURSE)

23/02/2022

1T01428

B.E. DEGREE (MECHANICAL) (SEM VIII) (REVISED TO CBCGS)

23/02/2022

1T00142

MASTER IN COMPUTER APPLICATION (SEM.II) (CHOICE BASE)

25/02/2022

2C00533

M.Com.(SEM-III)(CHOICE BASE CREDIT GRADING SYSTEM)

26/02/2022

1T00145

MASTER IN COMPUTER APPLICATION (SEM.V) (CHOICE)

02/03/2022

1S01111

M.Sc. (PART I) (SEM I)

02/03/2022

1S01112

M.Sc. (PART I) (SEM II)

02/03/2022

1S01113

M.Sc. (PART II) (SEM III)

02/03/2022

1S01114

M.Sc. (PART II) (SEM IV)

02/03/2022

2C00534

M.Com.(SEM-IV)(CHOICE BASE CREDIT GRADING SYSTEM)

03/03/2022

1T00143

MASTER IN COMPUTER APPLICATION (SEM.III) (CHOICE BASE)

05/03/2022

1T00144

MASTER IN COMPUTER APPLICATION (SEM.IV) (CHOICE)

07/03/2022

1T00162

MASTER OF COMPUTER APPLICATIONS (SEM-II)(CHOICE BASED)(2 YEARS COURSE)

07/03/2022

1S00415

B.Sc. (HOSPITALITY STUDIES) (SEM V) (CBSGS)

08/03/2022

2M0423

M.F.M.(SECOND YEAR)(SEM.-I) (CBSGS) OLD

09/03/2022

2M00646

MASTER'S DEGREE IN MARKETING MANAGEMENT (THIRD YEAR)(SEM.-II)(CHOICE BASE)

09/03/2022

4O00156

BACHELOR OF MASS MEDIA (B.M.M.)(SEM-VI)(CBSGS)(75:25)(R-2017)
BACHELOR OF MASS MEDIA (B.M.M.)(SEM-VI)(CBSGS)(75:25)(R-2017)(7 GRADE)

09/03/2022

1T00163

MASTER OF COMPUTER APPLICATIONS (SEM-III)(CHOICE BASED)(2 YEARS COURSE)

10/03/2022

4O00621

M.A. IN ENTERTAINMENT MEDIA & ADVERTISEMENT(SEM-I)(CBCS)

11/03/2022

4O00723

M.A.COMMUNICATION & JOURNALISM (SEM-III)(CBCS)

11/03/2022

1T00146

MASTER IN COMPUTER APPLICATION (SEM.VI) (CHOICE BASED)

11/03/2022

1S00815

BACHELOR OF SCIENCE (FORENSIC SCIENCE)(SEM-V)(CBCS)(REV)

11/03/2022

1S01123

M.Sc. (PART II) (SEM III)(CBCGS)
M.Sc. (PART II) (SEM III)(CBCGS)(NANOSCI.)

11/03/2022

2M00145

BACHELOR OF MANAGEMENT STUDIES (SEM V) (CBSGS) (75:25) (REV)

11/03/2022

2M00156

BACHELOR OF MANAGEMENT STUDIES (SEM VI) (75:25) (CHOICE BASE)(10 GRADE)
BACHELOR OF MANAGEMENT STUDIES (SEM VI) (75:25) (CHOICE BASE) (7 GRADE)

11/03/2022

4O00823

M.A.IN PUBLIC RELATIONS (SEM-III)(CBCS)

12/03/2022

2M00643

MASTER'S DEGREE IN MARKETING MANAGEMENT (SECOND YEAR)(SEM.-I)(CHOICEBASE)

12/03/2022

1S01122

M.Sc. (PART I) (SEM II)(CBCGS)

12/03/2022

1S01124

M.Sc. (PART II) (SEM IV)(CBCGS)

14/03/2022

3A00533

M.A. PART-II (SEM.-III)(CBCS)

14/03/2022

2M00146

BACHELOR OF MANAGEMENT STUDIES (SEM VI) (CBSGS) (75:25)(R-2017)

14/03/2022

4O00623

M.A.IN ENTERTAINMENT MEDIA & ADVERTISEMENT (SEM-III)(CBCS)

15/03/2022

2M00243

MASTER'S DEGREE IN FINANCIAL MANAGEMENT (SECOND YEAR)(SEM.-I)(CHOICEBASE)

16/03/2022

2M00733

MASTER OF MANAGEMENT STUDIES (M.M.S.)(SEMESTER III)(CHOICE BASE)

16/03/2022

2M00734

MASTER OF MANAGEMENT STUDIES (M.M.S.)(SEMESTER IV)(CHOICE BASE)

16/03/2022

3A00532

M.A. PART-I (SEM.-II)(CBCS)

17/03/2022

3A00534

M.A. PART-II (SEM.-IV)(CBCS)

17/03/2022

1P00231

MASTER OF PHARMACY (SEM-I) (CBCS)

17/03/2022

4P00212

BACHELOR OF PHYSICAL EDUCATION (SEM II)(2 YEARS COURSE ) (CBSGS)

17/03/2022

3L00115

LL.B. DEGREE (SEM-V)
LL.B. DEGREE (SEM-V) (MIX PATTERN)

17/03/2022

4L00115

THREE YEARS LL.B SEMESTER-V (CBCS)(60:40)
(UPDATED) THREE YEARS LL.B SEMESTER-V (CBCS)(60:40)

17/03/2022

1S01111,1S01121,
1S01131,1S1141

M.Sc. (BY RESEARCH) (CBCGS)


21/03/2022

1S00245

B.SC. (INFORMATION TECHNO.)(SEM-V)(CBSGS)(60:40 TO 75:25)(THREE YEAR DEGREE COURSE)

22/03/2022

1S00246

B.SC. (INFORMATION TECHNOLOGY)(SEM-VI)(CBSGS)(60:40 TO 75:25)(THREE YEAR DEGREE COURSE)

22/03/2022

3L00116

LL.B. DEGREE (SEM.-VI)

23/03/2022

4O00145

BACHELOR OF MASS MEDIA (B.M.M.) (SEM-V) (CBSGS)(REV.)(75:25)

23/03/2022

4O00146

BACHELOR OF MASS MEDIA (B.M.M.)(SEM-VI)(CBSGS)(75:25)(OLD)
BACHELOR OF MASS MEDIA (B.M.M.)(SEM-VI)(CBSGS)(75:25)(REV.)

23/03/2022

2M00226

M.F.M.(THIRD YEAR)(SEM.-II) CBSGS

24/03/2022

1S00416

B.Sc. (HOSPITALITY STUDIES) (SEM VI) (CBSGS)

25/03/2022

1S00426

B.Sc. (HOSPITALITY STUDIES) (SEM VI) (CBCS)
B.Sc. (HOSPITALITY STUDIES) (SEM VI)(7 CR)(CBSGS)

30/03/2022

3A00531

M.A. (SEM.-I)(CBCS)

01/04/2022

3AO0713

M.A.(HONOURS) IN SOCIOLOGY (SEM-III)(CBCS)

01/04/2022

2C00531

M.Com.(SEM-I)(CHOICE BASE CREDIT GRADING SYSTEM)

01/04/2022

1S01333

MASTER OF SCIENCE (HOME SCIENCE) (CHOICE BASED) (SEM- III)

04/04/2022

3AO0812

M.A.(HONOURS) IN ENGLISH (SEM-II)(CBCS)

04/04/2022

3AO0813

M.A.(HONOURS) IN ENGLISH (SEM-III)(CBCS)

04/04/2022

3AO0913

M.A.(HONOURS) IN ENGLISH WITH RESEARCH (SEM-III)(CBCS)

04/04/2022

3AO0913

M.A.(HONOURS) IN ENGLISH WITH RESEARCH (SEM-III)(CBCS)

04/04/2022

1S01121

M.Sc. (PART I) (SEM I)(CBCGS)

04/04/2022

2C00145

BACHELOR OF COMMERCE (SEM V) CBSGS 60:40 PATTERN UNDER CHOICE BASED SYSTEM (EQUIVALENT SUBJECT)

06/04/2022

1S01321

MASTER OF SCIENCE (HOME SCIENCE) (CHOICE BASED) (SEM- I)

07/04/2022

4O00416

BACHELOR OF FINE ARTS / PERFORMINIG ARTS (DANCE)(SEM – VI) (CBCS)

08/04/2022

4O01412

MASTER OF PERFORMING ARTS (DANCE) (SEM – II) (CBCS)

08/04/2022

2C00146

BACHELOR OF COMMERCE (SEM VI) (CBSGS) (60:40) PATTERN UNDER CHOICE BASED SYSTEM (EQUIVALENT SUBJECT)

12/04/2022

4E00733

MASTER OF EDUCATION (SEM-III) (2 YEARS REV COURSE)(CBCS)

13/04/2022

1S01334

MASTER OF SCIENCE (HOME SCIENCE) (CHOICE BASED) (SEM- IV)

14/04/2022

2C00531

M.Com.(SEM-I) (CHOICE BASE CREDIT GRADING SYSTEM),(IDOL, JAN-DEC 60/40)

16/04/2022

2C00532

M.Com.(SEM-II) (CHOICE BASE CREDIT GRADING SYSTEM),(IDOL, JAN-DEC 60/40)

16/04/2022

3AO0711

M.A.(HONOURS) IN SOCIOLOGY (SEM-I)(CBCS)

19/04/2022

4O00415

BACHELOR OF FINE ARTS / PERFORMINIG ARTS (DANCE)(SEM – V)CBCS

20/04/2022

4O01411

MASTER OF PERFORMING ARTS (DANCE) (SEM – I) (CBCS)

20/04/2022

4O01413

MASTER OF PERFORMING ARTS (DANCE) (SEM – III) (CBCS)

20/04/2022

2M00135

BACHELOR OF MANAGEMENT STUDIES (SEM V) (CBSGS) (75:25)(OLD TO REV.)

20/04/2022

2M00136

B.M.S. (SEM VI) (CBSGS) (75:25)(OLD TO REV.)

20/04/2022

2M00135

BACHELOR OF MANAGEMENT STUDIES, SEMESTER-V (OLD)

20/04/2022

2M00155

EQUIVALENT B.M.S.(SEM V) (CBSGS)(60:40)

20/04/2022

4E00143

B.ED.(SEM-III)(CBCS)(TWO YEAR COURSE)

21/04/2022

1S01121

M.Sc. (PART I) (SEM I)(CBCGS)(OTHERTHAN COLLEGE)

21/04/2022

2M00136

B.M.S. EQUIVELENT SUBJECT (OLD) SEM-VI
BACHELOR OF MANAGEMENT STUDIES (SEM VI) (CBSGS) (60:40)(EQUIVALENT)

22/04/2022

3A00531

M.A. (SEM.-I)(CBCS)(UNIVERSITY DEPARTMENT)

25/04/2022

3AO0611

M.A.(HONOURS) IN GERMAN STUDIES (SEM-I)(CBCS)

26/04/2022

3AO0811

M.A.(HONOURS) IN ENGLISH (SEM-I)(CBCS)

26/04/2022

3AO0911

M.A.(HONOURS) IN ENGLISH WITH RESEARCH (SEM-I)(CBCS)(FURTHER REVISED)

26/04/2022

3AO1111

M.A. IN GERMAN STUDIES (SEM-I)(CBCS)

26/04/2022

3AO1213

M.A.(HONS.)IN POLITICS (SEM-III)(CBCS)

26/04/2022

1S00315

B.Sc. (HOME SCIENCE)(COMMUNITY RESOURCE MGNT) (SEM V) (CBCS)
B.Sc. (HOME SCIENCE)(FOOD NUTRITION AND DIETETICS) (SEM V) (CBCS)
B.Sc. (HOME SCIENCE)(HUMAN DEVLOPMENT) (SEM V) (CBCS)
B.Sc. (HOME SCIENCE)(TEXTILE & FASHION TECHNOLOGY) (SEM V) (CBCS)

26/04/2022

4O00831

MASTER OF PERFORMING ARTS IN DANCE-HUMAN MOVEMENT SEM-I (CBCS)

27/04/2022

3AO1223

M.A.(HONOURS) IN POLITICS (SEM.-III)(CBSGS)

27/04/2022

A5111

M.A.(HONOURS) IN POLITICS (SEM-I) (CBSGS)

27/04/2022

4O01321

MASTER OF LIBRARY AND INFORMATION SCIENCE (CBCS)SEM-I

27/04/2022

2C00521

M.Com.(SEM-I)(CBGS)

28/04/2022

2C00522

M.Com.(SEM-II) (CBGS)

28/04/2022

2C00523

M.Com.(SEM-III) (CBGS)

28/04/2022

2C00524

M.Com.DEGREE (SEM-IV)(CBSGS)

28/04/2022

3A00235

T.Y.B.A. (FRENCH STUDIES) (CBCS) SEM-V

30/04/2022

4O00821

M.A. PUBLIC RELATIONS (SEM.-I)(CBCS)

04/05/2022

1S01121

(UPDATED) M.Sc. (PART I) (SEM I)(CBCGS) (DATA SCIENCE)

06/05/2022

4O00721

M.A. IN COMMUNICATION & JOURNALISM (SEM.-I)(CBCS)

06/05/2022

1S00225

B.SC. (INFORMATION TECHNOLOGY)(SEM-V)(REVISED)(IDOL-80:20)(THREE YEAR DEGREE COURSE)
B.SC. (INFORMATION TECHNO.)(SEM-V)(REVISED COURSE)(THREE YEAR DEGREE COURSE)

10/05/2022

1S00226

BACHELOR OF SCIENCE (INFORMATION TECHNOLOGY) DEGREE (SEM-VI)(REVISED)(IDOL-80:20)

10/05/2022

1T01831

B.E.(with credits) – Regular – CBCS(Artificial Intelligence and Machine Learning)- F.E. C-Scheme – Sem I [1T01831]
B.E.(with credits) – Regular – CBCS(Artificial Intelligence and Data Science)- F.E. C-Scheme – Sem I [1T01831]
B.E.(with credits) – Regular – CBCS(Automobile Engineering)- F.E. C-Scheme – Sem I [1T01831]
B.E.(with credits) – Regular – CBCS(Bio Medical Engineering)- F.E. C-Scheme – Sem I [1T01831]
B.E.(with credits) – Regular – CBCS(Chemical Engineering)- F.E. C-Scheme – Sem I [1T01831]
B.E.(with credits) – Regular – CBCS(Civil and Infrastructure Engineering)- F.E. C-Scheme – Sem I
B.E.(with credits) – Regular – CBCS(Civil Engineering)- F.E. C-Scheme – Sem I [1T01831]
B.E.(with credits) – Regular – CBCS(Computer Science and Engineering (Artificial Intelligence and Machine Learning))- F.E. C-Scheme – Sem I [1T01831]
B.E.(with credits) – Regular – CBCS(Computer Science and Engineering (Data Science))- F.E. C-Scheme – Sem I [1T01831]
B.E.(with credits) – Regular – CBCS(Computer Science and Engineering ( IOT and Cyber Security Including Blockchain Technology))- F.E. C-Scheme – Sem I [1T01831]
B.E.(with credits) – Regular – CBCS(Cyber Security)- F.E. C-Scheme – Sem I [1T01831]
B.E.(with credits) – Regular – CBCS(Data Engineering)- F.E. C-Scheme – Sem I [1T01831]
B.E.(with credits) – Regular – CBCS(Electrical Engineering)- F.E. C-Scheme – Sem I [1T01831]
B.E.(with credits) – Regular – CBCS(Electronics and Computer Science)- F.E. C-Scheme – Sem I [1T01831]
B.E.(with credits) – Regular – CBCS(Electronics Engineering)- F.E. C-Scheme – Sem I [1T01831]
B.E.(with credits) – Regular – CBCS(Instrumentation Engineering)- F.E. C-Scheme – Sem I [1T01831]
B.E.(with credits) – Regular – CBCS(Mechanical Engineering)- F.E. C-Scheme – Sem I [1T01831]
B.E.(with credits) – Regular – CBCS(Mechatronic Engineering)- F.E. C-Scheme – Sem I [1T01831]
B.E.(with credits) – Regular – CBCS(Computer Engineering)- F.E. C-Scheme – Sem I [1T01831]
B.E.(with credits) – Regular – CBCS(Information Technology Engineering)- F.E. C-Scheme – Sem I [1T01831]
B.E.(with credits) – Regular – CBCS(Electronics and Telecommunication Engineering)- F.E. C-Scheme – Sem I [1T01831]
B.E.(with credits) – Regular – CBCS(Automation and Robotics)- F.E. C-Scheme – Sem I [1T01831]
B.E.(with credits) – Regular – CBCS(Computer Science and Design)- F.E. C-Scheme – Sem I [1T01831]


11/05/2022

4O00622

M.A. IN ENTERTAINMENT MEDIA & ADVERTISEMENT (SEM.-II)(CBCS)

11/05/2022

4O00624

M.A.(ENTERTAINMENT MEDIA & ADVERTISEMENT)(SEM-IV)(CBCS)

11/05/2022

4O01324

MASTER OF LIBRARY AND INFORMATION SCIENCE (CBCS) SEM-IV

13/05/2022

1T01832

B.E.(with credits) – Regular – CBCS(Artificial Intelligence and Machine Learning)- F.E. C-Scheme – Sem II [1T01832]
B.E.(with credits) – Regular – CBCS(Artificial Intelligence and Data Science)- F.E. C-Scheme – Sem II [1T01832]
B.E.(with credits) – Regular – CBCS(Automobile Engineering)- F.E. C-Scheme – Sem II [1T01832]
B.E.(with credits) – Regular – CBCS(Chemical Engineering)- F.E. C-Scheme – Sem II [1T01832]
B.E.(with credits) – Regular – CBCS(Civil Engineering)- F.E. C-Scheme – Sem II [1T01832]
B.E.(with credits) – Regular – CBCS(Computer Science and Engineering (Artificial Intelligence and Machine Learning))- F.E. C-Scheme – Sem II [1T01832]
B.E.(with credits) – Regular – CBCS(Computer Science and Engineering ( IOT and Cyber Security Including Blockchain Technology))- F.E. C-Scheme – Sem II [1T01832]
B.E.(with credits) – Regular – CBCS(Computer Engineering)- F.E. C-Scheme – Sem II [1T01832]
B.E.(with credits) – Regular – CBCS(Electrical Engineering)- F.E. C-Scheme – Sem II [1T01832]
B.E.(with credits) – Regular – CBCS(Electronics Engineering)- F.E. C-Scheme – Sem II [1T01832]
B.E.(with credits) – Regular – CBCS(Electronics and Computer Science)- F.E. C-Scheme – Sem II [1T01832]
B.E.(with credits) – Regular – CBCS(Electronics and Telecommunication Engineering)- F.E. C-Scheme – Sem II [1T01832]
B.E.(with credits) – Regular – CBCS(Information Technology Engineering)- F.E. C-Scheme – Sem II [1T01832]
B.E.(with credits) – Regular – CBCS(Instrumentation Engineering)- F.E. C-Scheme – Sem II [1T01832]
B.E.(with credits) – Regular – CBCS(Mechanical Engineering)- F.E. C-Scheme – Sem II [1T01832]


17/05/2022

1P00242

MASTER OF PHARMACY (SEM-II) (CBCS) (REV)

18/05/2022

1T01811

FIRST YEAR ENGINEERING SEMESTER I (CREDIT BASED GRADING SYSTEM )
(UPDATED) FIRST YEAR ENGINEERING SEMESTER I (CREDIT BASED GRADING SYSTEM )
FIRST YEAR ENGINEERING (SEM – I) (OLD TO CBSGS)

20/05/2022

1T01812

FIRST YEAR ENGINEERING SEMESTER II (CREDIT BASED GRADING SYSTEM)
FIRST YEAR ENGINEERING (SEM -II) (OLD TO CBSGS)

20/05/2022

1T01821

FIRST YEAR ENGINEERING SEMESTER I (CHOICE BASED CREDIT GRADING SYSTEM )(CBCGS)
FIRST YEAR ENGINEERING SEMESTER I (CHOICE BASED CREDIT GRADING SYSTEM )(CBCGS)
(UPDATED) FIRST YEAR ENGINEERING SEMESTER I (CHOICE BASED CREDIT GRADING SYSTEM )(CBCGS)

21/05/2022

1T01822

FIRST YEAR ENGINEERING SEMESTER II (CHOICE BASED CREDIT GRADING SYSTEM )(CBCGS)
FIRST YEAR ENGINEERING SEMESTER II (CHOICE BASED CREDIT GRADING SYSTEM )(CBCGS)

21/05/2022

1S01121

(UPDATED) M.Sc. (PART I) (SEM I)(CBCGS)(IDOL)

23/05/2022

1S01122

M.Sc. (PART I) (SEM II)(CBCGS)(IDOL)

23/05/2022

1S01123

(UPDATED) M.Sc. (PART II) (SEM III)(CBCGS)(IDOL)

23/05/2022

4O00521

MASTER OF SOCIAL WORK (SEM-I) (CBCS)

23/05/2022

4O01323

MASTER OF LIBRARY AND INFORMATION SCIENCE (CBCS) SEM-III

24/05/2022

3AO0712

M.A.(HONOURS) IN SOCIOLOGY (SEM-II)(CBCS)

30/05/2022

2C00531

M.Com.(SEM-I)(CHOICE BASE CREDIT GRADING SYSTEM)(IDOL)

02/06/2022

4O00523

MASTER OF SOCIAL WORK (SEM-III) (CBCS)

02/06/2022

4P00113

MASTER OF PHYSICAL EDUCATION (SEM-III)(CBSGS)

06/06/2022

3A00531

M.A. (SEM.-I)(CBCS)(IDOL)

06/06/2022

4P00213

BACHELOR OF PHYSICAL EDUCATION (SEM III)(2YR.) (CBSGS)

08/06/2022

1T03011

M.E.(ELECTRONICS ENGINEERING) SEM-I (CBSGS TO CBCGS)

09/06/2022

3AO0814

M.A.(HONOURS)IN ENGLISH(SEM-IV)(CBCS)(FURTHER REVISED)

09/06/2022

1T00161

MASTER OF COMPUTER APPLICATIONS (SEM-I)(CHOICE BASED)(2 YEARS COURSE)
(ADDITIONAL CANDIDATES RESULT) MASTER OF COMPUTER APPLICATIONS (SEM-I)(CHOICE BASED)(2 YEARS COURSE)

09/06/2022

1T01911

M.E.(BIO MEDICAL ENGINEERING) (SEM-I) (CBCGS)

09/06/2022

1S01421

MASTER OF SCIENCE (FORENSIC SCIENCE) SEM-I (CBCS) (REV)

10/06/2022

1T00121

MASTER OF COMPUTER APPLICATIONS (M.C.A.)(SEM.I)

13/06/2022

1T00123

MASTER OF COMPUTER APPLICATIONS (M.C.A.)(SEM.III)

13/06/2022

1T00124

MASTER OF COMPUTER APPLICATIONS (M.C.A.)(SEM.IV)

15/06/2022

1T00125

MASTER OF COMPUTER APPLICATIONS (M.C.A.)(SEM.V)

15/06/2022

3A01014

M.A.(HONOURS) IN PUBLIC POLICY (SEM.-IV)(CBCS)

15/06/2022

1T03911A

M.E.MECHANICAL ENGINEERING(MACHINE DESIGN) SEM-I (CBSGS TO CBCGS)

15/06/2022

1T03912A

M.E.MECHANICAL ENGINEERING(MACHINE DESIGN) SEM-II (CBSGS TO CBCGS)

15/06/2022

4E00413

BACHELOR OF EDUCATION (SPL.EDU.)(A.S.D)(2 Yr.) (SEM III)(CBCS)

16/06/2022

4E00513

BACHELOR OF EDUCATION (SPL.EDU.)(I.D)(2 Yr.) (SEM III)(CBGS)

16/06/2022

1T00141

MASTER OF COMPUTER APPLICATIONS (SEM.I)(CHOICE BASE)(IDOL)

17/06/2022

1T00142

MASTER OF COMPUTER APPLICATIONS (SEM.II)(CHOICE BASE)(IDOL)

17/06/2022

1T00143

(UPDATED) MASTER OF COMPUTER APPLICATIONS (SEM.III) (CHOICE BASE)(IDOL)

17/06/2022

1T00161

MASTER OF COMPUTER APPLICATIONS (SEM-I)(CHOICE BASED)(2 YEARS)(IDOL)

18/06/2022

1T03011

M.E. (ELECTRONICS ENGINEERING) (SEM-I) (CBCGS)

20/06/2022

1T03911

M.E.MECHANICAL ENGINEERING (MACHINE DESIGN) (SEM-I) (CBCGS)

20/06/2022

1T04011

M.E.MECHANICAL ENGINEERING(MANUFACTURING SYSTEMS ENGINEERING) (SEM-I) (CBCGS)

20/06/2022

3AO1211

M.A.(HONOURS) IN POLITICS (SEM.-I)(CBCS)

21/06/2022

1T02611

M.E. ELECTRICAL (POWER ELECTRONICS & DRIVES) (SEM-I) (CBCGS)

21/06/2022

1T03711

M.E.(MECHANICAL)ENERGY SYSTEMS AND MANAGEMENT (SEM-I) (CBCGS)

21/06/2022

1T04111

M.E.(MECHANICAL)PRODUCT DESIGN AND DEVELOPMENT (SEM-I) (CBCGS)

22/06/2022

3AO1214

M.A.(HONOURS) IN POLITICS (SEM.-IV)(CBCS)

23/06/2022

1T00126

DEGREE OF MASTER OF COMPUTER APPLICATIONS (M.C.A.)(SEM.VI)

23/06/2022

1T02212

M.E. CIVIL ENGINEERING (STRUCTURAL ENGINEERING SUBJECTS) (SEM-II) (CBCGS)

23/06/2022

1T02912

M.E.(ELECTRONICS AND TELECOMMUNICATION ENGINEERING) (SEM-II) (CBCGS)

23/06/2022

3A01405

B.A/M.A FIVE YEAR INTEGRATED COURCE (PALI) (SEM-V)(CBCS)

24/06/2022

3A01409

B.A/M.A FIVE YEAR INTEGRATED COURCE (PALI)(SEM-IX) (CBCS)

24/06/2022

3A01407

B.A/M.A FIVE YEAR INTEGRATED COURCE (PALI)(SEM-VII) (CBCS)

24/06/2022

1T02211

M.E. CIVIL ENGINEERING (STRUCTURAL ENGINEERING SUBJECTS) (SEM-I) (CBCGS)

24/06/2022

1T03611

M.E. MECHANICAL ENGINEERING (CAD/CAM AND ROBOTICS) (SEM-I) (CBCGS)

27/06/2022

1T00171

MASTER OF COMPUTER APPLICATIONS (BRIDGE COURSE)

28/06/2022

1T03311

M.E.(INFORMATION TECHNOLOGY) (SEM- I) (CBCGS)

28/06/2022

1T02911

M.E.(ELECTRONICS AND TELECOMMUNICATION ENGINEERING) (SEM-I) (CBCGS)

30/06/2022

1T02111

M.E.(CIVIL ENGINEERING) CONSTRUCTION ENGINEERING AND MANAGEMENT (SEM-I) (CBCGS)

02/07/2022

3AO1212

M.A.(HONOURS) IN POLITICS (SEM-II)(CBCS)

06/07/2022

1S02511

M.SC.(MARITIME STUDIES) SEM-I

06/07/2022

1P00241

MASTER OF PHARMACY (SEM-I) (CBCS) (REV)

08/07/2022

1T02411

M.E.(COMPUTER ENGINEERING) (SEM-I) (CBCGS)

11/07/2022

1S01423

MASTER OF SCIENCE (FORENSIC SCIENCE) SEM-III (CBCS)(REV)

14/07/2022

3AO1311

M.A. IN MARITIME STUDIES (SEM-I)(CBCS)

18/07/2022

3AO1011

M.A. (HONOURS) IN PUBLIC POLICY (SEM-I)(CBCS)

26/07/2022

4E00312

BACHELOR OF EDUCATION (SPECIAL EDU.)(H.I)(SEM II)(2 Yr.) (CBCS)

26/07/2022

4E00313

BACHELOR OF EDUCATION (SPL.EDU.)(H.I)(2 Yr.) (SEM III)(CBCS)

26/07/2022

4E00314

BACHELOR OF EDUCATION (Spl.Edu.)(H.I)(SEM IV)(2 Yr.) (CBCS)

26/07/2022

1T00171

MASTER OF COMPUTER APPLICATIONS (BRIDGE COURSE)(2 YEARS)(IDOL)

27/07/2022

4E00313

BACHELOR OF EDUCATION (SPL.EDU.)(H.I)(2 Yr.) (SEM III)(CBSGS)

10/08/2022

4O00522

MASTER OF SOCIAL WORK (SEM-II) (CBCS)

12/08/2022

1A00116

B.Arch.(SEM.-VI) CBSGS

12/08/2022

4O00524

MASTER OF SOCIAL WORK (SEM-IV) (CBCS)

20/08/2022

1T03111

M.E.(INFORMATION SECURITY)(SEM-I)(CBCS)

23/08/2022

4E00144

TWO YEARS BACHELOR OF EDUCATION (SEM.-IV)(CBCS)

26/09/2022
Online Result Event First Half-2021