MP Board Class 10th and 12th Time Table 2022 Released Check Date Sheet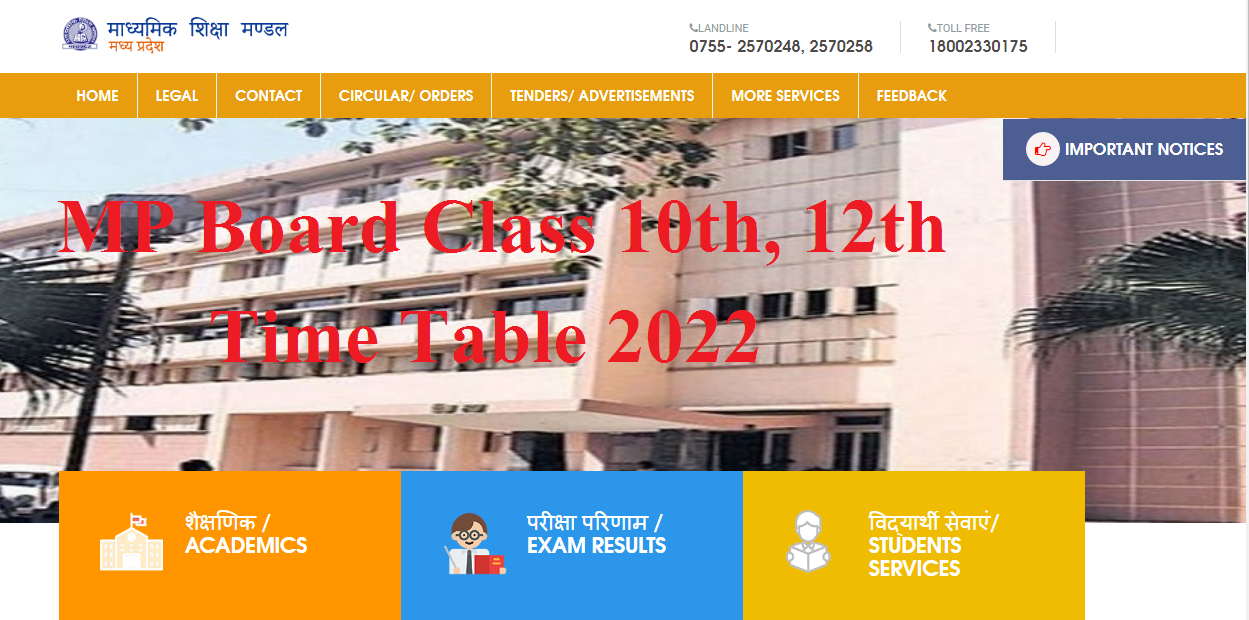 MP Board Class 10 12 Time Table 2022 : Madhya Pradesh Board of Secondary Education (MPBSE) has released the MP Board Exam 2022 timetable for the students who are going to participate in the Class 10th and 12th  examination. The Class 10, 12 Board Examination is going to begin in the month of February 2022. The students will be able to download the X, XII Exam Date Sheet from the official website link of the MP Board i.e., www.mpbse.nic.in or mpbse.mponline.gov.in. The MP Board Exam 2022 will be conducted from 10:oo am to 1:00 pm. Students can read the article till the last section to get more clarity on their mpbse.nic.in Time Table 2022
To check the time table, go to the official website and check.
After that, the home page will open.
On the home page, you will find an option for the time table, click on it.
After clicking, you have to select your class.
After that, your time table will open.
Save the time table in PDF and download it.
MP Board Class 10th Time Table 2022 
MP Board 10th Date Sheet 2022 Subject Wise

Dates
Name of Subjects
18 February, 2022 (Friday)
Hindi
22 February, 2022 (Tuesday)
Mathematics
24 February, 2022 (Thursday)
Urdu
26 February, 2022 (Saturday)
Social Science
02 March, 2022 (Wednesday)
Science
05 March, 2022 (Saturday)
English
08 March, 2022 (Tuesday)
Sanskrit
09 March, 2022 (Wednesday)
Punjabi, Marathi, Gujarat, Sindhi
Painting (Only for Deaf & Dumb students)
Music (Only for Blind Students)
10 March, 2022 (Thursday)
NSQF (National Skill Qualification Framework)
MP Board Class 12th Time Table 2022
MP Board 12th Date Sheet 2022: Subject Wise (Stream Wise)

Date || Time Table
Name of Subjects
17 February, 2022 (Thursday)
English
19 February, 2022 (Saturday)
Hindi
21 February, 2022 (Monday)
Physics / Economics / Animal Hus. Milk trade Poultry Farming & Fishery / History of Indian Art / Element of Science / Vocational Paper 1
23 February, 2022 (Wednesday)
Biotechnology / Indian Music
24 February, 2022 (Thursday)
Biology
25 February, 2022 (Friday)
Political Science / Vocational Paper 2
28 February, 2022 (Monday)
Chemistry / History / Business Studies / / Drawing & Painting / Ele. of Science & Maths Useful for Agriculture  / Home Management, Nutrition & Textile / Vocational Paper 3
03 March, 2022 (Thursday)
Mathematics
04 March, 2022 (Friday)
Sociology / Psychology / Agriculture (Humanities Group) / Home Science (Arts Stream) / Drawing & Designing / Book-Keeping & Accountancy / Environmental Education and Rural Development + Entrepreneurship (Vocational)
07 March, 2022 (Monday)
Informatic Practices
09 March, 2022 (Wednesday)
Geography / Crop. Production & Horticulture  / Anatomy Physiology & Health / Still Life & Design
10 March, 2022 (Thursday)
Urdu / Marathi
11 March, 2022 (Friday)
NSQF (National Skill Qualification Framework) / Physical Education
12 March, 2022 (Saturday)
Sanskrit
MP Board Class 10th, 12th Time Table 2022 Click Here