Maha DBT Online New Registration Started 2022-23 Apply Online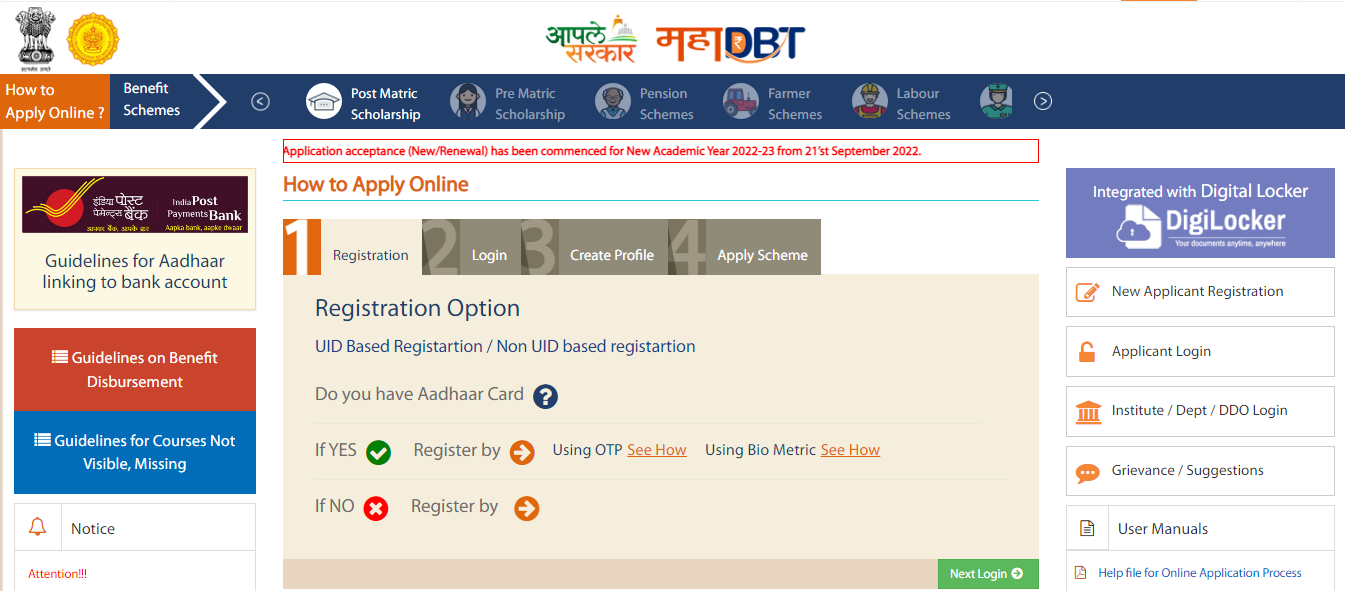 Application acceptance (New/Renewal) has been commenced for New Academic Year 2022-23 from 21'st September 2022.
Maha DBT New Registration 2022-23 : MahaDBT has been started by the Government of Maharashtra to provide the benefit of various types of scholarships to the students of the maharashtra state. Under this portal, various types of scholarship programs are included which are available for all types of students.
Attention!!!
Application acceptance (New/Renewal) has been commenced for New Academic Year 2022-23 from 21'st September 2022.

Guidelines and Rules of procedure for application submission. Please read carefully.
How To Apply For MahaDBT Scholarship?
Before filling out the Maharashtra Scholarship Online Form, candidates will have to check their eligibility criteria which varies based on the department and the scholarship offered. The steps to fill up the Maharashtra Scholarship Form 2022-23 are listed below:
Maharashtra Scholarship is a 4-level Application Process which are listed below:
Registration
Applicant Login
Create Profile
Apply Scheme
Instructions
Enter your registered username
Enter your Password
Enter the security text shown in the image
After confirm login password and security text click on Login Here button for login
Click on Forgot Password, if you forgot your password entered while registration
Click on Forgot User Name, if you forgot your User Name entered while registration
Required Documents for MahaDBT Scholarship
Aadhar Card
College Admission Receipt
College ID Card
Marksheet of SSC (10th std)
Marksheet of HSC (12th)
Previous Year Marksheet
Cast Certificate
Income Certificate Original (Current Year from Tahsildar)
Hostel Certificate (If Required)
Gap Certificate (If Required)
Bank Passbook
Self Declaration
Leaving Certificate
Domicile Certificate
Rashan Card (If Required)
Handicap Certificate (If Required)
Direct Link to Applicant
Guidelines for changing profile and submitting applications for the new academic year, for candidates already registered in the portal
Dear Applicant,
In order to apply the scheme for new academic year, make sure below changes should be done in your user profile (Note: User profile is in editable format)
Step 1:- Personal Information: If any updation done in your aadhaar card then in Personal information tab click on Update Profile as per Aadhaar.
Step 2:- Address Information: Update address information Correspondence Address Details.(Only if Required)
Step 3:- Other Information: Update Other information.(Only if Required)
Step 4:- Current course:1. In Current Course Section following details needs to be updated.
Example I:- If your current course was first year pursing for A.Y 2018-19 then for A.Y 2019-20
follow the below steps
1. Click on delete button to delete the entirely filled pursuing course information and again fill all details of last year pursuing course and select as completed and then fill current year pursuing course details accordingly
2. Enter Percentage
3. Select from drop down for Result
4. Upload Mark sheet.
5. Add Second year details as pursuing
6. Update Admission date
7. Update fees paid
8. Upload fee receipt
Example II:- If the Applicant Current course for Under Graduate Course was last year pursuing and now applicant is pursuing his first year Post Graduate Course then follow below step.
1. Delete all Under Graduate Course details from Current course and put the same in Past qualification.
2. In current course for A.Y 2019-20 Insert first year Post Graduate Course details.