GTU Result- 2021 Released | GTU Result List- 2021 | GTU Result- 2021 Published 
Gujarat Technological University UG & PG Semester Results @gtu.ac.in
GTU Result 2021 Released:Gujarat Technological University Result 2021 released on official website www.gtu.ac.in. Students who are searching for the Gujarat Technological University Exam Result 2021 they can download result in this page.  Student here we uploaded the direct link to get the Gujarat Technological University UG & PG Semester Results in a very easy to download . Students who have successfully completed the university exam can check your @gtu.ac.in. Semester Result in the below of the page.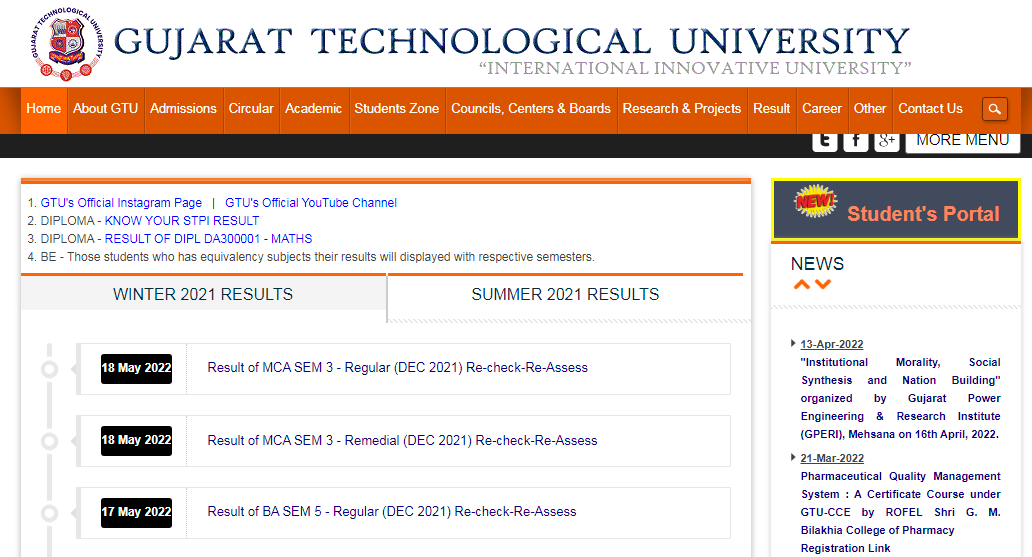 Latest Update Result : Gujarat Technological University has conducted the written exam for the students. After completion of the written exam almost all the students are very curious to know the Gujarat Technological University Result 2021. For that here we, mentioned the links to download the result. Students don't waste the time for searching Gujarat Technological University Semester Results 2021 on other sites. Follow this page https://mahabharti.in/university and easily get your results. Candidates without any late check your Exam Results from this page by using your roll number. Here we mentioned all the genuine information to the students.
GTU Result List -Download Result 2021: Direct Link 
Those students who has equivalency subjects their results will displayed with respective semesters (For BE Course Only).
BA SEM 2 – Remedial (FEB 2021) No change in grade of the students who have applied for rechecking /Re- Assessment

BA SEM 3 – Regular (JAN 2021) No change in grade of the students who have applied for rechecking /Re- Assessment

BA SEM 4 – Remedial (FEB 2021) No change in grade of the students who have applied for rechecking /Re- Assessment

BA SEM 5 – Remedial (JAN 2021) No change in grade of the students who have applied for rechecking /Re- Assessment
IC SEM 7 – Remedial (JAN 2021) No change in grade of the students who have applied for rechecking /Re- Assessment
IC SEM 8 – Remedial (JAN 2021) No change in grade of the students who have applied for rechecking /Re- Assessment

MCA SEM 4 – Remedial (JAN 2021) No change in grade of the students who have applied for rechecking /Re- Assessment

MCA SEM 5 – Remedial (JAN 2021) No change in grade of the students who have applied for rechecking /Re- Assessment
DPH Year 1 – Remedial (JAN 2021) No change in grade of the students who have applied for rechecking /Re- Assessment
DA SEM 3 – Regular (JAN 2021) No change in grade of the students who have applied for rechecking /Re- Assessment