Delhi Technological University(DTU)- 2021 Result Announce Check here UG and PG  Result at exam.dtu.ac.in
DTU Result 2021 Released – Delhi Technological University has been released DTU- Result 2021 on official website exam.dtu.ac.in. Student who had participated in the B.Tech, M.Sc, M.Tech, PhD, MCA, MBA, Other UG, PG Semester/ Annual Exams must check the Delhi Technological University UG, PG DTU-Result 2021 from this page. Students can check the results only through online mode. Students who are searching for the DTU- Exam Result 2021 they can download result in this page.  Student here we uploaded the direct link to get the Delhi Technological University UG & PG Semester Results in a very easy to download . Students who have successfully completed the university exam can check your  Semester Result in the below of the page.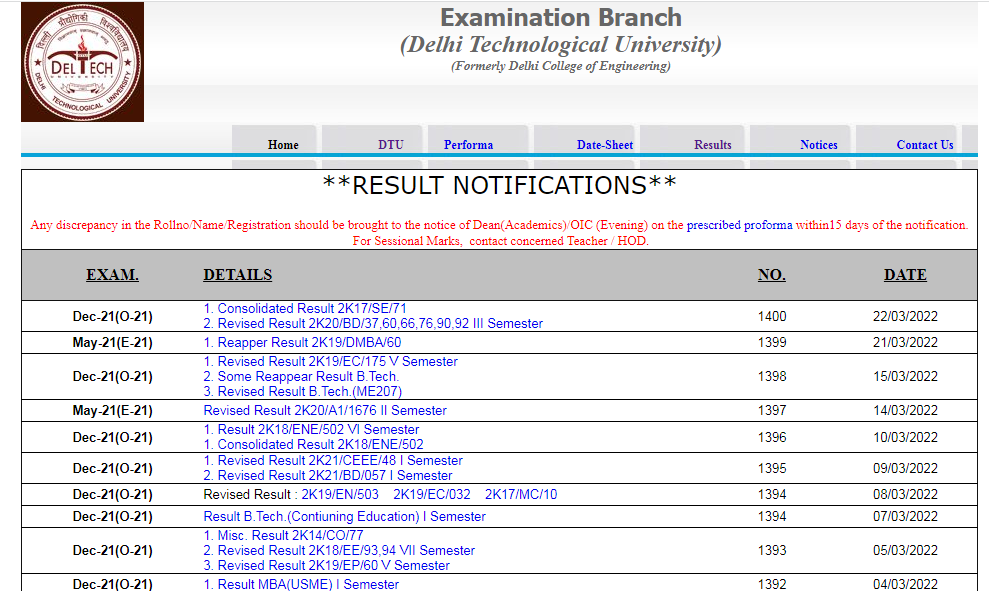 Delhi Technological University -Update New Result 2021: Delhi Technological University has conducted the written exam for the students. After completion of the written exam almost all the students are very curious to know the DTU- Result 2021. For that here we, mentioned the links to download the result. Students don't waste the time for searching Delhi Technological University Semester Results 2021 on other sites. Follow this page https://mahabharti.in/university and easily get your results. Candidates without any late check your Exam Results from this page and download pdf. here we mentioned all the genuine information to the students.
DTU-2021 Result (Delhi Technological University)
DTU-2021 Result (Delhi Technological University)
DTU-2021 Result (Delhi Technological University)
DTU-2021 Result (Delhi Technological University)
DTU-2021 Result (Delhi Technological University)
DTU-2021 Result (Delhi Technological University)
DTU-2021 Result (Delhi Technological University)
DTU-2021 Result (Delhi Technological University)
DTU-2021 Result (Delhi Technological University)
DTU-2021 Result (Delhi Technological University)
DTU-2021 Result (Delhi Technological University)
DTU-2021 Result (Delhi Technological University)
Delhi Technological University Result 
EXAM.

DETAILS

NO.
DATE

May-2021(E-21)

1. Some Final Semester Result M.Tech.
2. Consolidated Result : 2K18/GTE/501    2K17/EP/55    2K17/PE/10    Some M.Tech. 
3. Result BBA II Semester
4. Revised Result 2K17/SE/80,92 VIII Sem.


1292

27/08/2021

DEC-2020(O-20)

1. Revised Result 2K17/MC/111 VII Sem.
2. Some Revised Result B.Tech. I Sem.


1292

27/08/2021

DEC-2020(O-20)

1. Reappear Result 2K16/EE/25,50
2. Revised Result 2K16/EE/146
3. Consolidated Result 2K16/MC/67
4. Some Revised Result B.Tech.
5. Result 2K19/C&I/09 IV Sem


1291

26/08/2021

————-

1. Revised Results : 2K19/EC/131 VI Sem   2K19/IT/102   2K18/EC/172 V Sem   2K18/SE/042 V Sem
2. Some Consolidated Result B.Tech.
3. Result B.Tech.(Continuing Education) II Semester
4. Result B.A.(Hon.) Economics II Semester


1290

25/08/2021

————-

1. Some Final Semester Result M.Tech. : 2K18/CSE/501   2K19/STE/03   2K19/PTE/05
2. Revised Result 2K17/CO/305 VI Semester
3. Reappear Result 2K16/EE/60
4. Result 2K17/CO/304 VIII Sem
5. Consolidated Result 2K17/AE/60
6. Consolidated Result 2K17/CO/142
7. Consolidated Result 2K17/PE/59
8. Consolidated Result 2K17/BT/04
9. Some Consolidated Result B.Tech.(CO)
10. Revised Consolidated Result 2K17/AE/36


1289

24/08/2021

May-2021(E-21)

1. Result Ph.D. Course Work
2. Consolidated Result Old Scheme
3. Consolidated Result ( 2K17/AE/07, 2K17/AE/45 )
4. Revised Result 2K17/AE/45 VIII Sem
5. Consolidated Result 2K16/ME/26


1288

23/08/2021

May-2021(E-21)

1. Result 2K18/EP/068 VI Semester
2. Revised Result 2K17/CO/142 VIII Semester
3. Result 2K17/EC/186


1287

19/08/2021

———

Ph.D. Result Notification


PHD/310

18/08/2021

May-2021(E-21)

1. Consolidated Result Withdrawn 2K17/BT/14
2. Some Revised Result B.Tech.
3. Revised Consolidated Result 2K17/MC/67
4. Some M.Tech.(ISY) IV Semester


1286

18/08/2021

May-2021(E-21)

Revised Consolidated Result of some AE students
Consolidated Result 2K16/SE/501


1285

17/08/2021

DEC-2020(O-20)

Result of 2K17/PE/59

1285

17/08/2021

FEB-2020(SUPP-20)

Supplementary Result of 2K17/PE/59

1285

17/08/2021

May-2021(E-21)

1. Back Paper Result of 2K14/ME/65
2. M.Tech IV Semester Result of Some Students
3. Consolidated Result of 2K16/PTE/03
4. Result of 2K17/BT/04
5. VI Semester Result of 2K18/CO/202
6. B.Tech IV Semester Result of Some Students
7. Consolidated Result of 2K16/MC/26


1284

16/08/2021

DEC/APR-2020(O-20)

1. VII Semester Result of 2K17/MC/111
2. Reregistered Result of 2K18/CE/089
3. V Semester Result of 2K18/EP/75
4. Reregistered Result of 2K18/PS/023
5. Revised Result of Some B.Tech I Semester Students


1284

16/08/2021

May-2020(E-20)

VI Semester Result of 2K17/MC/111

1284

16/08/2021

May-2019(E-19)

VIII Semester Result of 2K15/CEEC/167

1284

16/08/2021

May-2021(E-21)

1. Consolidated Result :  Revised 2K17/AE/33, 44 
2. Result 2K19/EC/167, 2K19/IT/88 IV Sem
3. Result 2K18/CO/156 VI Semester
4. Revised 2K17/EE/21 VI Semester
5. Some Reappear Result B.Tech.


1283

13/08/2021

———

Ph.D. Result Notification
Ph.D. Result Notification
PHD/308
PHD/309

12/08/2021

May-2021(E-21)

1. Consolidated Results : | 2K17/CO/190   | Revised 2K18/PS/501  |  Revised 2K17/AE/38  |
2. Reappear Result 2K16/EL/49
3. Result 2K18/CO/26 V Semester
4. Result 2K19/PSY/20 IV Semester
5. Reappear Result B.Tech.(Eve.) CE


1282

12/08/2021

May-2021(E-21)

1. Revised Reappear Result B.Tech.
2. Misc. Results : | 2K16/PS/36 VII/VIII Sem.  | 2K18/EN/04 IV/V/VI Sem.  |
3. Result 2K18/EE/231 VI Sem.
4. Revised Consolidated 2K17/AE/35
5. Revised 2K20/B8/77 I Sem
6. Result 2K18/CECE/16,23 VI Sem
6. Reappear Result 2K18/EC/131


1281

11/08/2021

———

Ph.D. Result Notification
Ph.D. Result Notification

PHD/306
PHD/307

10/08/2021

May-2021(E-21)

1. Consolidated 2K18/BT/515
2. Revised 2K17/EP/17
3. Revised Consolidated 2K17/EP/17
4. 2K18/BT/515 Supplementary Result


1280

10/08/2021

May-2021(E-21)

1. Consolidated 2K19/CSE/12,22
2. Final Semester 2K19/CSE/12,22
3. Revised 2K18/BD/18 V Semester
4. Revised 2K20/BD/38,74 I Semester
5. Consolidated 2K17/CO/189
6. Consolidated 2K17/EE/127
7. Revised 2K18/BT/513 VII Semester


1279

09/08/2021

May-2021(E-21)

B.Tech Old Scheme Back Paper Results: II | IV | VI | VIII
Reregistered Result of 2K17/EE/95
Consolidated Result of 2K17/EE/07
Result of some B.Tech Students : IV | VIII

1278

06/08/2021

Dec-2020(O-20)

Consolidated Result of B.Tech.(Evening) of Some Students
Result of 2K18/EP/075


1278

06/08/2021

June-2020(E-20)

Revise Result of 2K17/EE/07

1278

06/08/2021

May-2021(E-21)

OLD SCHEME BACK PAPER RESULTS
B.Tech(Evening) : II | IV | VI | VIII
M.Tech : II

1277

05/08/2021

May-2021(E-21)

Revised Result of 2K18/BAE/126
Consolidated Results: 2K17/BAE/55 | 2K16/CEEE/124
Revised Consolidated Result of some B.Tech Students
Result of Some Students of B.Tech :
VI | IV
Reregistered Result of 2K17/EP/17
2K17/EP/17 VIII Semester

1276

04/08/2021

Odd-2020(Dec-2020/Apr-2021)

Result of Reregistered Courses of 2K16/CEEE/126
Revised Result of Reregistered Courses of BAE Students
Result of Regiregistered Courses of 2K17/BAE/55 and 2K18/BAE/49


1276

04/08/2021

May-2021(E-21)

Consolidated Result of some B.Tech Students
Reregistered Result of 2K16/EC/159

1275

03/08/2021

May-2021(E-21)

Consolidated Result:  | Some AE Students  |  2K17/ME/82  |  2K17/ME/145  | 

1274

02/08/2021

Odd-2020(O-20)

Revised Semester/Reregistered Results:  | 2K16/EE/60  |  2K17/EE/127  |  2K18/CO/131  |  2K19/CH/031  |  2K18/BBA/19  | 

1274

02/08/2021

May-2021(E-21)

1. Consolidated :  | 2K17/AE/47  |  2K17/EC/49  |  2K18/EE/501  |  2K17/EE/208  |
2. Revised 2K19/BT/038


1273

30/07/2021

———

Ph.D. Result Notification


PHD/305

30/07/2021

May-2021(E-21)

1. Consolidated :  | 2K19/MSCBIO/33  |  Some MBA(DSM)  |  Some B.Tech.(AE-2K17)  |  2K17/AE/12  |  2K17/BT/08  |  2K17/EE/14  |
2. B.Tech. VI Semester :  | 2K19/PE/501  | 2K19/PS/506  |
3. Reappear B.Tech. :  |2K16/ME/26  |  2K17/ME/53  |  Misc.  |  2K16/SE/69  |  2K19/EP/024  |
4. Revised :  | 2K18/EN/035  |  2K18/ME/199  |
5. B.Des. 2K19/BD/39,49 IV Semester 6. Revised 2K18/ME/173,199 VI Semester

1272

29/07/2021

May-2021(E-21)

1. M.Tech. SWE II Semester
2. Consolidated 2K17/EC/114
3. Supplementary 2K18/ME/238 Feb20
4. Revised 2K18/IT/126 VI Semester
5. Reappear 2K15/MC/73
6. Reappear 2K18/BT/503
7. Revised 2K19/IT/03
8. Revised 2K19/PE/47
9. B.Des. IV Semester


1271

28/07/2021
**RESULT NOTIFICATIONS**

Any discrepancy in the Roll No/Name/Registration should be brought to the notice of Dean (Academics) / OIC (Evening) on the prescribed proforma within 15 days of the notification.  For Sessional Marks,  contact concerned Teacher / HOD.

EXAM.
DETAILS
NO.
DATE
May-2021(E-21)
1. Some Consolidated EMBA
2. Reappear EMBA
3.2K18/BBA/139 VI Semester
4. 2K19/EMBA/535 IV Semester
5. 2K18/CO/131 III/IV/V Semester
6. Misc. B.Tech. IV Semester
7. Reappear 2K17/ME/82
8. 2K18/ME/36,100 VI Semester
6. Consolidated Result : |2K17/EC/187  | 2K17/PS/10  |
1270
27/07/2021
May-2021(E-21)
1. Revised Reappear 2K15/CECE/16 & 2K18/CECE/49
2. MBA(USME) II Semester
3. Consolidated : | 2K17/AE/01  |  2K17/AE/03  |
4. 2K18/EN/017 IV Semester
5. Some B.Tech. IV Semester
6. Reappear 2K17/CO/13,14 IV Semester
7. Revised Reappear 2K17/ME/203
8. Reapper 2K17/CO/200 & 2K17/EP/51 VI Semester
9. Some Revised B.Tech. I/IV/V/VI
10. Revised Ph.D. Course Work – Dec2020
1269
26/07/2021
May-2021(E-21)
1. Consolidated : | 2K17/EC/101  |  2K17/CEEC/23  |  2K17/AE/59  | 2K17/CEEC/19,34  |  2K17/PS/10 | 2K16/EC/119 |
2. Some Revised B.Tech. VI Semester
3. Some Revised B.Tech. IV Semester
4. Reappear B.A.(Hon.) Economics
5. Revised 2K19/BAE/22,54,74 IV Semester
6. Revised 2K20/BBA/153 I Semester
7. Revised 2K20/BAE/16,57 I Semester
1268
23/07/2021
May-2021(E-21)
1. Revised 2K18/BAE/80 VI Semester
2. Reapper 2K18/SE/68
3. Reapper 2K17/MC/57
4. Consolidated : | 2K17/AE/22  | 2K17/PE/60  | 2K17/ME/014  |  2K17/MC/110  | Some B.Tech.(CO)  |
1267
22/07/2021
———
Ph.D. Result Notification
PHD/304
20/07/2021
May-2021(E-21)
1. Revised Reappear 2K16/EC/119
2. Revised Reappear 2K15/MC/71
3. Revised 2K17/EE/190 VIII Semester
4. 2K20/EP/501 IV Semester
5. Revised 2K19/CE/030 IV Semester
6. Revised 2K19/EE/038 IV Semester
7. Revised 2K16/CE/18 VIII Semester
8. Consolidated : | 2K17/EP/71  | 2K17/MC/113  | 2K17/IT/96  |
1266
20/07/2021
May-2021(E-21)
1. Some Revised Result B.Des. VI Semester
1265
20/07/2021
May-2021(E-21)
1. Revised Result of 2K18/IT/95 – VI Sem
2. Reregistered Result of some B.Tech Final Semester Students
3. Consolidated Result of some B.Tech Students
1265
19/07/2021
May-2021(E-21)
1. Final Semester and Consolidated 2K19/BME/04
2. M.Tech. II Semester : | ISY  | SPD  |
3. VIII Semester and Consolidated 2K17/AE/47
1264
16/07/2021
May-2021(E-21)
1. Consolidated :  | 2K17/PS/19  |  2K17/IT/75  |
2. Some Revised B.Tech. I Semester
3. Revised 2K17/PE/13 VIII Semester
4. Revised 2K19/PS/510 V Semester
5. B.Tech. VI Semester : | 2K18/PE/061  |  2K18/CO/162  |
6. Revised 2K19/IT/75 VII Semester
1263
15/07/2021
Dec-2020(O-20)
1. MBA(IEV) III Semester
1262
15/07/2021
May-2021(E-21)
1. Consolidated 2K18/BAE/36,44
2. Revised Consolidated 2K18/BAE/05
3. Consolidated 2K17/CEEC/41
4. Consolidated 2K16/CE/20
5. Revised  |  2K18/CO/106 VI Semester |  2K18/BT/513 VIII Semester |  2K17/EE/14 VIII Semester |
1262
14/07/2021
May-2021(E-21)
1. Consolidated 2K16/EE/08
2. Revised Consolidated MBA(USME)
3. Some Consolidated BBA
4. Revised 2K20/BAE/99,123 I Semester
5. Revised Reappear 2K18/BBA/112
6. Revised Reappear 2K19/BBA/69,107
7. Consolidated 2K16/CEEC/152,155
8. Consolidated 2K17/CEEC/31,36
9. Revised 2K20/A9/33 I Semester
10. Revised Reapper 2K19/ME/043
11. Revised Reapper 2K16/EC/196
12. Revised 2K18/EE/167 VI Sem
13. Revised 2K19/EC/185 IV Sem
1261
13/07/2021
May-2021(E-21)
1. Some Consolidated Result B.Tech.
2. Some Revised Result B.Tech. IV/VI
3. Some Final Semester and Consolidated Result M.Tech.
4. Some Consolidated Result BBA
5. B.Tech. Old Scheme Result : 2K13/AE/55-May2020
6. Reappear Result 2K18/IT/020 – Dec2020
7. Reappear Result 2K17/BBA/108
8. Reappear Result B.Tech.(Continuing Education) :  | EC  | CE |
9. B.Tech.(Eve.) -EC VI Semester
10. Reappear Result 2K17/BAE/55,90 – June2020
1260
12/07/2021
——
Ph.D. Result Notification
PHD/303
08/07/2021
May-2021(E-21)
1. Consolidated Result : | B.Tech. EE  | 2K18/VLS/11  |  2K19/MSCBIO/18, 35  |  2K19/MSCPHY/33  |  2K19/MSCMAT/31 |  2K17/CO/076 |
2. Result 2K20/THE/25 II Semester
3. Revised Result : |  M.Sc. II Semester |   2K19/MSCBIO/18, 35 IV Semester |   2K19/MSCPHY/33 IV Semester  |  2K19/MSCMAT/31 IV Semester |  2K19/B11/71-II Semester |  2K19/B11/71-I Semester |  Some B.Tech. VI Semester |  2K18/CO/026-Reappear |  Some B.Tech. VIII Semester |
1259
09/07/2021
May-2021(E-21)
1. Result M.Tech.(Part Time) II Semester { GEO,HFE,STE }
2. Result B.Tech.(Continuing Education) EE IV Semester
3. Result M.Tech.(C&I) II Semester
4. Revised Consolidated 2K19/UMBA/12
4. Result 2K19/IT/03 : Feb2020
1258
08/07/2021
May-2021(E-21)
1. Consolidated Result : | MBA(USME) | 2K13/CO/132 | 2K17/CEEC/22,37  | 2K17/EN/34 |  2K17/MC/65,98 |  2K17/ME/83 |
2. Revised Result :  | 2K18/BBA/30 VI Semester |  MBA(USME) IV Semester |  2K17/CEEC/22,37,41 VIII Semester  | BAE Reregistered : Dec-2020 |  2K18/EE/501,2K17/EE/24 : Reregistered |  2K19/EE/224 IV Semester |  Some B.Tech. IV Semester |  Some B.Tech. VI Semester |  2K19/B14/25 II Semester – May2020 |
3. Result 2K16/EE/94 – Dec2020 : | VII Semester |  V Semester |
4. Reregistration Result 2K16/CO/173
1257
07/07/2021
DTU-2021 Result (Delhi Technological University)
DTU-2021 Result (Delhi Technological University)
DTU-2021 Result (Delhi Technological University)
DTU-2021 Result (Delhi Technological University)
EXAM
DETAILS
DATE
DEC-2020(O-20)
Re-Registered Result B.Tech.(Eve.) I Semester 
08/06/2021
DEC-2020(O-20)
Re-Registered Result B.Tech. I Semester
07/06/2021
DEC-2020(O-20)
Consolidated Result of 2K16/CE/18
01/06/2021
DEC-2020(O-20)
Revised Result of B.Tech .(ME) VII Semester
29/05/2021
DEC-2020(O-20)
Result of B.Tech I Semester
Consolidated Result of 2K17/BBA/19
27/05/2021
DEC-2020(O-20)
Result of BBA I Semester
Result of BA(Hons.) Economics- I Semester
26/05/2021
DEC-2020(O-20)
Revised Result of B.Des. III Semester
Result of B.Tech. (Continuing Education) I Semester
25/05/2021
PHD Result Notification
24/05/2021
PHD Result Notification
14/05/2021
DEC-2020(O-20)
B.Tech Reregistered Result of 2K16/CE/18 and 2K16/EC/196
14/05/2021
DEC-2020(O-20)
Result M.Tech.(THE) III Semester
06/05/2021
DEC-2020(O-20)
Reappear Result 2K19/SE/097
16/04/2021
1. Some Revised/Reregistered Result B.Tech.
2. Consolidated Result 2K17/C&I/15
3. Result 2K17/C&I/15 Sem IV
4. Reappear Result 2K18/MOC/05
13/04/2021
DEC-2020(O-20)
Consolidated Result 2K14/CE/29
12/04/2021
PHD Result Notification
12/04/2021
1. Some Revised Resullt B.Tech.
09/04/2021
Dec-2020(O-20)
1. Some Revised/Reregistered Resullt B.Tech.
2. Result 2K18/VLS/11 Sem IV
3. Result 2K19/DMBA/112 Sem III
08/04/2021
Dec-2020(O-20)
1. Some Revised/Reappear Resullt B.Tech.
07/04/2021
Dec-2020(O-20)
1. Some Misc. Revised Resullt B.Tech.
2. Course Work Result 2K19/PHDME/504
06/04/2021
PHD Result Notification
05/04/2021
Dec-2020(O-20)
1. Some Reregistered/Semester/Revised Resullt B.Tech.
2. Some Reregistered Resullt BBA
3. Some Reregistered Resullt B.Tech.(Eve.)-CE
05/04/2021
Dec-2020(O-20)
1. Some Semester/Revised Resullt B.Tech.
01/04/2021
Dec-2020(O-20)
1. Revised Resullt 2K16/EC/162, 2K15/EC/146 VII Semester
2. Result 2K17/EE/219 V Semester
31/03/2021
Dec-2020(O-20)
1. Some Revised/Reregistered/Consolidated Not
27/03/2021
Dec-2020(O-20)
1. Some Revised/Reregistered/Not Declared Result B.Tech.
26/03/2021
Dec-2020(O-20)
1. Some Revised/Reregistered Result B.Tech.
25/03/2021
Dec-2020(O-20)
1. Some Revised/Reregistered Result B.Tech.
24/03/2021
Dec-2020(O-20)
1. Result 2K18/EN/036 V Semester
2. Result 2K18/CO/200 V Semester 
3. Revised Result 2K17/CEEE/27 VII Semester 
4. Reregistered Result 2K17/BBA/96 
23/03/2021
Dec-2020(O-20)
1. Revised Reregistration Result MBA(Excecutive) 
2. Some Reregistered/Not Declared Result B.Tech. 
22/03/2021
Dec-2020(O-20)
1. Revised Result 2K17/CECE/12 
2. Revised Result 2K17/CO/335 
3. Some Revised Result B.Tech. III Semester 
4. Some Revised Result B.Tech. V Semester 
19/03/2021
Dec-2020(O-20)
1. Some Revised/Not Declared Result of Ph.D. Course Work 
2. Reregistration Result EL 
3. Revised Reregistration Result 2K17/EC/17 
4. Reregistration Result 2K18/SE/077,083 
18/03/2021
Dec-2020(O-20)
1. Some Revised Result B.Tech. V Semester 
2. Reregistered Result 2K18/PS/509
3. Revised Result 2K19/BBA/103
4. Revised Result 2K19/SPD/23 II Semester : Exam(May/June-2020)
17/03/2021
PHD Result Notification
16/03/2021
Dec-2020(O-20)
1. Revised Result 2K18/MC/052 V Semester 
2. Revised Reregistered Result B.Tech.(PS)
3. Revised Reappear Result 2K19/DMBA/43
16/03/2021
Dec-2020(O-20)
1. Result 2K20/GEO/10 I Semester 
2. Revised Result 2K17/CECE/16,43 VII Semester
3. Reregistered Result MBA(Executive)
4. Result 2K19/DMBA/43 III Semester
5. Some Revised Result B.Tech. V Semester
15/03/2021
Dec-2020(O-20)
1. Result 2K20/BMBA/24 I Semester 
2. Revised Result 2K19/C&I/13 III Semester
3. Revised Result 2K19/B15/73(II), 2K15/SE/03(VIII) : Even 2020
4. Some Revised Result B.Tech. V & VII Semester
12/03/2021
Dec-2020(O-20)
1. Result M.Tech.(Part Time) – ENE V Semester 
2. Revised Result 2K19/BBA/21,105,107 III Semester
3. Some Revised/Semester/Reregistered Result B.Tech.
11/03/2021
Dec-2020(O-20)
1. Some Revised/Semester Result B.Tech. 
2. Reregistered Result 2K17/BBA/14,41 : BBA302 
3. Revised Reregistered Result 2K17/BBA/96 : BBA201 : Dec-2019 
4. Consolidated Result 2K17/THE/501 
5. Some Consolidated Result B.Tech.(Eve.) : Old Scheme 
6. Revised Result 2K19/C&I/20 III Semester 
7. Reregistered Result 2K17/CEEE/45 
8. Revised Result 2K20/GTE/02 I Semester 
10/03/2021
Dec-2020(O-20)
1. Some Revised, Semester and Reregistered Result B.Tech. 
2. Result M.Tech.(C&I) III Semester 
3. Reregistered Result BBA 2K18 Batch 
4. Result 2K17/BAE/73 VI Semester 
5. Result 2K17/BBA/08 III Semester 
6. Reregistered Result B.Tech.(Eve.)/M.Tech.(Part Time) 
09/03/2021
Dec-2020(O-20)
1. Result 2K17/EC/186 : VII Semester 
2. Result 2K17/EC/186 : VI Semester
3. Revised Result 2K19/CE/072 : III Semester 
4. Revised Result 2K18/IT/025 : V Semester 
5. Some Revised Result B.Tech.(PE) III Semester 
6. Revised Result B.Tech.(CE) V Semester 
7. Revised Result 2K19/IT/63 
8. Reregistered Result 2K17/CE/49,50 
08/03/2021
Dec-2020(O-20)
B.Tech V Semester Revised Result of Some Students 
05/03/2021
Dec-2020(O-20)
1. Result M.Tech. I Semester : CSE   GEO   PSY
2. Result M.Tech. III Semester : GEO   NST   PIE   SWE
3. Result M.Tech.(Part Time) – PIE V Semester 
4. Some Reappear Result B.Tech.(Eve.) CE
5. Reappear Result M.Tech.(Part Time) – PIE 
6. Result 2K19/GTE/17 III Semester 
7. Some Revised Result B.Tech. VII Semester 
8. Result B.Tech. III Semester : Not Declared Cases
9. Revised Result 2K18/CE/30 : Even Sem 2020
10. Result 2K18/EE/501 : Supple Sept 2019
04/03/2021
Dec-2020(O-20)
1. Reregistered Result EL
2. Reregistered Result B.Tech.(Eve.) – CE
3. Result 2K18/CO/297 V Semester
4. Revised Result 2K20/VLS/26 I Semester
5. Result 2K18/EN/26,29 V Semester
6. Result 2K18/SE/004 V Semester
7. Some Revised Result Ph.D. Course Work 
8. Result 2K16/EL/70 VII Semester
03/03/2021
Dec-2020(O-20)
1. Revised Result 2K18/CEME/08 Reappear course

CME-201
2. Result Ph.D. Course Work : Revised and Not

Declared cases : Except HUECO 
3. Revised Result B.Tech. (CO) III Semester 
4. Revised Result B.Tech. (EC) III Semester 
5. Some Revised Result B.Tech. V Semester 
6. Reregistered Result B.Tech. 2K17,2K16 Batch 
7. Reregistered Result B.Tech. 2K18 Batch 
8. Some Revised Result B.Tech. VII Semester 

02/03/2021
Dec-2020(O-20)
1. Some Revised Result B.Tech. V and VII Semester 
2. Result 2K19/STE/10 III Semester 
3. Revised Result 2K19/PSY/13 III Semester 
4. Result B.Tech. V Semester 
01/03/2021
Dec-2020(O-20)
1. Revised Result BBA III Semester 
2. Re-appear Result BAE 2K18 Batch 
3. Re-appear Result B.Tech.(Continuing Education ) :
ME – 2K17 Batch   ME – 2K18 Batch   EC – 2K17 Batch 
4. Re-appear Result M.Sc. MA – 2K19 Batch    AP – 2K19 Batch 
5. Re-appear Result M.Tech. STE – 2K19 Batch ENE – 2K19 Batch 
6. Re-Registered Result DSM – 2K19 Batch 
7. Result B.Tech. VII Semester ( Not Declared Cases) 
26/02/2021
Dec-2020(O-20)
1. Re-Registered Result B.Tech. 2K17, 2K16, 2K15 Batch 
2. Re-Registered Result B.Tech. 2K18 Batch 
3. Result Ph.D. Course Work (AP, AM, BT, CH, DSM, EE, EC, CO, DGN, ME) 
4. Revised Result 2K18/BBA/56 V Semester 
5. Result 2K17/PS/40 VII Semester 
25/02/2021
Dec-2020(O-20)
Some Results M.Tech. : 2K19/HFE/16 III Semester 

2K18/GTE/501 V Semester 
Result M.Sc. I Semester : AP    BT    MA 
Some Revised Results : 2K19/ENE/19    2K20/PIE/10 

2K20/ENE/06
Some Results B.Tech. :
V Semester 
BT – VII Semester 
IT – VII Semester 
2K18/ME/182 V Semester 
2K17/EN/01 V Semester 

24/02/2021
Dec-2020(O-20)
1. Result B.Tech.(CH) III Semester 
2. Some Revised/Semester Result of B.Tech. 
3. Revised Result 2K19/UMBA/03 
4. Revised Result 2K19/BD/69 
5. Revised Result 2K20/UMBA/03 
6. Result 2K20/DMBA/110 
7. Result 2K19/DMBA/15,120 
8. Some Revised Result B.Tech.(Eve.)- ME V Semester 
9. Revised Result 2K19/CEME/10 
10. Result 2K17/MC/30 VII Semester
23/02/2021
Dec-2020(O-20)
1. Result 2K17/THE/501 VI Semester 
2. Revised Result 2K20/UMBA/50 I Semester 
3. Revised Result 2K18/BBA/85,133 V Semester 
4. Revised Result 2K19/BAE/125 II Semester : Even-2020 
5. Result 2K17/SE/91 V/VII Semester 
22/02/2021
Dec-2020(O-20)
1. Result M.Tech.(SPD) III Semester 
2. Some Revised Result M.Tech.(GTE) I Semester 
3. Some Result BBA V Semester 
4. Result 2K20/SPD/15 I Semester 
5. Result 2K19/EC/094 III Semester 
19/02/2021
Some Odd Semester Result of B.Tech 
19/02/2021
Dec-2020(O-20)
1. Result M.Tech.(Part Time) I Semester : CSE   HFE   STE
2. Result M.Tech.(Part Time) III Semester : ENE   GTE   PSY   STE
3. Result M.Tech.(Part Time) V Semester : CSE   STE
4. Result of BA (Hons.) Economics III Semester of Some Studentes
18/02/2021
Dec-2020(O-20)
Revised Result of B.Tech VII Sem of Some Students
17/02/2021
Dec-2020(O-20)
1. Result M.Tech. III Semester : IBT   ISY   PTE   VLS
2. Revised Result of B.Tech VII Sem of Some Students
3. Revised Result of B.Tech.(Eve./Cont. Edu.) 2K18/CEEC/52   2K18/CEME/33   2K19/CEME/10
4. Revised Result of M.Tech. 2K19/ENE/19   2K20/PIE/102K20/PES/252K20/C&I/12   Some Students of GTE
16/02/2021
Dec-19(O-19)
Revised Result of B.Tech III Sem of 2K18/EC/177
16/02/2021
Dec-2020(O-20)
1. Result M.Tech. III Semester :
15/02/2021
Dec-2020(O-20)
1. Result M.Tech. III Semester : MOC
2. Result MBA III Semester : DSM   USME
3. Result MBA(FB) I Semester 
4. Result B.Des. V Semester 
5. Revised Result 2K20/UMBA/58,60,69,74 : I Semester 
12/02/2021
Dec-2020(O-20)
1. Result M.Tech. I Semester : THE   HFE   MOC   PES
2. Result M.Sc. III Semester : MA   BT   AP
3. Result MBA I Sem (USME)
4. Result B.Tech.(EE) III Sem 
5. Revised Result B.Tech.(CE) III Sem 
6. Result B.Des. I Sem 
7. Result B.Tech. V Sem 
11/02/2021
Dec-2020(O-20)
1. Result M.Tech.(SWE) I Sem 
2. Result EMBA III Sem (DSM)
3. Result B.Tech. III Sem Except EE, PS 
10/02/2021
Dec-2020(O-20)
1. Result M.Tech. I Sem : ENE   SPD
2. Result MBA I Sem (DSM)
3. Result M.Tech.(BME) III Sem 
4. Result B.Des. III Sem 
09/02/2021
Dec-2020(O-20)
1. Result B.Tech.(Eve.) EE V Semester 

CE -VII Sem : Not Declared Cases    2K17/CEME/10 :

VII Sem 
2. Result M.Tech. I Sem : STE   VLS
3. Revised Result 2K18/MBA/920 : Exam : May/June-2020
4. Revised Result 2K19/FMBA/03

08/02/2021
Dec-2020(O-20)
1. Result B.Tech.(Eve.) VII Semester

EC    CE    ME 
2. Result MBA(BA) III Semester
3. Revised Result 2K17/CEEE/27 : VII Semester

05/02/2021
Dec-2020(O-20)
1. Result MBA(FB) III Semester 
2. Result B.Tech. VII Semester Except SE Branch 
3. Result B.Tech. VII Semester SE Branch 
04/02/2021
Dec-2020(O-20)
1. Result M.Tech.(VLS) I Semester 
2. Result EMBA I Semester
3. B.Tech.(Eve.) – ME V Semester
4. Result 2K17/SE/91 – V Semester
03/02/2021
Result 2K18/SE/068 IV Semester 
Result M.Tech. I Semester : IBT   STE   PIE   NST   ISY   GTE   C&I   BIO
Result Old Scheme :
1. B.Tech. VII Semester 
2. B.Tech. V Semester
3. B.Tech. III Semester
4. B.Tech. I Semester
02/02/2021
DEC-20(O-20)
Result 2K16/EE/146 IV Semester
Result 2K18/PS/05 II Semester
Result BBA V Semester
Revised Result 2K17/CEEE/27
Result Old Scheme :
1. B.Tech.(Eve.) VII Semester 
2. B.Tech.(Eve.) V Semester
3. B.Tech.(Eve.) III Semester
4. B.Tech.(Eve.) I Semester
5. M.Tech. III Semester
6. M.Tech. I Semester
01/02/2021
DEC-20(O-20)
1. Result B.Tech.(Eve.) : 1. EE – VII Sem 
29/01/2021
DEC-20(O-20)
1. Result B.Tech.(Eve.) – III Semester :

 ME    EE   CE   EC 
2. Result MBA(BA) I Semester (USME)
3. Some Result B.Tech.

28/01/2021
DEC-20(O-20)
Result B.Tech.(Eve.) – EC – V Semester
18/01/2021
DEC-20(O-20)
Result BA(Hon.) Economics – V Semester
20/01/2021
DEC-20(O-20)
1. Result BA(Hon.) Economics – III Semester
15/01/2021